Introducing DAREcember
It's the culmination of over two years of Style Dares on Fox in Flats where we've been challenging ourselves to step out of our style comfort-zones, haul ourselves out of  our motherhood-induced fashion ruts, shake off our day-to-day uniforms, and spice things up a little.
The idea is simple: to experiment with hair, beauty and fashion and rock a different style every day for a month.
Why DAREcember?
December is such an exciting time of year, filled with loved ones and the tingly anticipation of The Big Day.
And it's also a month where it's easy to get caught up in the silliness: the social engagements, the menu plans, the shopping, the wrapping, and OMG the diplomacy! Diplomatically navigating away from tipsy Simon from Accounts at the work Christmas party; diplomatically explaining to little ones why they may not get that elephant they really want for Christmas; and diplomatically navigating social obligations with our well-meaning relies. And so, more often than not, the focus is on everyone else, and there's little time for ourselves.
DAREcember is a fun way to put the focus back on you, in little ways, each day throughout the silly season."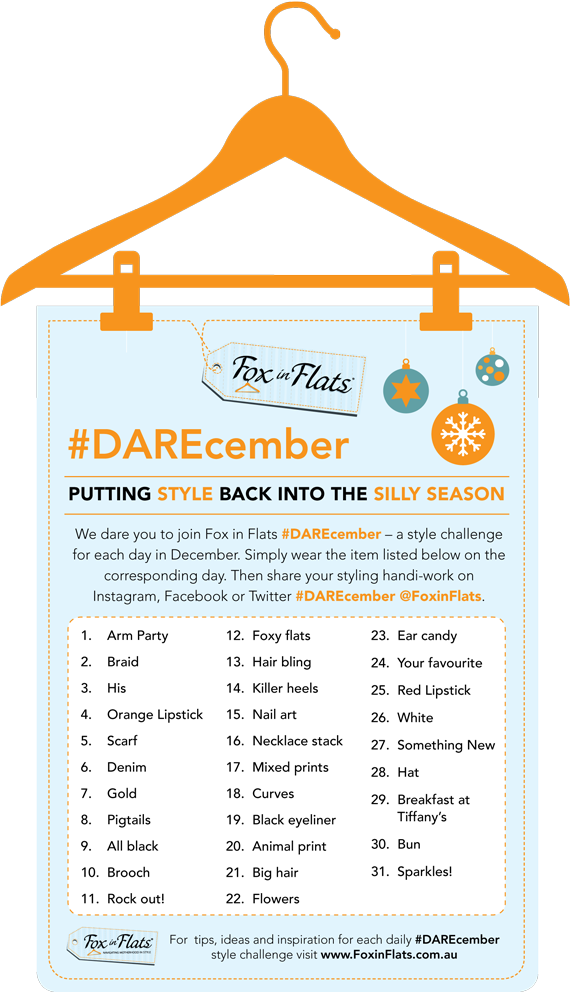 Here's a load of tips, ideas and inspiration for each day in DAREcember:
1. Arm Party
Round up your favourite wrist candies and crank up the tunes because today we're having an epic party – on our arms! For tips on how to throw an awesome arm party, click here, and be inspired by hundreds of women who joined The Arm Party Dare here.
2. Braid
Afraid of the braid? Not today! We'll hold your hand with loads of easy braid ideas and tutorials for every hair type here. And if you're really squeezed for time, try 6 of the quickest braids or our 60 second backyard braid tutorial. We've got over 150 braid ideas in a gallery from our readers here. Or buy this ebook – 30 braids in 30 days for $14.95 filled with easy to replicate how-tos and beautiful visuals.
3. His
His shirt, his jeans, or his tie. Steal it, work it (and if you love it, keep it!). Tips for rockin' his favourite band Tee here. More inspo and ideas on rockin the unisex look here. And 5 things of his you should steal here. Now, work it like a boss.
4. Orange Lipstick
If you're yet to tango with tangerine, today's the day to do it. An orange lipstick will whiten your teeth, and wake up your whole look. Our faves? Revlon Orange Flip, MAC Morange, or AVON Tangerine Tango.
5. Scarf
There's a way to style a scarf to suit any kind of weather. Click here for ideas on how to try something new with breezy summer scarves and warm snuggly scarves.
6. Denim
Rock your most in- jean-ious look. Find tips on how to take your denims up a notch here. Double points for double denim!
7. Gold
"Gold! Always believe in your soul. You have the power to know – you're indestructible. Always believe it…Gold!" Be indestructible today and cover yourself in all that glitters.
8. Pigtails
There's something so fun, fresh and fantastic about pigtails. But if you're not careful, wearing pigtails as a grown-up can leave you looking like either a porn star or Mary-Ann from Gilligan's Island. Don't worry though, all the tips you'll need are here: 5 ways to wear pigtails without looking like your daughter.
9. All black
Chic, slimming, and a great camouflage for bumps, lumps and Vegemite stains. Here's how to wear head-to-toe black without looking like a mama in mourning.
10. Brooch
The antique brooch your grandmother wore to your parents' wedding. The Cure badge you bought at your first concert. That enamel pin you discovered in a thrift store. And the precious lady-bug brooch your mum gave you when you were five. Cluster in themes, and scatter liberally. Here's 19 ideas for rockin' your treasures, and 55 more ways that Fox in Flats readers have showcased their brooches.
11. Rock out!
Backstage pass at the ready for an outfit that screams "I'm with the band!"
Stuck for ideas? Check out these easy tips for a rock chic look from one of Australia's favourite rock chicks here, steal his band t-shirt like this, or work one rockin' statement item back with classic tailored pieces like these.
12. Foxy flats
French style icon Inès de La Fressange went on the record this year to say "Finally, people understand one doesn't need to wear high heels to look sexier," but you already knew that, right? So today, flaunt your most fabulous flats.
13. Hair bling
A sparkly clip, a twinkling headband, a shiny metallic hair cuff, or for the extra brave, go princess with a tiara!
14. Killer heels
We're talking the kinda heels you'd be willing to die – or kill – for. But to make sure you stay as comfy as possible, check out these 5 tips for surviving in heels.
15. Nail art
Don your art smock and unleash your creativity by decking out your digits. Check out Nail Romance for inspiration and easy tutorials, or try some easy disco digits like these.
16. Necklace stack
Wants some quick and easy ideas on how to modernise your look using jewellery you already own? Let us count the 13 ways to create a stunning necklace stack here.
17. Mixed prints
A stripe with a floral? A check with a spot? Get creative and create a fashion mash-up! Need tips? There's 6 easy tips for mixing prints, here.
18. Curves
'Tis the season for embracing your curves. Whether you've a shapely bottom, a bountiful bosom, or you're lucky enough to have a baby bump, get 'em out and flaunt it! Need a little help in that department? Fake it with your favourite push-up bra or shapewear and prepare to stop traffic.
19. Black eyeliner
Rock star. Princess. Sex-bomb. Three words that spring to mind when I think of black eyeliner. Today, pick the one you're gonna be and work it hard. Here's 7 quick ways with black eyeliner.
20. Animal print
Because "Grrrr!"  Work it like a neutral and wear it with a snarl. Here's some wild ways to work it into your look, and be inspired by these tiger mamas on the street.
21. Big hair
Pump up the volume, make it huge, and dance!
22. Flowers
Whether it's as simple as a sweet-smelling frangipani tucked behind your ear on the way to the beach, or the latest floral fabrics, it's time to get your bloom on. Find 7 ideas on how to work flowers into your outfit here.
23. Ear candy
Adorn your lobes with a grab-bag of delicious sweet, shiny things. Need inspiration? Check out the statement earrings worn by participants on Day 7 of the February Fox in Flats Style Dare in this gallery.
24. Your favourite
Forget saving your awesome stuff for a special occasion, today's the day to wear your all-time favourites!
25. Red Lipstick
It's Christmas Day, and a swipe of red lippy is a quick, easy way to add some Holiday cheer! For tips on how to apply red lipstick that lasts and choosing a shade that suits you, click here. Plus, we've got over 100 smiling ruby-red lips to inspire you, here.
26. White
If you were dreaming of a White Christmas and are feeling ripped off, here's your chance to make amends.
27. Something New
If you scored something fab for Christmas there's no better time to work it. Or, try a completely new way to wear an old fave.
28. Hat
Cowboy, beanie, baseball, fedora – pull it onto your noggin' and wear with a grin. Need more inspo? Check out 7 ways to wear a baseball cap without looking like you're in the Little League, The fedora I wear on a bad hair day, 4 ways to wear a floppy felt hat, and style it up with these Classic hat & sunglasses combinations.
29. Breakfast at Tiffany's
Dress like Holly Golightly: it's a little reminder that you are the main character in your life. Pastry, coffee and tiara optional. All kinds of Aud-spiration here.
30. Bun
The Librarian. The Messy. The Ballerina. The Knotted. Or be inspired by this loose bun seen at the Rag & Bone show during New York Fashion Week.
31. Sparkles!
Get your glitter on and shake those sequins for New Year's Eve! Here's 11 ways to bring the bling. Drinking sparkly bubbly stuff is, of course, mandatory. Happy New Year!
How to join DAREcember
Simply save your own copy of the Fox In Flats DAREcember list (above or below) onto your computer or mobile device – somewhere it'll be easy to access.
Or, print out a copy and pin it somewhere that you'll see it every morning before you get dressed – such as the bathroom mirror, the fridge, or even above the baby's change table.
Then, simply refer to the calendar date daily, and wear the item listed for the day.
To make it easier, we'll be sharing handy tips, ideas and inspiration on site on Facebook, Twitter and Instagram for that day's challenge.
But the most important thing of all is to wear each Dare your way."
We'd love to see your styling handiwork!
Seeing how everyone interprets the daily style challenges, and getting a peek into the day-to-day lives of women around the world, is a huge part of what makes the Fox in Flats Style Dares so fun.
That's why we'll be sharing our daily faves around the interwebs for your sartorial enjoyment. Take a look at some of the galleries we've built featuring participants of past Style Dares – it's so inspiring!
Make sure you share pics of your daily DAREcember efforts with us on the Fox in Flats Facebook page, on Twitter, or Instagram using our special hashtag and tagging us:
 #DAREcember @FoxinFlats
Here's a daily prompt-list custom-built for Instagram to share with your own followers so they know why the heck you're suddenly posting selfies every day.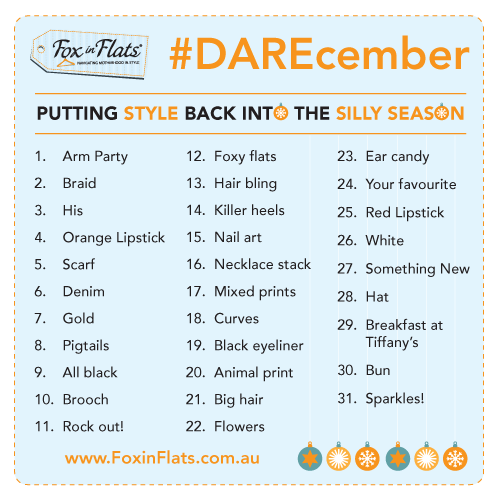 For Bloggers:
Here's a button to pop on your sidebar to show you're up for the Fox In Flats Style Dare, and to encourage your readers to join in too. Simply right click to save and link it back to this post.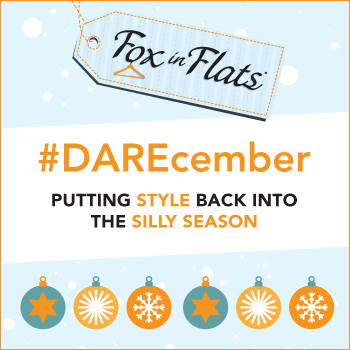 If you blog about your #DAREcember efforts, let us know so we can read your posts and share the love around. Be sure to let us know and send trackbacks to www.FoxinFlats.com.au
And in keeping with the standard rules of any good Dare, if you're too afraid to join in with the DAREcember challenge, we'll call you 'Chicken'!" 
Here's to putting style back into the silly season. Have fun and good luck! 

More Fox in Flats: