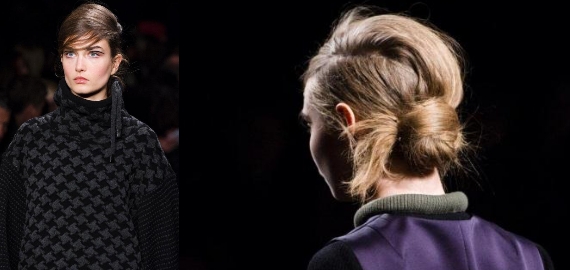 Direct from New York Fashion Week Fall-Winter 2013 this loose chignon seen at Rag & Bone is a must-add to every busy woman's hair repertoire.
Redken Global Styling Director Guido Palau created a relaxed, nonchalant knot with an emphasis on texture and a nod to the sixties. He explained:
"It's a little bit Edie-Sedgwick inspired but it's not too exaggerated."
"It's got a tomboy feeling, but it also has certain softness to it. Creating the low side part and then sweeping the hair over the forehead ultimately gives it a feminine feel."
Hairstyle How-To:
1. Apply Redken guts 10 root targeted volumizing foam to damp hair from roots to ends.
2. Create a deep, clean low side part.
3. Rough blow dry with fingers to create a very natural texture.
4. When fully dry, add Redken powder refresh 01 aerosol hair powder/dry shampoo throughout to add texture and a matte effect.
5. Drag hair together into a low ponytail at the nape of the neck and secure with elastic.
6. Apply Redken quick tease 15 backcombing finishing spray to the ponytail and twist into a loose knot, securing with pins and letting a the "wispy" ends come out.
7. "Soften" the whole look by pulling the hair up a bit at the crown, not too exaggerated but to add a little height.
Roger that, and I'll be trying this 'do this week, accompanied by this acoustic version of The Cult's classic song 'Edie (Ciao Baby)'.
httpv://youtu.be/ifW6NAe5g8A

More Fox in Flats: