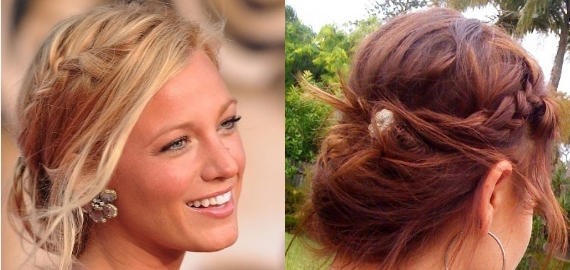 Blake on the Red Carpet, me in my backyard.
As gorgeous as she is breathy (don't you think?!), Blake Lively gives great hair. And while her carefully crafted and intricately tousled style probably took a chunk of time and a team of technicians, my 'Backyard Blake Braid' took me less than a minute.

How to create the 60-second Backyard Blake Braid
Step 1: Distribute dry shampoo or volume powder through unwashed hair.
Step 2: Side-part your hair at the front about two inches deep.
Step 3: Leaving part of your hair free at the front, grab some hair from the top-front of your head and start braiding backwards.
Step 4: Secure the braid at the back of your head with a bobby pin, or ornate clip (I used a small enamel comb).
Step 5: Gather the rest of your hair at the nape of your neck, twist once or twice (depending on the thickness of your hair), tuck under and pin loosely into place.
Step 6: Pull out some strands around your face to suit, and mess the back up a little to give it a more textured look.
Step 7: Finish with a light mist of hairspray.
Done, in 60 seconds!
What's your favourite fast hair styling tip?  

SUBSCRIBE for immediate email updates HERE, become a Fox in Flats FACEBOOK friend HERE, Tweet with us HERE, and click HERE to receive our weekly newsletter. x