As much as we want to do more with our hair, a ponytail is one of the easiest hairstyles to do when you are super busy, and so tends to be the fall-back option for most women.
Yet a few simple tricks can boost your ponytail from the 'little-league' into the high fashion league in an instant.
Christina from Hair Romance shares 5 easy style tips to take your ponytail from everyday to runway:
1. Sleek – The three part ponytail
 This ponytail is taken straight from the catwalk for Herve Leger and is super easy to do.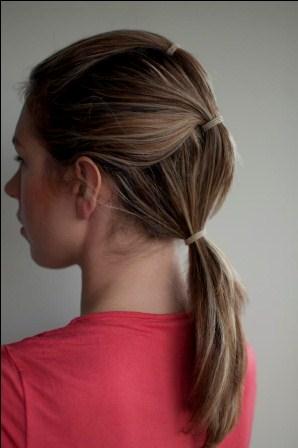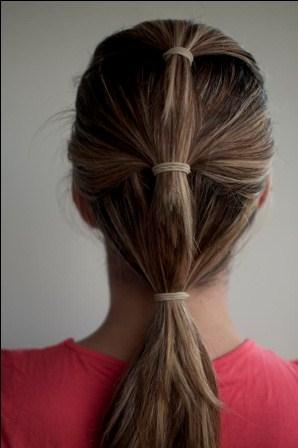 You'll need three hair elastics that match your hair colour, and hairspray or serum to create a smooth, sleek finish.
Make a ponytail at the top or your head, with a one-third section of hair, and secure with an elastic.
Take the next section of hair at ear level and make a ponytail, including the first ponytail.
Gather all your hair at the nape of your neck and secure with an elastic.
Smooth your ponytail with serum and finish with a light mist of hairspray to catch any fly-aways.
2. Sweet – Flower child
With the 70s resurgence in fashion, bring out your inner flower child. A big flower corsage like this pretties up any ponytail.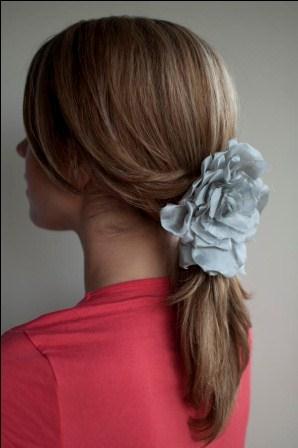 It couldn't be any simpler than pulling your hair into a ponytail and accessorising with a flower clip. My flower is from Target, and Diva also has a great selection at bargain prices. You could also try a bow for a cute finish.
3. Sporty – Polished ponytail
No time to do your hair? This sporty ponytail looks polished with minimal effort.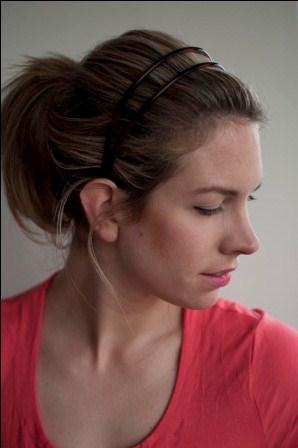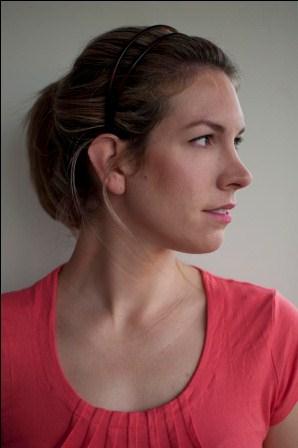 Grab a simple headband (mine is from Scunci) and brush your hair up into a high pony.
Choose a headband that blends with your hair for a stylish finish.
4. Sideways – Side sweep ponytail
Side Sweep fringes were a hit all over the runways in New York and London, as seen at Jill Stuart and Sergio Davila. Make this trend wearable for the playground and pull your hair into a low side ponytail.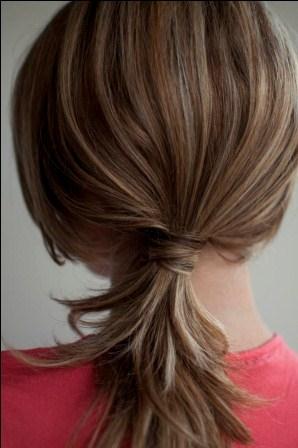 Take a section of hair from your ponytail and wrap it around your hair elastic and pin in place underneath. This will cover your hair elastic and makes all the difference in this simple ponytail hairstyle.
5. Fake it – the no pony ponytail
Is your hair to short or too fine to pull off these looks? Fake it with some clip in extensions – they're a great way to add volume and length to any hairstyle.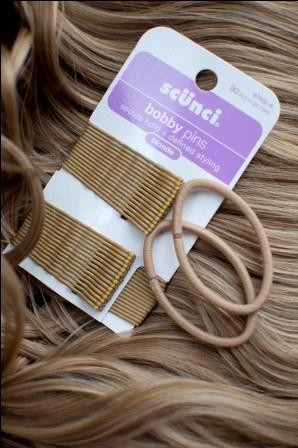 Remember to choose hair accessories that match your hair colour as it is easier to create a minimal stylish look. I'm wearing the new Lady Jayne 45cm hair extensions in Golden Blonde.
For more stylish – yet easy – hair tips from Christina, check out her blog Hair Romance, or connect with her on Facebook or Twitter.
What's your favourite fast & stylish hair style?

Click here to subscribe and get some Fox in your inbox, weekly.