'The Messy Bun' has been on the top of my hair-menu for a while now, as it's fast, easy, and seems to look great even when you've got dirty hair.
Yet, this knotted bun is a more sophisticated alternative, and is surprisingly easy to do.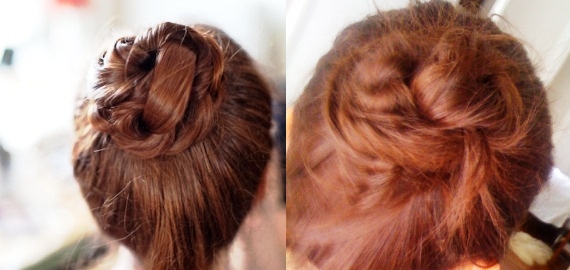 Marvelous Model version, professionally photographed vs my Messy Mum version photographed with iPhone.
Granted, my effort to replicate this hair style (on the right) still looks messy, but I only had one minute to experiment before the kids went nuts. That said, when the simple steps are followed – and you've got 3 minutes to spare –  this is a simple, yet stylish hair solution.
Knotted Bun
1. Secure hair in ponytail.
2. Separate hair into 2 – 4 sections (For longer hair, two sections should be plenty. If you've got thin, fine hair like mine, try four sections).
3. Apply a generous amount of pomade or wax to one section, split it into two and tie it in a knot. Then tie it again and again until there is no hair left to tie.
4. Wrap the section around the ponytail and pin.
5. Repeat with the remaining sections.
Note: For a larger bun, try teasing each section before you tie it. If you want a smoother bun, add more product and make sure each section is smooth before you tie them. A tutorial with visuals is here.
Want more bun-based hair inspiration? Check the buns at Fashion Week, see how to use a 'donut' to get a mega bun, or get a bit kinky with Leather Bun Bondage.
What can you say? The knot is hot! 

Click here to subscribe and get some Fox in your inbox, every week.
Thanks to Angie Betteridge for sharing this great hair tip!