C'mon, sing it with me – I know you know the words!
I bought this Guns n' Roses tank for my friend's '80s-themed birthday party, and now it's on high-rotation in my wardrobe.
The best thing about the Gunners – besides 'Paradise City' – is that their logo is super easy to work into the most basic of wardrobes (like mine!) and adds a pop of colour when you're not in the mood for pretty patterns or florals (which for me is never!)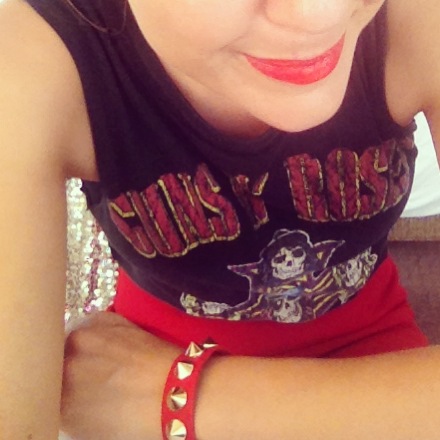 And if you're not 18 anymore – but still know all the words to 'Welcome to the Jungle' – this kind of top works well teamed with the more tailored, quality items in your closet like a classic pant, a crisp blazer, or a slim-fit pencil skirt like the red one (above) that I salvaged from my corporate days.
It's easy rock chic."
Because after all, as mums it's only appropriate for us to sing loud and proud "Oh, oh oh oh, Sweet Child O' Miiiiiyine!"
Air guitar optional.
What 'non-traditional' songs do you sing to your kids? 
More Fox in Flats: