By Andrea 
Wanna feel more empowered, more glam or more daring?
Wear red lipstick.
Marilyn pouted in it, Gwyneth lists it as her makeup essential, and Gwen Stefani probably sleeps in hers.
But you don't need to be a Hollywood legend, an Oscar winner or a world-famous popstar to be able to pull off red lipstick. In fact, you don't even need to be attending your BFF's birthday party, let alone some glittering event.
All you DO need is the desire to feel more glamorous, more daring, more empowered, more spontaneous, and yup, more sexy, and wearing red lippie actually has the power to do that, any day of the year. No, really, it does. Here's what Tamsin, one of our readers, said when she did the Red Lipstick Dare last year and wore red lippie for 7 days straight:
It sounds like such a simple thing, but it really made a difference. I felt more alive, more awake. I felt more glamorous and yes, sexier. I received lots of compliments, not just on my lips, but on my outfits this week – even though I wore the same thing last week and nobody noticed."
It's a real shame most of us reserve red lipstick just for special occasions, or eschew it all together, thinking it's all too much trouble, or makes too much of a "look at me" statement to possibly wear it to the local playground, the corner shop, or in the lunch room at work.
Because the truth is, red lipstick is awesome. No other colour has the power to instigate whiplash-inducing double-take glances from strangers (and that's never a bad thing, right?!)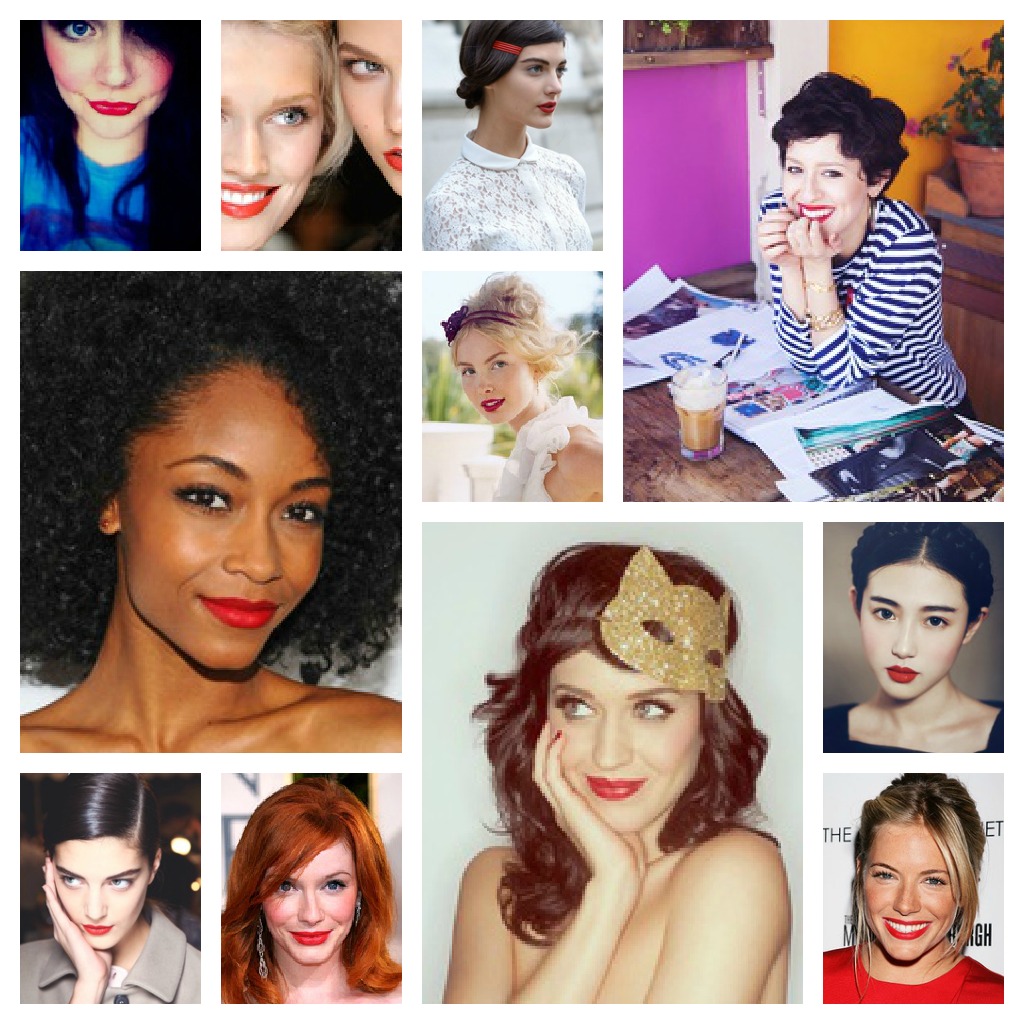 So we're laying down the challenge – for the third year in a row – for YOU to get out of your style comfort zone for a week and wear red lipstick every single day for 7 days, from when you get yourself ready in the morning, till when you take your makeup off at night.
After doing this dare for a week, I pretty much guarantee that you'll not only be used to the way it looks on you, and the statement that it makes, but you'll be loving the way it makes you feel.
why the red lipstick dare?
The idea for The Red Lipstick Dare on Fox in Flats came about three years ago. I'd just read a book called The Anonymums, about a few mothers who, bored with the perceived monotony of their lives, gave each other dares to spice things up a bit. As I turned the last page, I decided I'd try one of their dares myself: wear red lipstick every day for seven days straight. And for fun, I challenged the readers of Fox in Flats to do the same.
The dare became an instant hit, striking a chord with thousands of readers who took up the challenge and shared photos of their smiling (and sometimes pouting!) red lips across social media. Click here to check out a selection of pics from participants of the 2012 Red Lipstick Dare.
Here's what some of our readers said after doing The Red Lipstick Dare last year:
I rarely wear make up, and even during the Dare, I just had lippy and mascara on – but boy did it make a difference! I kept catching a glimpse of myself in the mirror and thinking "Hey! I scrub up ok!"
Michelle told how committing herself to taking photos of herself daily made her become "more comfortable in my skin, flaws and all." Read her entire post here.
Chantelle described how The Red Lipstick Dare helped to make her feel better after illness, and helped her to "…stand tall, be confident, be brave…"
And Norlin shared on her blog how her husband was caught "checking out a gorgeous chick wearing red lipstick on Facebook", only to realise that it was her – sprung!
And even mainstream press have got on the bandwagon with The Sydney Morning Herald, The Age in Melbourne, and ABC radio wanting to spread the word about how challenges like The Red Lipstick Dare have the ability to inspire positive change and create new habits.
So how about it?
Are you up for the fun of giving it a go?
The Rules of The Red Lipstick Dare:
Wear red lipstick from when you get dressed in the morning till you brush your teeth before bed at night.
Join in whenever you like, but to fully complete the Dare, you need to do it for 7 days straight.
Tell us all about it as you go. You can do this by:
Here's a small selection of reader pics from last year, and an entire gallery of photos are here:

"But red lipstick doesn't suit me!"
If you don't already have a red lipstick you love in your cosmetics bag, then now's the time to sort it out. There really is a shade to suit everyone.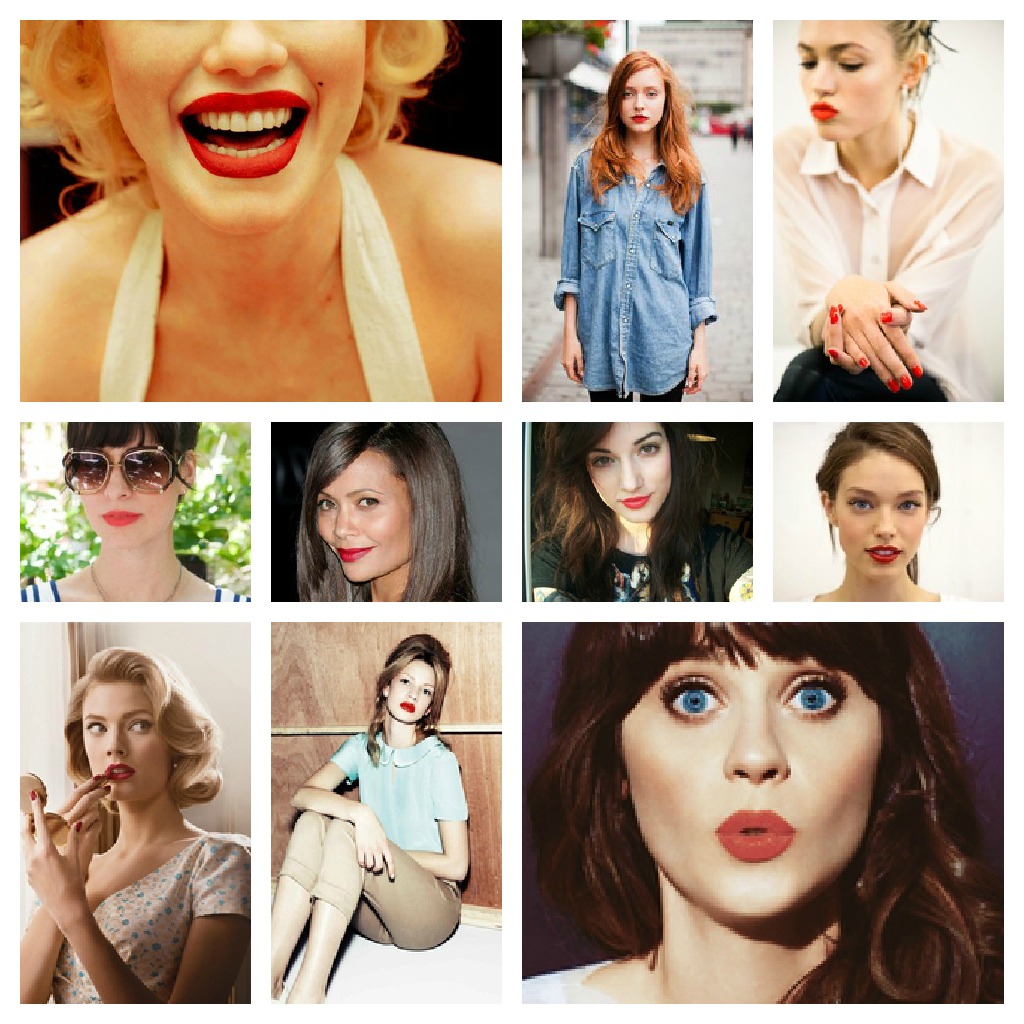 Click on the pic for a larger version  
Chanel Rouge Coco Shine Hydrating Sheer Lipshine – # 63 Rebelle $43 
Giorgio Armani rouge d'armani sheer lipstick $30
Nars Velvet Matte Pencil in Dragon Girl $20
Maybelline Color Sensational Lipcolor in Are You Red-dy $7
Lancome L'Absolu Rouge Lipcolor SPF 12, Smoky Rouge $30
More tried and tested lipstick reccommentions here.
"But it'll never stay on all day!"
Use these tips and it will.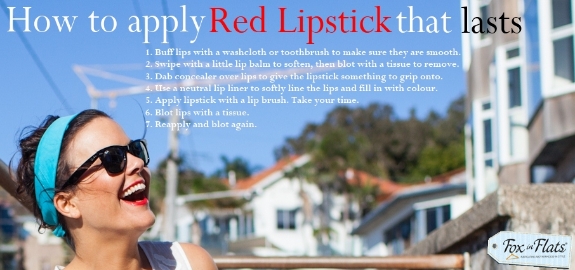 Click on the pic for a larger version
More application tips:
Keep the rest of your makeup relatively neutral – for a fresh and polished look.
Check and re-apply regularly or you'll end up with crazy red rings around your mouth without realising it.
To avoid getting lippy on your teeth, after application poke your finger in your mouth, close your lips around it and pull it out. The lipstick that's most likely to end up on your teeth will be on your finger instead.
For day, you don't want a wet jammy lip, so go easy on the gloss. A tiny dot of clear gloss on your lower lip is probably all you'll need, if at all.
I'm just too Chicken!
Don't be, because you'll be missing out on doing something really exciting. And fun. And empowering. So instead, why not show off your feathers and give The Red Lipstick Dare a go?
Because no matter what shape your lips (or your thighs!) are, or the shade of red you choose, red lippy is a super-easy way to feel great – as so many women who've tried this challenge before will attest.
I can't wait to see your pics!
x Andrea
So…who's in for The Red Lipstick Dare 2013?
More Fox in Flats: