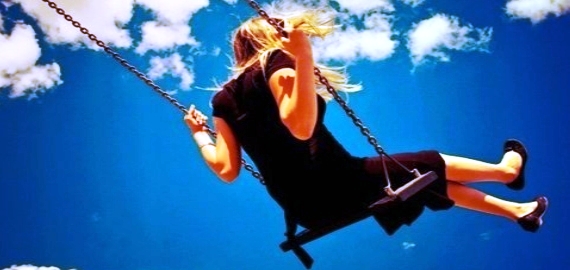 It's chic and it's classic, but an all-black ensemble can make you look like you're heading to a funeral instead of a playground.
Try these 8 easy tips to wear black without looking like a mama in mourning.
1. Keep your tones of black the same.
A faded black is going to look sloppy against a darker fresher, crisper black.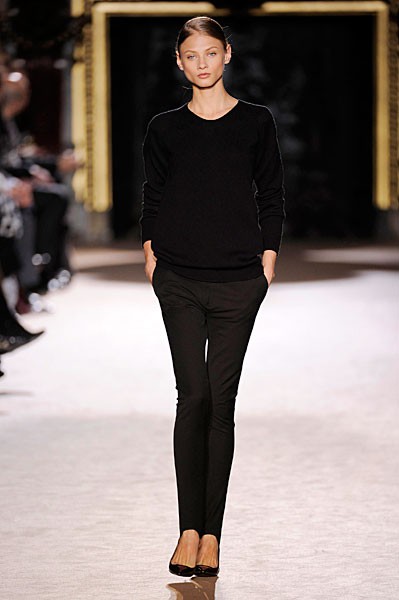 2. Brighten your face.
Nothing fancy here, just take some simple steps to brighten your dial to counter-balance the darkness of your outfit.
Try a facial illuminator such as NARS Illuminator $30 applied sparingly to your browbones, cheekbones, the inner corner of your eyes, and down the bridge of your nose. Or for a hint of a glow, apply some illuminator under your foundation.
A light, flesh-coloured eyeliner for your inner rims will brighten your eyes. And be sure to add a flush of colour to your cheeks for a healthy glow. For more tips on how to get a bright face in less than 4 minutes, click here.
3. Mix textures and patterns.
Try ribbed or fish net hosiery, woven belts, patent shoes, a sheer blouse, or a faux-fur vest.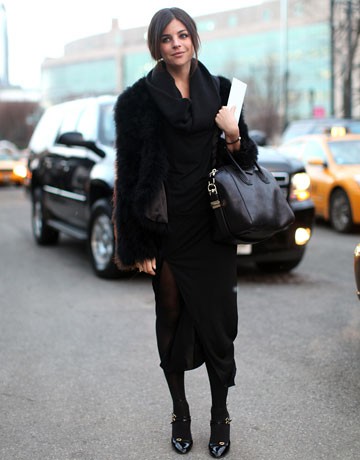 For a luxe look try mixing patent, jersey, faux fur and cashmere 
4. Metals that mirror.
Accessorise with shiny metallics that will reflect the light and create a sense of lightness around your outfit. Think mirror-ball in a dark night-club. This works especially well around your face to brighten it up (see point 2) so look for earrings, necklaces and even hair accessories that shine.
5. Add a dash of colour.
A bright lip in red, orange or fuchsia, neon nails, or a scarf, necklace, bangle or earrings that pop will show you're up for fun.

Olivia Palermo adds a subtle slick of colour in her flats and clutch.
6. Don't hide behind your hair.
Pull your hair up and away from your face and into a cute bouncy ponytail or fun feminine bun to create a fresh, clean look and to showcase your fabulous face!
7. Show some skin.
Bare your arms when wearing a maxi skirt, or team shorts with a long-sleeved shirt or jacket to keep things sexy and flirty (and entirely inappropriate for a funeral).

Kate Moss looking casual and chic.
8. Dazzle with your smile.
Simple, free, and probably the most important tip of all. 😉
Think you've got all-black down pat? Then why not try our black out challenge – where we dare you to wear predominately black outfits every day for a week? Click here for the details.
What's your favourite way to style up your all black outfits?