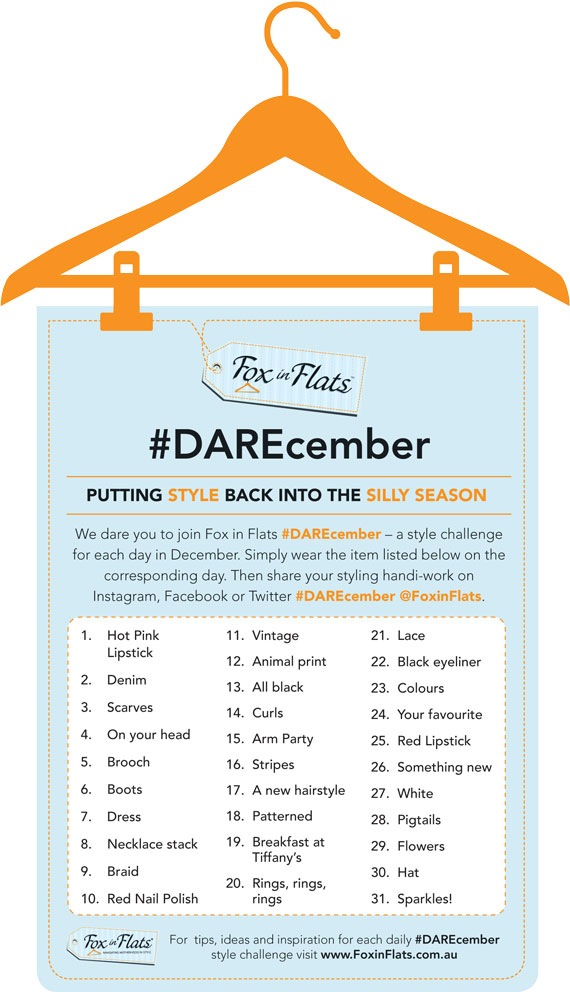 Introducing #DAREcember. It's the culmination of  sixteen months of Style Dares on Fox in Flats where we've been challenging ourselves to step out of our style comfort-zones, haul ourselves out of  our motherhood-induced fashion ruts, shake off our day-to-day uniforms, and spice things up a little.
Unlike our regular Style Dares – where we've dared ourselves to workshop a sartorial theme for 7 days straight – this time the challenge is to rock a different Style Dare every day.
Why DAREcember?
December is such an exciting time of year, filled with loved ones and the tingly anticipation of The Big Day. And it's also a month where it's easy to get caught up in the silliness: the social engagements, the menu plans, the shopping, the wrapping, and OMG the diplomacy! Diplomatically navigating away from tipsy Simon from Accounts at the work Christmas party; diplomatically explaining to little ones why they may not get that elephant they really want for Christmas; and diplomatically navigating social obligations with our well-meaning relies. And so, more often than not, the focus is on everyone else, and there's little time for ourselves.
DAREcember is a fun way to put the focus back on you, in little ways, each day throughout the silly season."
How to join #DAREcember
Simply save your own copy of the Fox in Flats #DAREcember list (above) onto your computer or mobile device, then refer to it every day through December. Or, print out a copy and pin it somewhere that you'll see it every morning before you get dressed – it may be the bathroom mirror, the fridge, or even above the baby's cot. Then, simply refer to the calendar date daily, and wear the item listed for the day. And most importantly? Wear it your way.
Here's a load of tips, ideas and inspiration for each day in #DAREcember
1. Hot Pink Lipstick
Flashes of fuchsia were all over the catwalk this year, and now it's time to bring it to the sidewalk. For tips on how to wear it without looking like you're going to a '90s retro party, click here.
2. Denim
Rock your most in- jean-ious look! Find tips on how to take your denims up a notch here.
3. Scarves
There's a way to style a scarf to suit any kind of weather. Click here for ideas on how to try something new with summer scarves and warm snuggly scarves.
4. On Your Head
Be it a hat, a headband, a flower, or even hair extensions, let's see how you  'use your head' to accessorise. Find quick, easy & fabulous ideas for dressing up your noggin', as suggested and modelled by some really fab Foxes, here.
5. Brooch
The antique brooch your grandmother wore to your parents' wedding. The Cure badge you bought at your first concert. That enamel pin you discovered in a thrift store. And the precious lady-bug brooch your mum gave you when you were 5. Dust 'em off and pin 'em on! Here's 19 ideas for rockin' your treasures.
6. Boots
Ready boots? Start walkin'! Here's 9 ideas on how to slam on the boots regardless of the weather.
7. Dress
Time to rock your frock!  Be inspired with 39 ways to wear your old favourites, and find 27 dresses for 12 different body shapes, sizes and stages.
8. Necklace Stack
A quick & easy way to modernise your look using jewellery you already own. 13 ways to create a stunning necklace stack here.
9. Braid
Afraid of the braid? Not today! We'll hold your hand with loads of easy braid ideas and tutorials for every hair type here. And if you're really squeezed for time, try 6 of the quickest braids or our 60 second backyard braid tutorial.
10. Red Nail Polish
A red mani will give you 10 little ways to create some Christmas cheer (that suits every figure)! So whip out your cherry red polish and lacquer up. Here's tips on how to get your mani to last longer, and for styling inspiration for the day click here.
11. Vintage
Dig out your favourite thrift store find, dust off Nanna's treasures, or if you're a vintage virgin, grab a few bucks and head to your local Vinnies! Then feel smug knowing no-one's gonna be wearing the same thing as you.
12. Animal Print
Work it like a neutral and wear it with a snarl. Here's some wild ways to work it into your look, and be inspired by these tiger mamas on the street.
13. All Black
Chic, slimming, and a great camouflage for bumps, lumps and Vegemite stains. Here's how to wear head-to-toe black without looking like a mama in mourning.
14. Curls
Whether it's embracing your natural curls, or creating them with rollers, tongs, or a GHD, it's time to get your kink on.
15.  Arm Party
Round up your favourite wrist candies and crank up the tunes because today we're having an epic party – on our arms! For tips on how to throw an awesome arm party, click here, and be inspired by hundreds of women who joined The Arm Party Dare here.
16. Stripes
Time to be nautical and nice with a breezy bolt of striped sunshine. Here's 5 looks from the street to inspire.
17. A New Hairstyle
Try something new, just for the day! We've got loads of quick, easy and gorgeous hair-spiration here.
18. Patterned
Any print, any pattern, and for the brave why not mix them together? Here's 6 ways to mix prints without looking like you got dressed in the dark.
19. Breakfast at Tiffany's
Dress like Holly Golightly: it's a little reminder that you are the central character in your life. Pastry, coffee and tiara optional. All kinds of Aud-spiration here.
20. Rings, Rings, Rings
Pile on stacks of them or go for just one that's so sparkly it could blind you, or so big it could double as a knuckle-duster, like this chunky ring.
21. Lace
Lashings or a little, and if in doubt, check out our guide on how to wear lace without looking like a doily.
22. Black Eyeliner
Rock star. Princess. Sex-bomb. Three words that spring to mind when I think of black eyeliner. Today, pick the one you're gonna be and work it hard. Here's 7 quick ways with black eyeliner.
23. Colours
Let's see what it actually looks like somewhere over the rainbow! For a crash course on colour mixing, matching, clashing and blocking,  click here.
24. Your Favourite
Forget saving your awesome stuff for a special occasion, today's the day to wear your all-time favourites!
25. Red Lipstick
It's Christmas Day, and a swipe of red lippy is a quick, easy way to add some Holiday cheer! For tips on how to apply red lipstick that lasts and choosing a shade that suits you click here. Plus, we've got over 100 smiling ruby-red lips to inspire you, here.
26. Something New
If you scored something fab for Christmas there's no better time to work it. Or, try a new way to wear an old fave.
27. White
If you were dreaming of a White Christmas and are feeling ripped off, here's your chance to make amends.
28. Pigtails
There's something so fun, fresh and fantastic about pigtails. But if you're not careful, wearing pigtails as a grown up can leave you looking like either a porn star or Mary-Ann from Gilligan's Island. Don't worry though, all the tips you'll need are here: 5 ways to wear pigtails without looking like your daughter.
29. Flowers
Whether it's a sweet-smelling frangipani tucked behind your ear on the way to the beach, or the latest floral fabrics, it's time to get your bloom on. Find 7 ideas on how to work flowers into your outfit here.
30. Hat
Cowboy, beanie, baseball, fedora – shove it on your noggin' and wear with a grin.
31. Sparkles!
Get your glitter on and shake those sequins for New Year's Eve! Here's 11 ways to bring the bling. Drinking sparkly bubbly stuff is, of course, mandatory 😉
We'd love to see your styling handi-work (it's all part of the fun!)"
Share pics of your daily #DAREcember efforts with us on the Fox in Flats Facebook page, on Twitter, Instagram using #DAREcember @FoxinFlats, or on your blog. And as we always do, we'll share the your Style Dare efforts around the interwebs (while our kids aren't wrecking the joint) 'cause that's how we roll.
And in keeping with the standard rules of any good Dare, if you're too afraid to join in with this month-long dare, we'll call you 'Chicken'!"
Here's to putting style back into the silly season. Have fun and good luck! 

For more Fox in Flats: