Unlike Charlie Sheen, I'm SO not 'Winning'.
Today I'm feeling really sorry for myself, and it's not just because I'm a little shady after a few too many glasses of Champage at a rockin' birthday party last night (rockin' in a suburban Sydney kind of way, not a Mr. Sheen kinda way).
No. The reason I'm not winning is that I find it impossible to get ready to go out on time and without drama.
By the time I close that front door behind me, I feel like I have just run an epic round world marathon, barefoot, with two little kids tugging at my shorts at each step.
It's the unexpected things that crop up with kids that can derail even the most detailed of plans.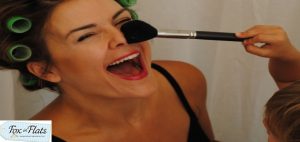 Last night it was the runny poo on the living room rug from my toilet training son, and then a miniscule scratch on a finger that required kissing every 30 seconds.
My other son insisted on 'helping' me with my makeup, the husband decided it was the perfect time to mow the lawn (!), and my favourite heels went MIA, only to turn up today in the crisper of the fridge.
It's little wonder the bubbles slid down so easily last night.
Anticipating another getting ready debacle on the horizon, I turned to my friend Kelly – a mother of 4 – on Friday when we were chatting in the playground, and asked if she had any tips for getting ready for a night out.
"Sure!" she responded. "I always start planning the week before by choosing two potential outfits, inclusive of accessories. That way, if I don't love one on the day, I have a back up ready to go. It's also handy if the kids smear their grubby fingers on my dress as I'm about to leave".
Great. I was behind the 8 ball already and it wasn't even the day of the party!
"Also" she added. "Feed them something they love for dinner so there are no food dramas, and let them watch TV while you get organised".
That, I can do.
So, yesterday, in a bid to have a stress free lead up to the party, I started preparing as soon as I woke up – getting meals arranged for the kids and the sitter, deciding what to wear, and I even commenced an at home pedicure.
Yet, as we left the house for the party, already 15 minutes late, I felt frazzled, and my feet were jammed into a pair of heels that vaguely went with my LBD, but more importantly, hid my yet to be polished toes.
I'm at the point where the 'getting ready to go out' part, is ruining the 'going out' part, and I'm getting gun shy…HELP!
What tips can you share with me, and other mums who struggle to get ready for a night out without kids?