Some where over the rainbow, nails are blue…
…and pink and purple and green and red.
Last week, I popped into one of my favourite coffee shops and found two things that perked me up.
1. This:
I've been so sleep deprived lately and am so, so tired.
I just wish I could have it administered intravenously.
2. And then, this:
A jumble of rainbow fun on the nails of the barista.
And she isn't the only one experimenting with rainbow nails at the moment.
The stunning supermodel Helena Christensen was in Sydney just two weeks ago, and was spotted with a similar manicure at North Bondi Italian.
Her bestie Gail Elliott who designs beautiful slips for her brand Little Joe, shared this photo on the blog.
A little dig around the blogosphere shows that this isn't a new trend.
Nail blog  All Lacquered Up wrote about these in 2007 and referred to them cutely as "Skittles Nails".
And Jane Aldridge from famous fashion blog Sea of Shoes combined a DIY rainbow pedicure with Prada chandelier shoes in Florence, Italy last year.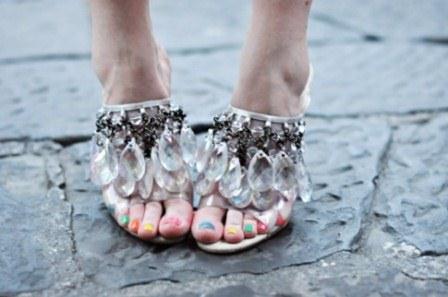 While we don't see much Prada in the playground, this pedi would look just as pretty in a pair of gladiator sandals or flip flops. Click here for the 5 best shoes for when you are with your kids.
The key to getting this trend right?
Stick to colours of the same tone, such as all pastels, or all neons.
And have fun with it – channel your inner child!
As one mum, Jeanie said about the trend on Makeup.com :
I have done this for years and I am just a few days shy of 30. I use my 5 year old as my excuse. She is so indecisive of colors so she has to have a rainbow and of course Mom must match. The good thing is I love doing it.
What do you think of Rainbow Nails?
And what mix of colours would you try?
Too tired to even lift a nail polish brush? 12 tips for the sleep deprived here.