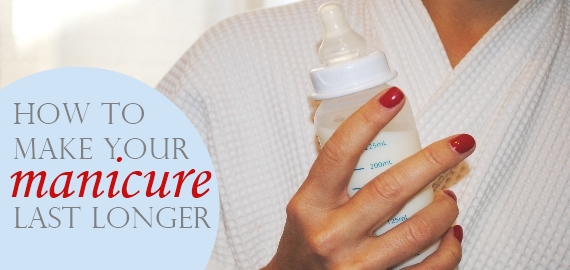 With hands so busy wiping, washing, scraping, stroking, peeling, patting, and prizing, it's little wonder a fresh manicure is often mangled within days (if not hours!) of application. Here's 10 tips for making your mani last longer – without another expensive trip to the nail bar.
I've spent more time painting my nails than I should admit, but one upside is that it has taught me a few tips and tricks along the way. So when Mrs Fox needed someone to share how to get nail polish looking pristine and lasting a long time, I was all too happy to share my knowledge with all you foxy readers. Because here's my claim to fame: my at-home manicures last an average of 8-10 days.
Prepare
1. Wash your hands
You want to ensure you don't get any grit or nasties under the nail polish so always wash your hands before you apply polish.
2. Buff your nails
Buffing your nails with a good nail buffer will ensure you have the smoothest base to work on and will help your nail polish to stick.
3. Apply a base coat
Always apply a base coat. This will protect your nails from staining. Nobody wants gross, yellow nails! Absolutely never ever under any circumstances should you paint your nails red without a base coat! I also recommend using OPI Chip Skip under your base coat (not on top) to extend the wear of your polish.
Paint
4. Two thin coats
Always apply your nail polish in two thin coats to speed up the drying process. It's tempting if you're chucking on nail polish right before you head out the door to do one thick coat. Don't! You will damage the polish on your way and it will look awful. If you're in a real hurry do one thin coat only. It will dry a lot faster.
5. Use less polish
If you have less polish on your brush, it's easier to control. Wiping the bush on the edge of the bottle will remove excess polish and avoid any random blobs or clumps. This will also reduce your drying time.
6. Three strokes
Paint your nails in 3 even strokes – the middle, the left and the right. This will ensure your nail is evenly covered and reduce the likelihood of messing it up.
7. Don't touch the sides
Leave a slight gap at both the base of the nail and the edges of the nail, this will make your nail polish look a lot neater and make your nails look the perfect shape, even if they aren't. This is my number 1 tip for perfect nails.
Finish
8. Apply a top coat
In order to get that perfectly shiny gloss, apply a top coat. This can also help your nail polish to dry faster if it's a quick drying top coat. Although if your top coat dries and the layers underneath are still wet it increases the chances of creating indents in your polish, or getting those stylish sheet marks. If you can let the nail polish dry before applying top coat, that is best. I recommend OPI Rapi-Dry top coat.
9. Cold Water
Dipping your touch-dry nails in cold water or running them under cold water (as long as it's a gentle flow) will set your nail polish faster. Although it won't be completely dry you'll be less likely to smudge or leave little marks in it.
10. Remove your polish
Remove your polish as soon as it has any obvious chips. Especially if you're trying to appear organised and pulled together. Chipped nail polish is never a good look.
Bonus Tips
Use good nail polish. In my experience OPI make the best polish.
If you do smudge it
Go over a smudge or dent with top-coat (it really works). If you don't have top-coat handy, run it under cold water, or lick it. It sounds really strange, but the moisture allows the smudge to straighten out.
Happy painting!
Tamsin is a wife, stepmother and blogger with a passion for people and relationships, fashion and beauty, and an inability to successfully complete household tasks. Co-founder of KiKi & Tea and blogger at tamsinhowse.com or you can follow her on twitter @TamsinHowse
What are your tips for making your manicure last longer?