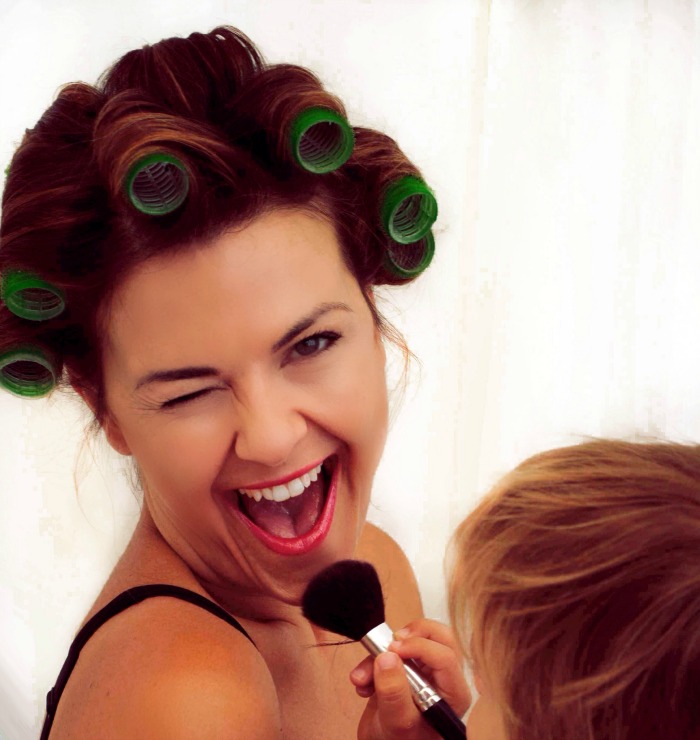 We're all grown up women of the world and know how to make ourselves look presentable, if not fabulous.
But the motherhood gig can throw up a few hurdles in our efforts to do so – including literally being thrown up on.
We surveyed 150 mothers and asked them to share their top tips for looking good while caring for their children. After sorting through the piles of great answers we compiled the top 12.
I've put these tips to the test myself, and estimate that I'm looking about 65% better already.
Some of the tips are obvious. Some not so. But all are gold.
1. Make sure your HAIR is looking good
"Hats hide a messy hair day." Rose Bay, NSW
"Tie hair up so baby can't grab it." North Strathfield, NSW
"Find a hairdresser who will come to your home to save time." Main Beach, QLD
"Shove it in a pony and run the GHD over it." Adelaide, SA
"Add clips or headbands to change your look from time to time" Tanunda, SA
"Buy some dry shampoo for the days you can't wash it" Edgecliff, NSW
2. Be COMFORTABLE
"Wear flats. Ballet flats or havianas are great (but always paint your toes)" Sydney, NSW
"Layers." Mont Albert North, VIC
"Wear practical clothes. Heels do not belong in parks" Mount Evelyn, VIC
"Wear clothes that you can easily move in without sweating" Singapore
"Try jersey. It moves with you" Calgary, Canada
"Buy sandals that strap around the ankle – more comfortable to run in." Singapore
"Unless you dig Britney's pre breakdown look, leave tracksuit pants for exercise and lounging around the home. Never EVER wear them at any other time! Jeans are comfortable, practical, and can take a lot of crawling on the floor" Geelong, VIC
4. Add a touch of MAKEUP
"Lipgloss in nappy bag…looks like you have made an effort." Manly Vale, NSW
"Very simple makeup – concealer for the bags & a tinted moisturiser." Waverley, NSW
"Blush or bronzer will breathe life back into a tired face." Melbourne, VIC
"I wear makeup everyday as it always makes me feel pretty even if Im not going anywhere." Forster, NSW
"Mascara – makes you feel better." Maroubra, NSW
5. Keep up your SKINCARE routine
"Cleanse & moisturise every day & night, no matter what. Buy those makeup remover wipes if you are toooo tired." Hunters Hill, NSW
6. SIMPLICITY is best
"Keep it simple – don't look as if you're trying too hard." Glenside, SA
"Stick to your basic wardrobe even if you have worn it a million times." Woollongong, NSW
7. Keep it CLEAN.
"Don't wear anything you can't get grubby – you'll never look relaxed." Geelong, VIC
"Shower as soon as you wake up, before your partner goes to work. You may not get the chance later." Drummoyne, NSW
"Wear things that don't show Vegemite stains." Sydney, NSW
"Have wet wipes handy." North Strathfield, NSW
"Black hides dribble marks best and is slimming too!" Stirling, SA
"Wear clean clothes – change if your child vomits on you." Sydney, NSW
"Don't go near the children when there is food around." Moonee Ponds, VIC
"Invest in good quality, machine washable items. Clothes get food, spit, etc on them very easily so they must be easy to wash and will keep their shape." Geelong, VIC
8. ACCESSORISE
"Put on jewelery when you get dressed or you won't get around to it." Perth, WA
"Sunglasses! Instant style accessory and hides tired eyes." Annandale, NSW
"Always wear one piece that is special amongst everyday kit." Sydney, NSW
"Don't wear things with too much detail (children will pull it off)"
"A different scarf and costume jewellery will jazz up shabby clothes and distract from a tired face." Bondi, NSW
"Invest in a fab nappy bag." Adelaide, SA
9. EAT well and EXERCISE
"Try and eat healthily and get outdoors – your children will love it, too." Woollongong, NSW
"Having a positive attitude to health & exercise helps instill that foundation into my daughters for their future." Perth, WA
"It's the only way to lose the baby weight. You'll have more energy to deal with the constant demands of your kids too. I finally got around to going to the gym and putting the kids in the creche and WISH I had done it sooner." Glenelg, SA
10. Mother YOURSELF
"Don't give up your sense of personal identity." Cammeray, NSW
"Make time to meet girlfriends without kids around. Women make more effort to dress how they like when kids not involved!" Bronte, NSW
"Like what you are putting out there and try to accept where you are in your life."  Wellington, NZ
"Laugh. Daily." Rozelle, NSW
"Take time out occasionally to get hair done, manicures etc – whatever maks you feel good." Dubai, UAE
"Dress nicely so your children can see you have respect for yourself." Townsville, NSW
"Don't worry what others think about your looks." Woollongong, NSW
"I always have my toes painted (as well as theirs) – so very feminine and makes you feel good no matter what the season." Forster, NSW
"I own at least 1 or 2 brand labels so I don't feel too daggy." Annandale, NSW
11. Buy clothes that FIT, COVER & CAMOUFLAGE
"Wear supportive underwear to help improve 'mummy' figure." Geelong, VIC
"Fact. Your body shape changes after having a baby so you need new clothes." Sydney, NSW
"Long line cardigans are great – no exposure of muffin tops!" Stirling, SA
"Wear pants / leggings with a higher waist, to prevent bottom showing when you are constantly bending over to wipe runny noses!" Singapore
"Fitted so you look nice but not tight or restrictive – no bulges!" Killarney Heights, NSW
"Wear clothes that fit properly, not baggy maternity clothes. They're more flattering" Brisbane, QLD
12. PREPARE for the onslaught
"Get up before them in the morning so you can get ready in peace and get yourself sorted out." Dubai, UAE
"Avoid clothes that require ironing." East Maitland, NSW
"Prepare clothes and things for the next day the evening before." Barossa Valley, SA
"Don't stay in your PJs." Belmont, VIC
"I get dressed in the morning in outfits I can wear out, even if I'm not planning to go anywhere". Beaumont Hills, NSW
And if all else fails…
Make the kids look good to detract attention from yourself." Melbourne, VIC
For more information on the Fox in Flats Motherhood and Fashion Survey, click here
What is your best tip for looking good while caring for your kids?