When I started preparing for the birth of our first baby, I thought choosing a baby bag would be one of the more straightforward necessities we'd have to buy… until I laid my eyes on what the stores were offering.
Florals, bold patterns, bright colours, and so, so bulky!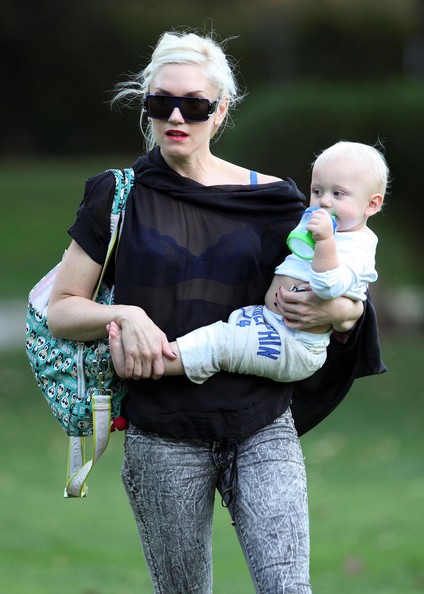 I didn't see a thing that came close to coordinating with my wardrobe or in a style that I liked, and definitely nothing my husband would be caught dead carrying (I'm ALL for equal opportunity, especially when it comes to lugging stuff around!)
Plus, it seemed that if the words 'Baby Bag' appeared on the swing tag, the price would magically be that much higher compared to a regular bag.
Baby bag, nappy bag, diaper bag…
Whatever you call it, it's just a bag to carry your gear for when you are out and about with your child. The content will vary depending on the age of your offspring and therefore what they need.
Mercifully, the older they get, the less you have to carry.
And what's more, they can start to carry things themselves. I'm a big believer in "You like that Thomas The Tank Engine Back Pack? You wear it!"
But I digress.
What tends to set a diaper bag apart from a regular one, is simply the inclusion of a change mat, extra pockets designated for specific items, something to insulate a bottle, and probably an extra zip up bag or two.
Looking outside the maternity section.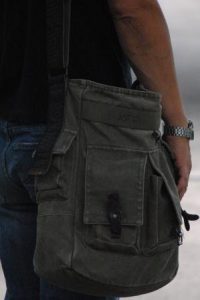 Instead of looking for your nappy bag in baby stores, toy shops, or maternity departments, take a look at what is available in your favourite stores.
You might just find something that will do the job, suit your style, and you will probably save money at the same time – lack thereof being one of the 5 biggest fashion issues facing mothers, according to our survey.
As I struggled to find a baby bag I liked (besides lovely $400 totes in Oroton…) I started looking further afield.
I found a heavy cotton drill, army-style shoulder bag with leather straps at General Pants. It did the job and coordinated well with the cargos I was living in at the time.
All I had to do was purchase a slim-line change mat like this (you could try disposable ones), and a few other essentials and I was good to go – all for less than $100.
Best of all, my husband was happy to lug it around when we were together.
By the time I had my second child, I was ready for a new look, so I bought said Oroton bag when I saw it on sale. It was big and roomy with lots of pockets and places for things.  I felt very professional as I packed my bag with all the baby essentials. But to be honest, I never needed it to be that big. I think I had streamlined my baby essentials by then.
On impulse, I purchased a slightly smaller, but still roomy black bag with a long strap from Kookai that was totally styling.  I felt a little guilty for buying it, given I already had a very capable bag, but justified it as baby equipment…which somehow made it ok.
Kind of like how buying cosmetics in a Chemist doesn't really count, as everything you buy there is essential and for your health and wellbeing…right??
Besides, I still use that bag today, so it must have been a savvy purchase.
Tips for finding a great nappy bag.
Clever accessorising is one of the 12 top tips to looking good when you've got little kids. Think of your diaper bag as a key accessory that can turn a plain outfit into a killer one.
Choose one that you love and that will go with your wardrobe and personal style. This way, you get to treat yourself to a great new bag that you would be happy to use whether it's full of nappies or not.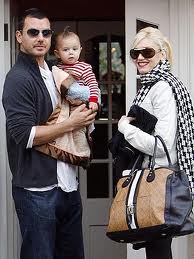 Make sure it is the type of fabric you would be happy to place on a dirty sidewalk,  shopping centre floor, wet lawn, etc.
A waterproof lining is handy, but not essential.
Ensure it has a long strap that can be looped across the back of your pram, hung over your shoulder or across your body, so your hands are free.
Try to get something unisex so your partner has no excuse not to carry it.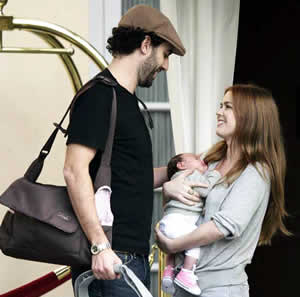 When it comes to colour, black and browny tones make sense for obvious reasons.
But consider red, navy, beige, grey and green, as they too will go with pretty much anything.
That said, a bright colour, pattern, or printed statement can rock.
Check out these awesome ones I spotted in the playground recently.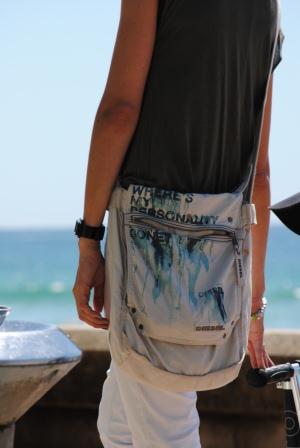 These baby bags all look pretty great, and are available to buy online, now.
Baby Bags to Suit Your Style by mrs fox featuring travel bags
Bobby Bucket Bag
, $90
ASOS Faux Fur Tote
, $45
Canvas and PU Shopper Bag
, $55
Petunia Pickle Bottom Bags and Clutches Rubicon Rucksack – Brown…
, $271
Petunia Pickle Bottom Bags and Clutches Rubicon Rucksack – Brown…
, $271
Buckle Pocket Square Holdall
, 36 GBP
Crinkle Travel Bag
, 80 AUD
Canvas Backpack
, 50 AUD
Besace perfor
, 230 EUR
David & Goliath BIG STINKY DIAPER BAG
, 5.87 GBP
stock.xchng – -Grass II- (stock photo by spekulator) [id: 859646]
And finally, here are the essentials you'll need to cram in there:
Change mat
At least 2 nappies
Disposable nappy bags or plastic bags
Nappy Rash or Barrier cream (sample sizes)
Hand sanitiser
Wipes
Tissues
Bottle, formula, snacks
Bib, Burp blanket
Small toy or book
Hat, sunscreen
Change of clothes (for them, not you…)
Any tips to share with new mothers looking to buy their first baby bag? And, what do you have stashed in yours?