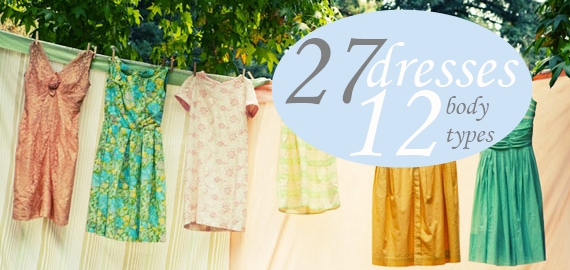 Dresses are the No. 1 item that women with kids miss wearing from their pre-baby wardrobe, yet 23% said they felt most attractive when they're wearing a dress*. So it's time to reclaim some of our perceived femininity – and by association, hotness – by stocking up on the perfect frock. And we've found 27 of the best ones around to suit whichever shape, size or stage you're in right now.
If you're shaped like a guitar.
Embrace your curves down below, and look for a dress that skims your bottom without clinging. Try a tea dress that's fitted at the top to accentuate your dainty shoulders, with a full skirt that cinches in to show off your tiny waist.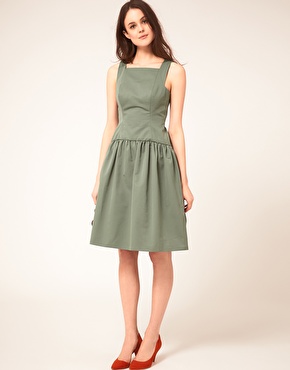 Boutique by Jaeger Cotton Dress (pictured) $271.28 ASOS.com.au, 
Dahlia Floral Forties Tea Dress $84 ASOS.com.au
If you've got a mummy tummy.
Think vertical. A maxi dress that skims your shape, and with bright patterns that will draw eyes away from your tum. Team with a statement necklace or earrings to lead the eyes upward even more.
Milly Gustavia Halter Maxi Dress $357 (pictured),
Dorothy Perkins Bright Multi Swirl Maxi $21
Need just a little more reassurance about the state of your tum? See what real mummy tummies look like, accompanied by awesome stories of tummy acceptance.
If you've been looking for your waist, but just can't find it.
Boyish figures can work the Gatsby-inspired drop-waisted trend like no-other. Who needs a defined waist when you've got some flapper action happening down below?! Team with low-cut dainty flat sandals for a pretty daytime look.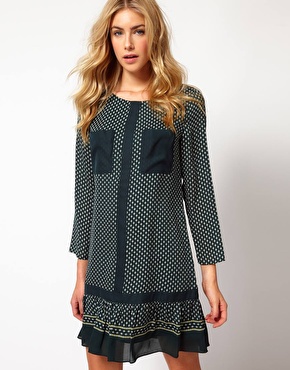 Whistles Mini Foulard Dress $228.89 (pictured) ASOS.com.au,
Three Floor Young Heart Dress with Bows $149
If you've got massive boobs.
A simple v-shaped neckline will accentuate your glorious bosom without poking anyone's eyes out. Look for dresses with thicker straps to cover your undergarments, and be sure to have these fitted professionally to maximise your assets.
ASOS Maxi Tea Dress In Floral Print $43 (pictured),
Rachel Pally Kyrie Deep V Maxi Dress $233
If you've got teeny tiny boobs, and a rounded belly.
Skip the bra, and try an elasticised strapless dress with an empire line in crisp cotton. It'll draw attention to your décolletage, and away from your tum. Add layers of mid-length necklaces to bulk up the area in a stylish, personalised way. Tips on layering necklaces here.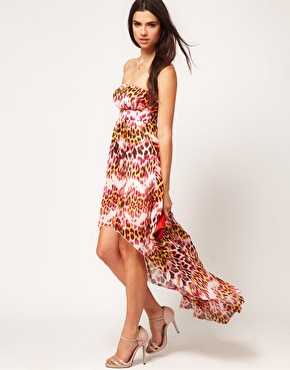 Lipsy Bandeau Leopard Maxi Dress $46 (pictured) ASOS.com.au,  
Prowl Smocked Bandeau Maxi Dress by Soma Intimates $27 
If you're pregnant.
A dress that's fitted on top, and flowing down below – like an empire-line – is especially flattering on pregnant figures. A maxi in a jersey fabric will skim your body in all the right places without looking like you're wearing a tent.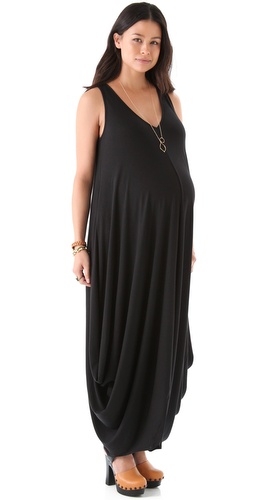 HATCH The Soiree Jersey Dress $248, (pictured) ShopBop.com, 
ASOS Maternity Maxi Dress $93.23, 
ASOS Maternity Grecian Maxi Dress With Side Split $42 
 For the top 10 pregnancy wardrobe essentials click here. 
If you're breastfeeding.
You can wear dresses when breastfeeding – just ensure they enable instant access to your breasts. Otherwise, you'll end up nursing in your underwear in the bathroom at your cousin's wedding. A shirt-dress is an easy winner, or look for dresses that front-open with press-studs. Asymmetrical and strapless dresses can also work a treat, especially if you're smaller breasted and can survive without a bra.
Wrangler Denim Shirt Dress $95 (pictured) ASOS.com.au,
Fred Perry For The Amy Winehouse Foundation Polo Shirt Dress $136
Minkpink 'Valerie' Floral Button Front Maxi Dress $72
For more dresses you can wear while nursing your baby click here.  
If you've got great legs.
Regardless of your age or body shape, if you've got great legs, make like Beyonce and flaunt them! A chic, crisp tunic-style dress will suit most figures. Choose one that falls an inch or so above the knee to maximise the flaunt.
Baum Und Pferdgarten Sporty Tunic Dress in Marl Print $202 (pictured) ASOS.com.au, 
BA&SH Woven Day Dress with Flippy Skirt $407, 
10 Crosby by Derek Lam – Short Sleeve Tunic Dress $238 
If you're all boobs and butt.
Don't shy away from being called curvy –  own it sister! A wrap dress is made just for you. Team with low kitten heels for a look that'd make Sophia Loren weep.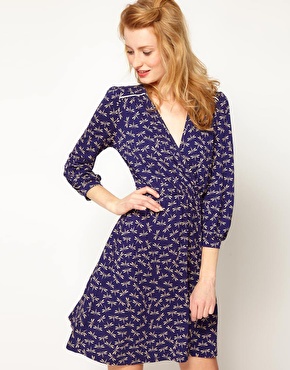 A Wear Dragon Fly Wrap Dress $60 (pictured),
If you're so tiny and compact people mistake you for your daughter.
A maxi is likely to swamp you (unless you've got a few tricks like this up your sleeve) and a tea dress can make you look too young. Try short, fitted dresses that show off your petite frame, teamed with slip-on, low-cut sandshoes for a sporty, day-time look.  Alternatively, try sandals with a slight wedge for a bit of extra lift.
Michael Kors Sleeveless Striped Zipper A-Line $62.99 (pictured) Macys,
ASOS T-shirt Dress With Tight Skirt $23.
If you're worried about your thighs.
Look at yourself in the mirror wearing only your knickers and locate the thinnest part of your leg. For many women, it's just above the knee. For others, it's around the ankles. Aim for a hem that finishes at your slender-spot, avoiding hemlines that sit on the widest parts of your legs, and worry no more.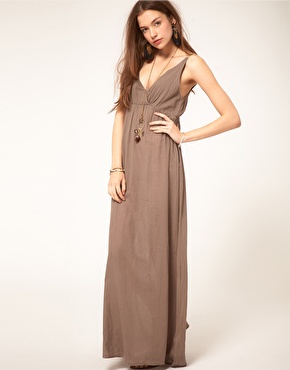 Twist & Tango Maxi Dress $113 (pictured) ASOS.com.au,
Anne Klein Plus – Plus Size Leaf Print Faux Wrap Dress $139.
If you're body just doesn't feel recognisable to you anymore.
If you've just had a baby or you're newly pregnant, your body may look and feel foreign to you. It's just a transition period, so treat it as you would a transitional man – don't take it too seriously, and have fun with it! Swathe yourself in a maxi, pop on some sparkly sandals, and focus on your hair and makeup. Your regular body will return in time. No need for a sad face like the model below.
LnA St Lucia Zip Maxi Dress $128 (pictured) ASOS.com.au,
Vero Moda Very Panel Front Maxi Dress $81
And regardless of your body shape, there are loads of ways to style your frock to make them even more versatile.  We've got 39 ways, as modeled by Fox in Flats readers, here.
Here's to rockin' our frocks !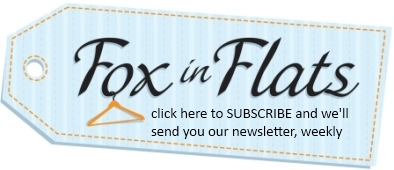 *The Fox in Flats Survey on Fashion and Motherhood