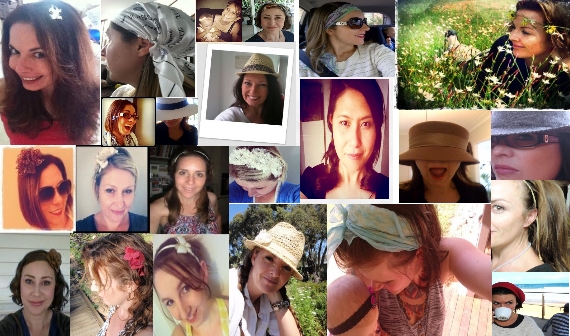 Do you dress from head to toe?
Do you now, as a grown-up, wear a clip or a bow?
Would you wear a scarf upon your head?
Or would you rather endure the pain of childbirth instead?
Last week on Fox in Flats we threw down a dare – could you, for a whole week, wear something on your head? Be it a hat, a headband, a flower, or hair extensions, the challenge was to see if you could 'use your head' to accessorise (Click here for the details of the dare).
So many women participated in the dare, and in really creative ways. Now we want to share the great tips and ideas showcased by these clever chicks – as a much more practical alternative to the glossy, photoshopped images of models the fashion mags usually offer.
27 quick, easy & fabulous ideas for dressing up your head:
1. Attach a flower to a pony-tail for instant pretty like Natalie from Tiny & Little.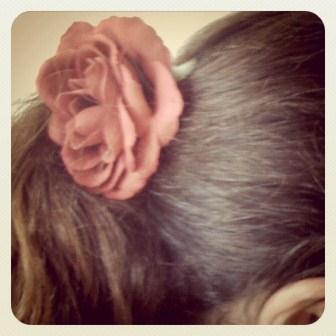 2. Create a dreamy flowered wreath like Pene.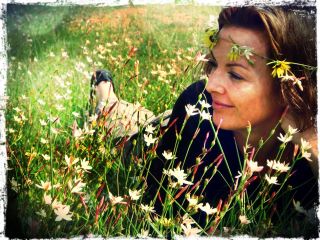 TIP: To recreate Pene's gorgeous tousled boho look, use beach spray in your hair and finish with an eQUIP flowered wreath.
3. Secure a silk scarf around your head for a classic look like Kim-Marie.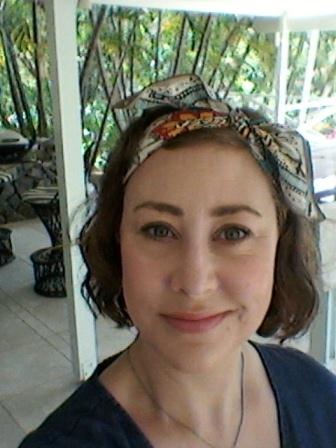 4. Elegantly embellish a headband like Naomi.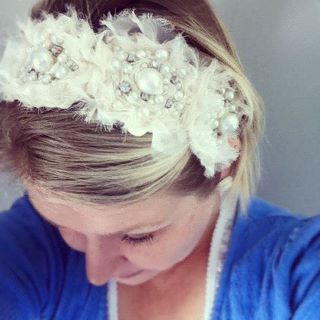 5. Be fab in feathers with a simple headband like this, worn by Christina (who's so in love with all things hair she's created a site called Hair Romance!)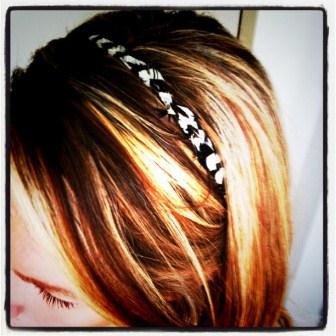 6. Channel your inner-Prince and don a Raspberry Beret like I did one day at the beach.
7. Go rock-star style like Sonia who blogs at Life, Love and Hiccups.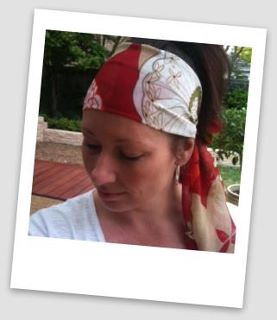 8. Secure a clip high on your crown to highlight hot hair, like Nathalie, who runs child behaviour consultancy Easy Peasy Kids.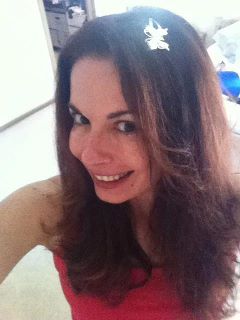 9. Pretty up a pony like Katie.
10. Rock the rainbow and try coloured hair highlight extensions like this purple one worn by Norlin from Baubles, Bubbles and Bags.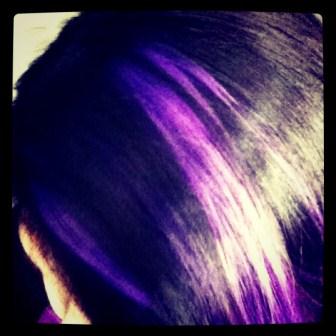 11. Wrap and tie a lightweight scarf like Jess who blogs at Tattoo Mummy.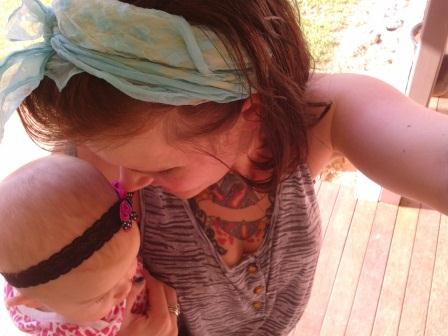 12. A barrette can easily bling up a bun, like Tara from mum-ments.
13. Side-swipe your fringe with a slide clip like Kim-Marie.
14. An antique-style clip adds a bit of polish to my messy half-up-half-down twisty-do.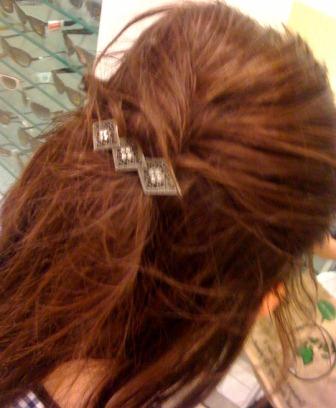 15. Try a scarf tied around your head like A.J. (who also created this clever article for Fox in Flats How to wear a scarf without looking like Captain Feathersword)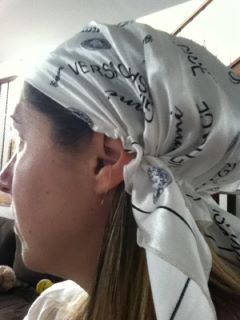 16. Wrap a pretty scarf around your head, and secure underneath, like Pene.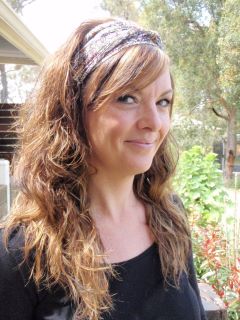 17. Alice-bands a bit girly for you? Shop around for headbands embellished with studs and chains like this one I found in a $2 shop.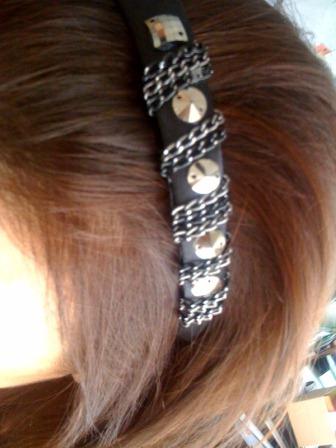 18. Get spunky in a straw hat like Sonia.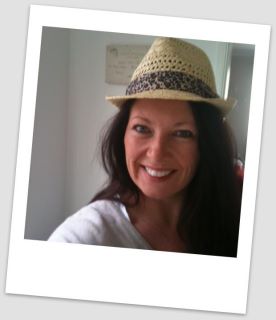 19. Position a thin scarf on your hairline for a look that is insta-glam, but sneakily hides unwashed hair as seen on Fiona from My Mummy Daze.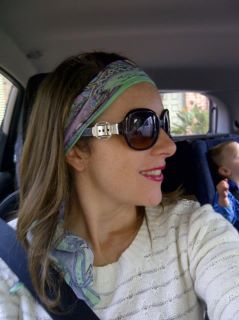 20. Newsboy caps are a more polished take on the standard baseball cap, and are readily available in funky finishes like this tweed one worn by Naomi from Seven Cherubs.
21. Try out your Michael Jackson moves, Smooth Criminal style in a Panama Hat like this one I picked up from David Jones.
22. A Trilby sure is practical, but they're also a bit sexy like Kristy from The Imperfect Mum.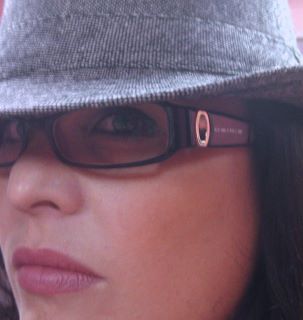 23. Ribbons can be rad! I went DIY to create this in less than 2 minutes with a length of black ribbon and a hair comb. A simple how-to is here.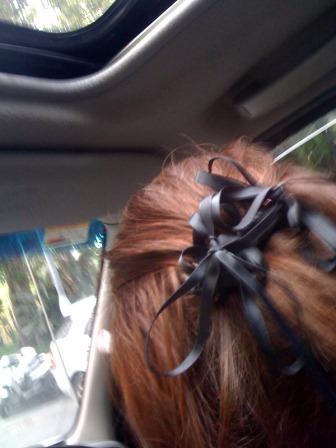 24. Tie a ribbon around a low bun like Norlin for a look that is fresh, simple and chic (and check out Norlin's other looks from her week doing the dare here – she scored herself an accessory pack from eQUIP!)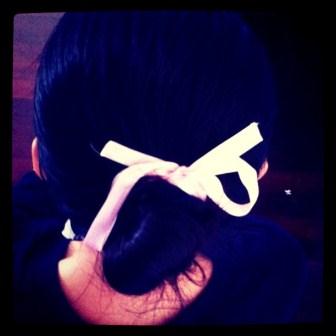 25. A bright headband is brilliant, like Gemma's from My Big Nutshell.
26. Wrap a length of thin leather around your head, or clip it in cleverly like Pene.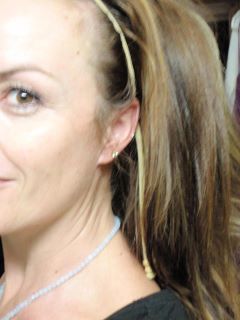 27. Headbands are hot! Check out some of the vastly different looks sent in by some of the fab foxes: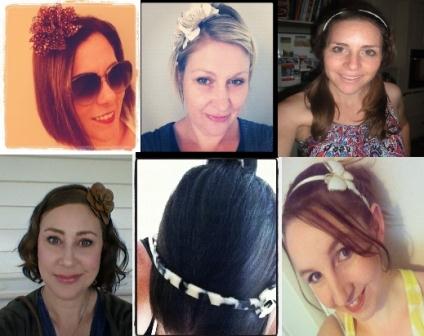 Inspired?
Perhaps now you might be ready to take up the dare to wear something on your head all week like these fab fun foxes have? Click here for the details, and check out all the pics that have been sent in to Fox in Flats so far.
And to help you along, we've teamed up with leading Australian accessory brand eQUIP for this great giveaway.
SORRY THIS GIVEAWAY IS NOW CLOSED
Congratulations Becci Swan, you've won a $100 accessory gift pack from eQUIP!
WIN a $100 accessory gift pack from eQUIP!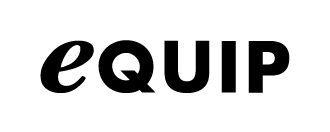 eQUIP – Australia's go-to store for gorgeous yet affordable accessories – are giving away a $100 gift pack to one lucky Fox in Flats subscriber, chock-full of stunning items from their latest range.
Check out what's hot in accessories on the eQUIP website, or for fun updates and news become a friend of theirs on Facebook or Twitter.
How to enter to win a $100 accessories gift pack from eQUIP – it's easy!
Step 1. Click here to subscribe to the Fox in Flats newsletter – you'll need to be a subscriber to be eligible to enter.
Step 2. In the comments section below simply let us know who you are, and how to contact you should you win. Easy.
Step 3. If you'd like to get more entries to WIN, share the competition with your friends!
Cut and paste this into your Facebook or Twitter status updates:
27 hot hair ideas & a chance to WIN a $100 eQUIP accessory pack from @FoxInFlats and @eQUIPtweets #WIN #accessories http://bit.ly/qt6SUn
Then, in the comments section below state where you shared it, and your Facebook name or Twitter handle. You can enter by this method as many times as you like.
Winners' names will be published in the Fox in Flats newsletter on Sunday 29th of October, 2011.
Conditions and Deadlines:
The prize is a gift pack valued at $100.
The promotion period is from 12th October – 28th October, 2011. 
Contest is 

open to subscribers of the Fox in Flats newsletter only.

 To subscribe to our weekly newsletter, click 

here

.
You can enter once via the method outlined in Step 1, and unlimited times by the sharing method outlined in Step 2. 
Entrant must abide by the contest entry conditions listed above. 
Good Luck! 

 Play Instant Win and win Sweepstakes
Click here to subscribe and get some Fox in your inbox, every week.