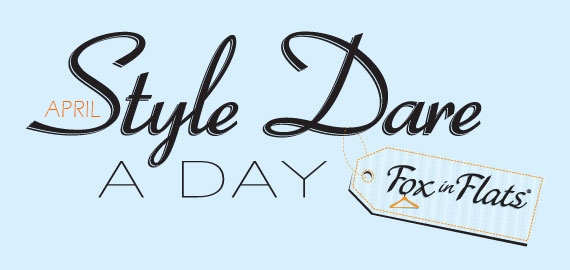 Introducing April Style Dare a Day:
30 style challenges for the 30 days in the month.
The culmination of 19 months of Style Dares on Fox in Flats, the idea came about after I stumbled across a book in my local library called 'The Anonymums'. It's about a group of women who, finding themselves in a bit of a life rut, decide to spice things up a bit by giving each other dares that take them out of their comfort zones.
It made me think about how easy it is for women – and especially women with children – to suddenly find themselves in a fashion rut they didn't see coming. I researched it and found out that 87% of women say they wear a 'uniform of sorts' each day. And for most of us, that uniform consists of jeans and a t-shirt, topped with a ponytail.
Building on the idea from the book, I created The Fox in Flats Style Dare as a fun and easy way for us to try something new, step outside of our fashion and beauty comfort zones, and get out of our day-to-day style ruts.
Since then, tens of thousands of women from around the world have joined in with a Fox in Flats Style Dare, and shared their styling handiwork with us.
What do you get after a month of doing different style-related challenges?
You're more adventurous, creative, and confident about your sense of style.

Scout's Honour."

Need proof?
Check out the pictures from last month's Style Dare, and hear me chatting about it in my regular radio spot here.
And as one reader said,
Making that extra bit of effort each day really lifted my spirits."
Ready to join us this April? Here's how to play: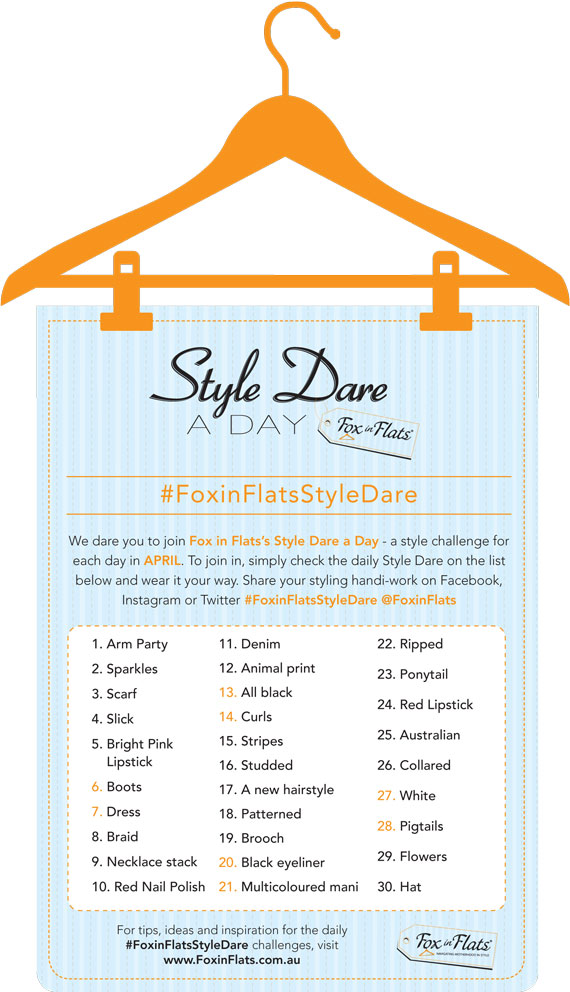 Tips, ideas and inspiration for each day of the April Style Dare
1. Arm Party
Round up your favourite wrist candies and crank up the tunes because today we're having an epic party – on our arms! For tips on how to throw an awesome arm party, click here, and be inspired by hundreds of women who joined The Arm Party Dare here.
2. Sparkles
Get your glitter on and shake those sequins in the sun! Here's 11 ways to bring the bling.
3. Scarf
There's a way to style a scarf to suit any kind of weather. Click here for ideas on how to try something new with summer and winter ones.
4. Slick
If you're an off-duty model in Milan, an on-duty model in Paris, or you've got less than 1 minute to do your hair in the morning, you're gonna love this dare. Try this 6-step, 1-minute tutorial, or this 3-step slick clip trick.
5.  Bright Pink Lipstick
Flashes of fuchsia were all over the catwalk this year, and now it's time to bring it to the sidewalk. For tips on how to wear it without looking like you're going to a '90s retro party, click here.
6. Boots
Ready boots? Start walkin'! Here's 9 ideas on how to slam on the boots regardless of the weather.
7. Dress
Time to rock your frock!  Be inspired with 39 ways to wear your old favourites, and find 27 dresses for 12 different body shapes, sizes and stages.
8. Braid
Afraid of the braid? Not today! We'll hold your hand with loads of easy braid ideas and tutorials for every hair type here. And if you're really squeezed for time, try 6 of the quickest braids or our 60 second backyard braid tutorial.
9. Necklace Stack
A quick & easy way to modernise your look using the jewellery you already own. 13 ways to create a stunning necklace stack here.
10. Red Nail Polish
Whip out your cherry red polish and lacquer up. Here's tips on how to get your mani to last longer, and for styling inspiration for the day, click here.
11. Denim
Rock your most in- jean-ius look! Find tips on how to take your denims up a notch here.
12. Animal Print
Work it like a neutral and wear it with a snarl. Here's some wild ways to work it into your look, and be inspired by these tiger mamas on the street.
13. All Black
Chic, slimming, and a great camouflage for bumps, lumps and Vegemite stains. Here's how to wear head-to-toe black without looking like a mama in mourning.
14. Curls
Whether it's embracing your natural curls or creating them with rollers, tongs or a GHD, it's time to get your kink on.
15. Stripes
Be nautical & nice with a breezy bolt of striped sunshine. Here's 5 looks from the street to inspire.
16. Studded
Rock it with metal.
17. New Hairstyle
You know that excuse you've been waiting for to change your hair? This is it. Double dare you to change the colour and the cut!
18. Patterned
Any print, any pattern, and for the brave, why not mix them together? Here's 6 ways to mix prints without looking like you got dressed in the dark.
19. Brooch
The antique brooch your grandmother wore to your parents' wedding. The Cure badge you bought at your first concert. That enamel pin you discovered in a thrift store. And the precious lady-bug brooch your mum gave you when you were 5. Dust 'em off and pin 'em on! Here's 19 ideas for rockin' your treasures.
20. Black Eyeliner
Rock star. Princess. Sex-bomb. Three words that spring to mind when I think of black eyeliner. Today, pick the one you're gonna be, then work it hard. Here's 7 quick ways with black eyeliner.
21. Multicoloured Mani
"Somewhere, over the rainbow, nails are blue…and red, and yellow, and green…" It's a mani mash up, and you're the DJ. Boom!
22. Ripped
Get out those worn jeans, DIY your t-shirt, or sacrifice that skirt. The real challenge here is to look 'slashie', not trashy.
23. Ponytail
A 1-second scraped-back ponytail ain't gonna cut it today! Try these top tips to dress up your pony, copy Gwyneth's messy pony, or try this fast-but-polished ponytail that'll leave you looking like you went to loads of effort.
24. Red Lipstick
Pucker up and leave your mark! For tips on how to apply red lipstick that lasts and choosing a shade that suits you, click here. Plus, we've got over 100 smiling ruby-red lips to inspire you, here.
25. Australian
It's ANZAC Day in Australia, a time of national remembrance. Wear your pride, proudly.
Living afar? Improvise. But spare us any reference to shrimp…
26. Collared
Peter Pan, Corporate, Pussy Bowed or Crisp, leave the t-shirts behind and frame your neck!
27. White
Like a Virgin. Even though you're probably not 😉
28. Pigtails
There's something so fun, fresh and fantastic about pigtails. But if you're not careful, wearing pigtails as a grown-up can leave you looking like either a porn star or Mary-Ann from Gilligan's Island. Don't worry though, all the tips you'll need are here: 5 ways to wear pigtails without looking like your daughter.
29. Flowers
Whether it's a sweet-smelling frangipani tucked behind your ear on the way to the beach, or the very latest in floral fabrics, it's time to get your bloom on. Find 7 ideas on how to work flowers into your outfit here.
30. Hat
Today, use your head and leave your hat on. Cowboy, beanie, baseball, fedora – shove it on your noggin' and wear with it a grin.
How to join the April Style Dare
Simply save your own copy of the #FoxInFlatsStyleDare list (above) onto your computer or mobile device, then refer to it every day through April.
Or, print out a copy and pin it somewhere that you'll see it every morning before you get dressed – such as the bathroom mirror, the fridge, or even above the baby's change table.
Then, simply refer to the calendar date daily, and wear the item listed for the day.
We'll be sharing handy tips, ideas and inspiration on site on Facebook,  Twitter and Instagram for that day's challenge.
And most importantly? Wear it your way."
We'd love to see your styling handiwork!
Seeing how everyone interprets the daily style challenges, and getting a peek into the day-to-day lives of women around the world, is a huge part of what makes the Fox in Flats Style Dares so fun. That's why we'll be sharing our daily faves around the interwebs for your sartorial enjoyment.
Make sure you share pics of your daily #FoxInFlatsStyleDare efforts with us on the Fox in Flats Facebook page, on Twitter,  or Instagram using #FoxInFlatsStyleDare @FoxinFlats.
Here's a daily prompt custom-built for Instagram to share with your followers so they know why the heck you're taking selfies every day.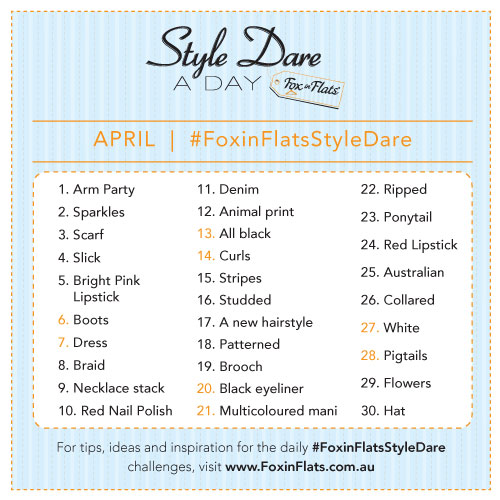 For Bloggers:
A button to pop on your side-bar to show you're up for the #FoxInFlatsStyleDare, and to encourage your readers to join in too. Simply right click to save and link it back to this post.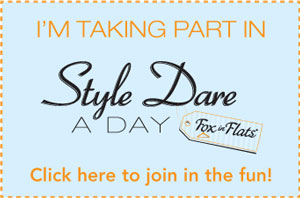 Or drop in the HTML code below for sidebar buttons:
If you blog about your #FoxInFlatsStyleDare efforts, let us know so we can read your posts and share the love around. Be sure to let us know and send Trackbacks to www.FoxinFlats.com.au
And in keeping with the standard rules of any good Dare, if you're too afraid to join in with this month-long challenge, we'll call you 'Chicken'!" 
Here's to a month of fabulous. Have fun and good luck! 

More Fox in Flats: