Introducing Style Dare a Day, the style challenge for every day of May 2013.
We've been laying down Style Dares on Fox in Flats for over 20 months now. They started as a weekly challenge, but since last December, we've been putting together sets of daily challenges wrapped up in little blue bows that can take you through a whole calendar month.
And since then, there's been a groundswell of women from around the world sharing photos of their interpretations of each Daily Style Dare on social media – in particular Instagram at #FoxinFlatsStyleDare
And this month, we're at it again.
As lots of us keep discovering, Style Dares are a fun and easy way to inspire the way we dress each day. They challenge us to try things we might ordinarily dismiss. They push us to rummage through our wardrobes and rediscover items we haven't worn in ages. And they force us to be more creative.
In just 30 days, you're pretty much guaranteed to have rejuvenated your wardrobe (without necessarily spending any money!), and you'll feel more confident about your personal style."
Just last week I was interviewed for a feature story that appeared in Melbourne's The Age and The Sydney Morning Herald where they used the Fox in Flats Style Dares as an example of the difference a month of challenging yourself can make. As I told the journalist, Amy Molloy: "I get beautiful messages and emails from women saying the Style Dares have made them appreciate their own beauty by being 'forced' to take a picture of themselves daily." It's certainly worked for me too.
Ready to shake off your day-to-day uniforms and spice things up a little?!"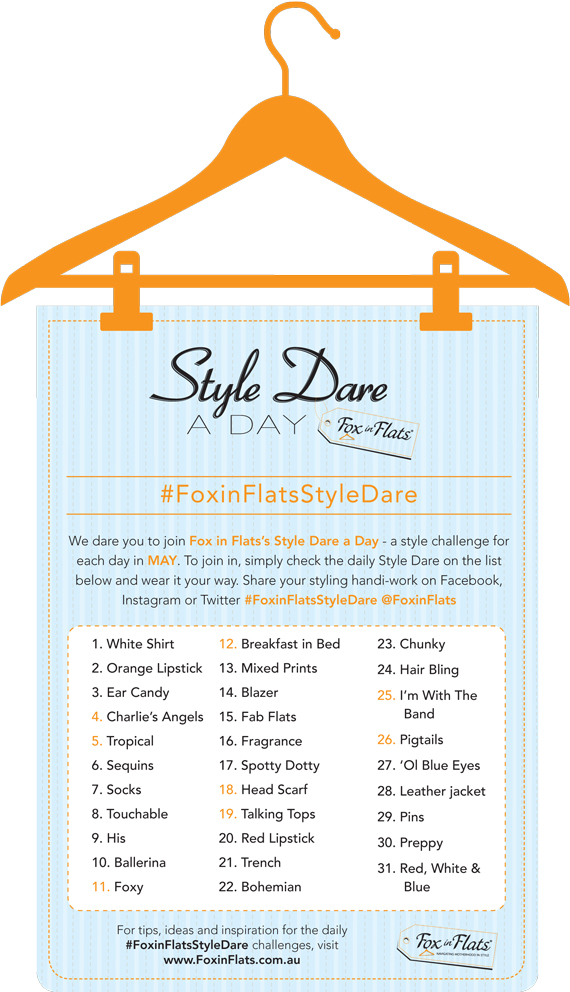 Tips, ideas and inspiration for each day of May Style Dare a Day
1. White Shirt
One of the 13 Wardrobe Essentials Everyone Can't Do Without,  wear one today to raise awareness of Ovarian Cancer, and donate to fund research into early detection of this insidious disease. To find out more about White Shirt Day 2013, click here. And click here for 7 ways to wear a white shirt.
2. Orange Lipstick
If you're yet to tango with tangerine, today's the day to do it. An orange lipstick will whiten your teeth, and wake up your whole look. Our faves? Revlon Orange Flip or MAC Morange.
3. Ear Candy
Adorn your lobes with a grab-bag of delicious sweet, shiny things. Need inspiration? Check out the statement earrings worn by participants on Day 7 of the February Fox in Flats Style Dare in this gallery.
4. Charlie's Angels
"Good morning, Charlie!" Join the chorus of the kick ass Angels and be inspired by their cool, chic '70s vibe. Extra points for a Farrah Fawcett Flick.
5. Tropical
Make like a Gauguin painting and get all hot and exotic today. Perhaps you'll choose a Hawaiian print, adorn yourself in flowers, add a  touch of Toucan, or a squeeze of pineapple. Pina Coladas and getting caught in the rain optional.
6. Sequins
Because we've all got glitter in our veins, and we've gotta let those sparkles out! Here's a bunch of ideas for working winking, glinting, twinkling things into your outfit.
7. Socks
Riddle me this: Can you be a Fox in Socks?
While you're work-shopping today's challenge, see how fast you can read this tongue-twisting sentence from the Dr Seuss classic:
"When a fox is in the bottle where the tweetle beetles battle with their paddles in a puddle on a noodle-eating poodle, THIS is what they call… …a tweetle beetle noodle poodle bottled paddled muddled duddled fuddled wuddled fox in socks, sir!"
8. Touchable
Wear your most deliciously touchable item and prepare to be stroked.
9. His
His shirt, his jeans, or his tie. Steal it, work it (and if you love it, keep it!). Tips for rockin' his favourite band Tee here.
10. Ballerina
Be it pale pink sweet or 'Black Swan' crazy cray, today's the day to plié!
11. Foxy
Whether sly and cheeky, cute and adorable or just damn sexy, it's time to fox up. Wear a motif, or just be yourself at your most foxy.
12. Breakfast in Bed
It's Mother's Day – which by rights means being served breakfast in bed. Hit us with your lazy lounging look. Not a mum? You still deserve it. Order those eggs sunny side up.
13. Mixed Prints
A stripe and a floral? A check and a spot? Get creative and create a fashion mash-up! Need tips? There's 6 easy tips for mixing prints, here.
14. Blazer
A classic that adds polish to the most basic of outfits, but which is often left languishing in the back of closets post-kids. So before you find the moths having a fine executive-style feast on your personal expense account, dust off your blazer and take it out to play. For styling tips, check out 8 ways to take your blazer from the Boardroom to the Playroom.
15. Fab Flats
French style icon Inès de La Fressange recently stated about flats "Finally, people understand one doesn't need to wear high heels to look sexier", but you already knew that, right?
16. Fragrance
Nuh uh! Not your signature go-to scent. Today, reach for that fragrance on your dresser that you never, ever wear. Or pop to a department store or chemist and spritz yourself with something completely new. Apply where you want to be kissed and be prepared for some ravishing.
17. Spotty Dotty
Because you're guaranteed to smile when you wear dots!
18. Head Scarf
A head scarf is a fresh and colourful cover-up on a bad hair day – yet it can be hard to wear one without looking like a cross between Captain Feathersword and Axl Rose. Here's 3 ways to make a head scarf work for you, and turn that bad hair day into a rockin' one.
19. Talking Tops
One of the hottest trends on the street right now is a slogan top. So today, hold your tongue and let your top say it all for you.
20. Red Lipstick
Pucker up and leave your mark! For tips on how to apply red lipstick that lasts and choosing a shade that suits you, click here. Plus, we've got over 100 smiling ruby-red lips to inspire you, here.
21. Trench
Timeless and chic, a classic trench will elevate even the most basic of outfits, and hide a multitude of  sins – it's little wonder we named it one of our 13 wardrobe essentials every mum can't do without. Here's 7 easy ways to style your trench.
22. Bohemian
Talitha Getty, Sienna Miller, Stevie Nicks, and Florence Welch have all been poster-girls for boho-style over the decades. But today you're the gypsy woman – go your own way!
23. Chunky
Whether it's a ring, a necklace, a bangle or a knit, we wanna see your spunkiest chunkies. Here's 7 tips on how to wear a chunky statement ring without making your fingers look stumpy.
24. Hair Bling
A sparkly clip, a twinkling headband, a shiny metallic hair cuff, or for the extra brave, go princess with a tiara!
25. I'm With The Band
Backstage pass at the ready for an outfit that screams "I'm with the band!"
Stuck for ideas? Steal his band t-shirt like this, or work one rockin' statement item back with classic tailored pieces like this.
26. Pigtails
There's something so fun, fresh and fantastic about pigtails. But if you're not careful, wearing pigtails as a grown-up can leave you looking like either a porn star or Mary-Ann from Gilligan's Island. Don't worry though, all the tips you'll need are here: 5 ways to wear pigtails without looking like your daughter.
27. 'Ol Blue Eyes
Do Sinatra proud and get your 'ol blue eyes singing! Try blue hues in shadow, mascara, or even blue-rimmed shades.
28. Leather jacket
Warm, comfy and super easy to wipe away baby dribble, it's an investment piece that'll never date. Time to showcase yours. Extra points if you can do an Olivia Newton John in 'Grease' impersonation in yours: "Tell me about it, stud!" 

29. Pins
Printed pants, bright tights, or silky smooth skin that goes va va voom. Get out your pins and flash away!
30. Preppy
Collars up! We're going back to classic college style. And if you didn't go through your experimental stage at college or uni, today's the day to do it ;).
31. Red, White & Blue
Such a classic colour combo that 28 countries in the world proudly wave them on their flag. But unlike a flag, in this mix you'll be unflappable.
How to join the May Style Dare
Simply save your own copy of the Fox In Flats Style Dare list (above or below) onto your computer or mobile device – somewhere easy to access.
Or, print out a copy and pin it somewhere that you'll see it every morning before you get dressed – such as the bathroom mirror, the fridge, or even above the baby's change table.
Then, simply refer to the calendar date daily, and wear the item listed for the day.
To make it easier, we'll be sharing handy tips, ideas and inspiration on site on Facebook, Twitter and Instagram for that day's challenge.
But the most important thing of all, is to wear the Dare your way."
We'd love to see your styling handiwork!
Seeing how everyone interprets the daily style challenges, and getting a peek into the day-to-day lives of women around the world, is a huge part of what makes the Fox in Flats Style Dares so fun. That's why we'll be sharing our daily faves around the interwebs for your sartorial enjoyment. Take a look at some of the galleries we've built featuring participants of past Style Dares – it's so inspiring!
Make sure you share pics of your daily #FoxInFlatsStyleDare efforts with us on the Fox in Flats Facebook page, on Twitter, or Instagram using #FoxInFlatsStyleDare @FoxinFlats
Here's a daily prompt-list custom-built for Instagram to share with your followers so they know why the heck you're suddenly posting selfies every day.
For Bloggers:
Here's a button to pop on your sidebar to show you're up for the Fox In Flats Style Dare, and to encourage your readers to join in too. Simply right click to save and link it back to this post.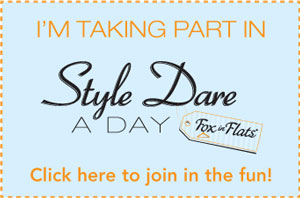 Or drop in the HTML code below for sidebar buttons:
If you blog about your #FoxInFlatsStyleDare efforts, let us know so we can read your posts and share the love around. Be sure to let us know and send trackbacks to www.FoxinFlats.com.au
And in keeping with the standard rules of any good Dare, if you're too afraid to join in with this month-long challenge, we'll call you 'Chicken'!" 
Here's to a month full of fabulous. Have fun and good luck! 

More Fox in Flats: