73% of mothers claim to wear

less than half of their pre-baby wardrobe.
The parts of our wardrobes that were perfectly equipped for our previous lives mostly spent in the office and out on fabulous nights in the latest bar or restaurant, are now laying dormant while we spend time with our kids.
"How can I wear my office-clothes now in my new role as a mum, without looking like some demented sleep-deprived executive?!"
8 ways to take your blazer from the Boardroom to the Playroom
The classic blazer is a staple in many a work wardrobe, as it adds instant polish to an otherwise standard outfit.
But leave it languishing in your closet for too long, and you may find the moths having a fine executive-style feast on your personal expense account.
It's time to make your blazer a staple in your mummy uniform – here are 8 ways to inspire you: 
1. Cruisy with citrus…
 Silk sandbank tank $84, Split waistband cropped jeans $48, DIANE VON FURSTENBERG 'Love Life' bag $52, Straw Cowboy Hat $26 
2. Easy with a maxi…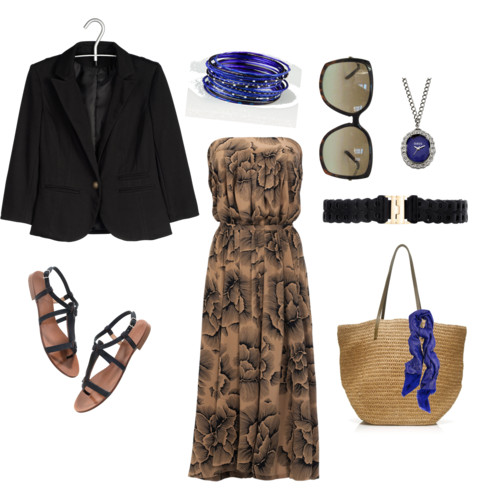 Modstrom Maxi Skirt Rama Flower dress $95, The bahia sandal $91, Jcrew Farmer's market tote bag $30, Round Stone Set Pendant Watch $45, Delivery shades $36.
3. Funky with flares…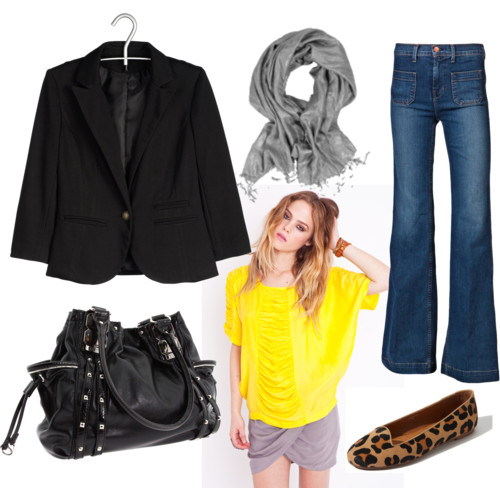 Daffodil Silk Top $35, J BRAND Bette flare jeans $205, Jeffrey Campbell 'Mention' Flat shoe $93, Kathy Van Zeeland Glam Rock Shopper $83, Soaked in Luxury Scarf $22
4. Sharp with a singlet dress…
DKNY pure DKNY Tank Long Dress $89, Combat Ankle Boot $47 , Textured Bangle Set $6.53 , CLASSIC HARDWARE Black Guitar Necklace $55, Rag & bone Kingsley wool fedora $140, Ray-Ban 'XL' Aviator Sunglasses $130. 
5. Cool with your cargos…
Hope Striped Boxy Tee $84, Firetrap Womens Crusader Jungle Green Trousers $57, Steve Madden 'I-Dreemy' Ballet Flat $93, TOCS Day & Date Watch $70, Enamelled "Pow!" Necklace $6.52.
6. Classic with your cut-offs…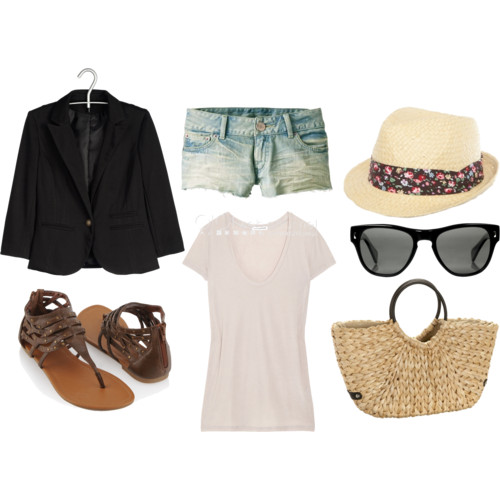 James Perse Cotton-jersey T-shirt $47, Duras Used Wash Denim Shorts $79, Studded Gladiator Sandals $18, Magid Corn Husk Round Handle Bucket Tote bag $36, Natural Straw Fedora Hat $12. 
7. Sassy with sequins…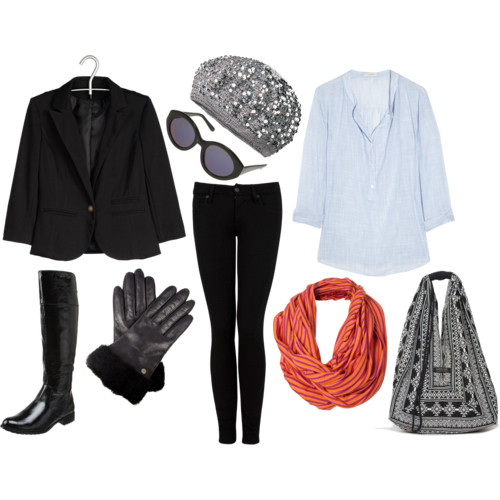 J.Crew Poet popover striped cotton shirt $67, 7 FOR ALL MANKIND Gwenevere Super Skinny Pants $165, Calvin Klein Women's Marianna Knee-High Boot $87, Aura Que Fair Trade Large Jogi Bag $43, UGG Australia Black Cashmere Lined Leather Glove $49, Seeberger Mütze hat $53, Black Extreme Cats Eye Sunglasses By Squint Topshop $42. 
8. Brill with your brogues…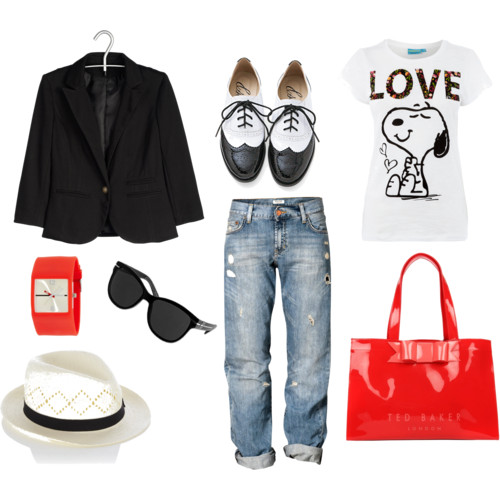 Naf Naf Veste Jersey Noir black blazer $57, H&Denim Boyfriend Jeans $30, Haco Brogues $68, Triby Hat $24, CROW Red strap watch $47, Daytrip Retro Sunglasses $10. 
Styling Tip!
Roll-up the sleeves or push them up your forearms to make it look more casual.
…and remember, just because you may not be in the office as much anymore – you are still CEO of the household! 
x
Want more tips on making the most of your office attire?
Check out 7 ways to wear your white work shirt.

For a weekly round-up of all things Foxy, subscribe to our newsletter: The FiF Review.