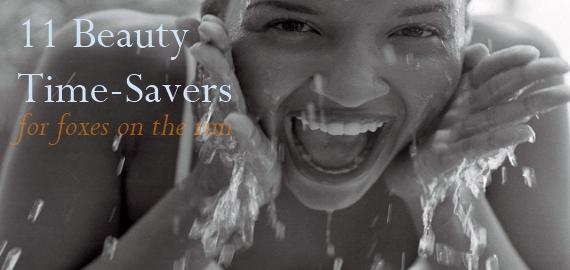 Less than 15 minutes…!"
That's how long most of us have to get ready in the morning. And that short quarter of an hour is often interrupted by little hands tugging at skirts, tiny milky mouths squawking for food, or  growing brains desperate for answers to a constant stream of questions.
So to make the most of those precious minutes, here's 11 beauty tips and time-savers that'll have you looking fab, fast.
1. Get the most out of your night serums and creams by exfoliating in the evening. This helps to boost the penetration of any treatments you apply afterward.
2. Keep your lips smooth by buffing with a washcloth while you're in the shower.
3. Ingrown hairs? A slick of Paw Paw ointment will lure them out.
4. To minimise frizzy morning bed-head, invest in a satin pillow case as it'll create less friction than cotton.
5. If you've given yourself a late-night manicure but ended up with pesky sheet marks on your new polish, top your nails off with a fresh layer of glitter top coat in the morning, rendering the marks invisible.
6. For intensive replenishing, apply a hydrating or nourishing face mask before you go to sleep and leave it on overnight.
7. To smooth wrinkles without resorting to Botox, invest in a 'wrinkle-filling' cream. It's cheaper, faster, and less ouchy!
8. At night, put lots and lots of Sorbelene cream on your hands, then pull a pair of cotton socks over the top. The cream sinks in and gives your hands a much needed binge of moisture. More tips for dry, cracked, battle-scarred hands here.
9. Tame wild eyebrows with a slick of paw-paw ointment.
10. Keep forgetting to do a weekly hair treatment? Apply one in the shower each week while you clean it. Here's how my friend with great hair does it.
11. Nipple cream doubles as a rich lip balm. Also great for smoothing cuticles and on rough elbows.
 Want more beauty short-cuts?
Check out the 26 beauty short-cuts every mum needs to know.
 What are your favourite beauty time-savers?