This mother is a genius.
A sunny day in the playground, and she was busy helping her kids on the monkey bars, handing out snacks and cuddles, wiping tears and noses, and pushing them on the swings.
And all the time, doing it in style.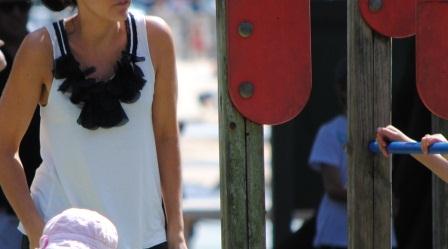 I'll bet she only took a second to get ready too.
I mean, how much thought do you need to put into your outfit when your top comes ready to wear with in-built accessories?
Love this singlet for its simple, flattering style and cut, yet the feature ruffle obliterates the need to fuss around with a necklace, scarf or bangle to make it pop. Plus, the ruffle won't stab the kids in the eye when she gives them a cuddle.
Einstein, you have a competitor, and she's hanging out at Balmoral Beach.
Save time getting ready with these singlets, so striking you won't need to accessorise either.
What are your shortcuts to style?