My friend Christina has great hair. Her hair's so good I wanna wrap it up in a baby pink soft woollen blanket, cradle it in my arms and stroke it gently as I sing it to sleep.
And as well as having great hair, Christina loves to talk about hair, write about hair, and share her tips about hair. She does all these things over on her blog Hair Romance, because she wants everyone to love their hair too.
Last week we caught up for lunch – a Salmon Sandwich for her ("It makes my hair glossy" she said), and a Chicken Ball Salad for me – which I chose because the name made me laugh. As usual, I tried to creep the topic of hair into the conversation so I could pick her brain for some great tips. This time I asked her about hair masks. I lamented into my Chicken Balls:
I know you're meant to give yourself a hair mask or treatment about once a week, but I never have the time. When do you fit it in?"
And I was pretty shocked when she replied that she did it as she cleans the shower. I'll admit, I'd pictured her doing her hair treatments reclining in a satin-draped room scented with tuberose instead of a cold wet shower cubicle smelling of ammonia. She said "by letting the hair mask do it's thing while I get to work on the shower I kill two birds with one stone. And I also never forget to clean the shower ;)"   Oh how I love how this girl thinks!
Christina's tips for fitting that hair mask into your weekly routine:
Shampoo your hair in the shower, then hop out and either squeeze out some of the moisture, or towel dry.
Apply your hair mask from your ears down to the ends, and then comb through. If you've got any more treatment left on your hands, gently smooth it over the rest of your hair.
Clip your hair up, and out of the way.
Grab your cleaning products, hop into the shower and get scrubbing.
By the time your shower is sparkling clean, your hair will have enjoyed the equivalent of a replenishing day-spa.
Then, hop back into your (now immaculately clean) shower, rinse the treatment off, and enjoy hair that should be shinier, stronger, glossier and happier – depending on what your hair mask promises.
To choose a hair mask that lives up to its claims, Christina recommends: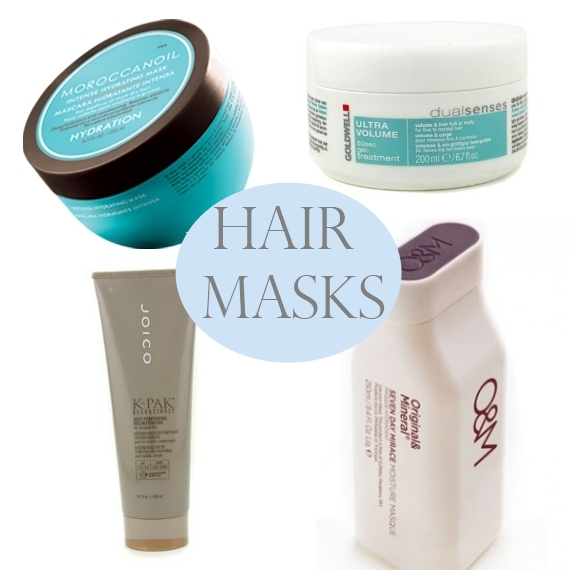 Clockwise from top left: Moroccan Oil Intense Hydrating Mask $44.50 , Goldwell Dual Senses Ultra Volume 60 Sec Gel-Treatment (For Fine to Normal Hair) $19, O & M Seven Day miracle Moisture Mask $32, Joico K-Pak Deep-Penetrating Reconstructor (For Damaged Hair) $31.
And as for cleaning the shower, Christina uses:
For more great hair advice from Christina, check out Hair Romance.
Now if only Christina could give me tips on how to stop my kids from talking to me when I'm going to the loo…
How often do you use a hair mask on your hair? What's your favourite hair treatment? And do you have a works-every-time shower cleaning product?