A few days ago I received an email from a Fox in Flats foxette, Tegan, asking for some guidelines about wearing Ugg Boots in public:
Would love some advice on the Ugg Boot Rule! I feel like they have a very high bogan factor but at the moment it's so cold outside and my uggs are sooo toasty! Is it ever ok to wear uggs in public?
Tegan – or can I call you Teegs? I totally understand about wanting warm tootsies, and I'm surprised the question has not come up sooner.
Firstly, about the bogan factor. My personal mantra is…
Someone, somewhere thinks you are a total bogan"
…so I wouldn't stress too much about being categorised as being a bogan, regardless of your footwear.
Secondly, about wearing Ugg Boots in public:
At Fox in Flats, we're not here to judge, or make rules about what you can and can't wear. But we are here to share fashion and style ideas, inspiration and tips.
And here's our tip on Ugg Boots: Try to keep them to their natural habitat.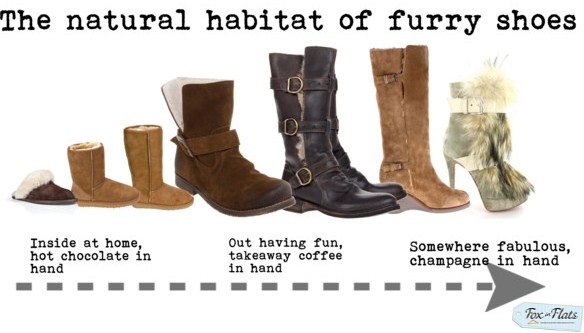 As Ugg boots are characterised by a flat rubber sole and a suede outer, they really are not designed to be an all-terrain kind of shoe.
Instead, keep your toes snug and warm in side a fur lined boot with a rigid sole and slight stacked heel or solid wedge for day, and go as high and as furry as you can bear for nights out.
Tips on how to wear a furry boot:
Choose boots that are mid-calf or knee high. Fur lined ankle boots or shoes can tend to look a bit like slippers.
Balance the broadness of the shoe with a slim silhouette on your legs. Try skinny jeans, tights, leggings, or ponte pants.
Ideally, keep an element on the top half of your outfit more structured to balance the relaxed shape of the shoe. A shirt, tailored vest, jacket, or structured bag is ideal.
Alternatively, go for a more relaxed look and try a softer, rounded shape like a bomber jacket, cuddly jumper or feminine billowy top.
What are your thoughts on wearing Ugg Boots in public? Yay or nay?

Like it and want more? Subscribe for email updates here, become a Fox in Flats Facebook friend here, Tweet with us here.