Just the thought of Saturday morning sport chills me to the bone. And it's not that I'm afraid my little boy will get in a scuffle or a tackle he can't handle. It's that every week, I'm just FREEZING!
So I've gathered some tips for fending off the cold from women who've been frequenting kids' sporting fields for a lot longer than I.
1. Put a lid on it.
We happily shove beanies on our kids heads as it's been indoctrinated that heat escapes from there. So take your own advice and keep your head snug with a streamlined beanie, knitted beret or floppy felt hat. Happily, this also means you can probably get away with a bit of Saturday morning bed-hair under that hat.
2. Cloak up with a long line, woolen jacket.
You can't go wrong with a military, trench or pea coat, but oh, to have a long woolen cape like this!
3. Glove up.
Look for leather gloves with a warm lining. They're snug, waterproof, and a bit kinky.
4. Long waterproof boots.
On the sidelines of kids' sport, it's likely your shoes will get wet, grassy, muddy, and possibly even have half-time oranges smeared across them. So even if you are keen to get into the sporty vibe, don't wear your good NIKEs. Wear a pair of long, thick leather boots, or rubber wellies, and tuck in a pair of warm skinny jeans or cords.
5. Get your fur-fleece on.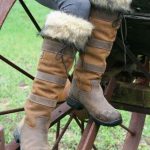 The fur-polar fleece combo sounds oh so warm, but oh so wrong – until you see these babies combined together to make a sock. Wear them inside your wellies to enjoy all the warmth of an Ugg boot, with the style and practicality of a structured boot.
What are your tips for keeping extra snug and stylish at Saturday sport?