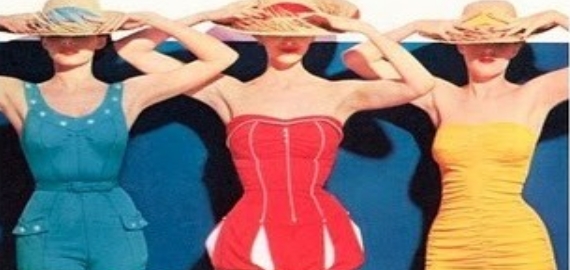 My son loves my jelly belly. He loves to crouch down next to me in bed and jiggle it with his hands, accompanying his movements with a sort of whirring sound from his chubby lips, and innocent peals of laughter.
Me? I don't love my post-baby tummy. If I had to name my least favourite body part, that'd be it. And I'm not alone.
53% of mothers say their 'mummy tummy' is their least favourite body part.
Here, we've compiled 11 tried and tested tips to disguise your jelly belly:
1. Avoid flimsy fabric.
Materials like ponte, garbardine or stretch cotton – especially in tailored form – give the body structure. Thin fabrics show every bulge.
2. Play to your strengths.
Emphasize your strongest features – great legs, or a lovely decolletage – and divert attention from your tummy.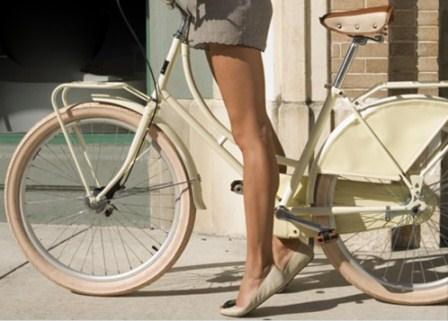 3. Find your 'best waistline'.
Charla Krupp, who penned the book How to never look fat again advises:
"If you have a Buddha belly, move your waist up or down by experimenting with belts to find your best (thinnest) waistline. Try it! Take some photos—you'll be amazed."
4. Go vertical.
Think pin-tucking, stripes, and piping on your clothes – vertical detailing will elongate your torso.  Add long layered necklaces, and when it's cooler, a scarf that drapes down to your thighs will lengthen your look.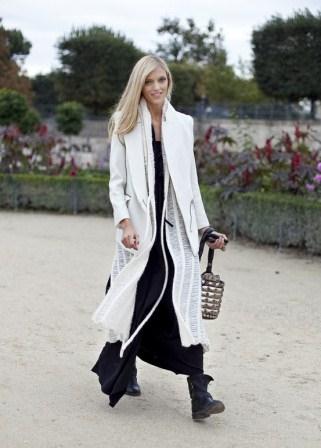 5. Ditch the sack.
Body-conscious – but not tight – clothes are always best, whatever your size. A figure hidden in yards of fabric always looks bigger.
6. Layer it.
Add a fitted jacket, or waistcoat – the structured tailoring will deflect from a round tummy.
7. Focus on the fit.
It's easy to get hung up on that number stitched onto the label of your clothes, but instead, focus on what fits you the best. Aim for clothes that fit properly around the neckline, bust and shoulders, and skim around your mummy tummy.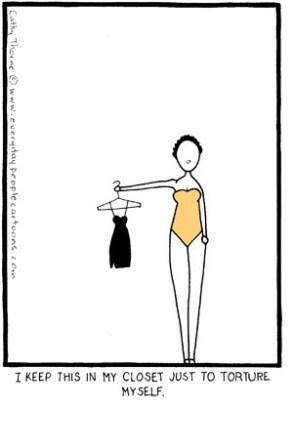 8. Go for draped details.
Seek out tops that drape around your neck and downwards. The vertical folds of fabric will skim effortlessly over your tum. Jersey with a heavy drape is best.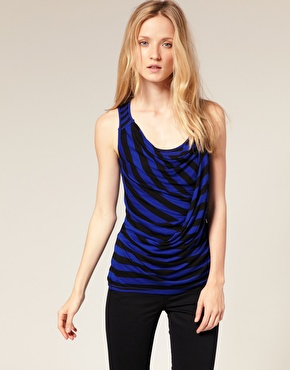 9. Ballooned and banded tops are top.
Choose a blouse that balloons and gathers under the belly, or one with a band that sits flat under your tummy. These provide a relaxed look that is especially comfortable, but don't swamp you in fabric.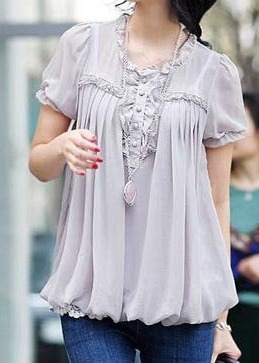 10. Accessorise upwards.
A statement necklace, stunning earrings, hat, brooch or feature hair clip will keep the focus on your top half.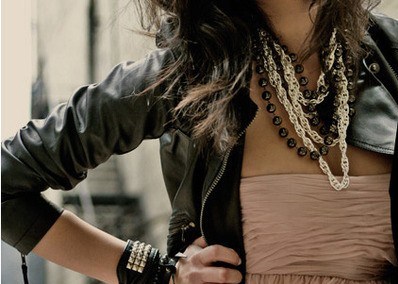 11. Invest in comfortable and attractive shapewear.
Good shapewear will flatten and smooth the jelliest of bellies – but those granny girdles just ain't sexy. I'm sure I am not the only one who has hidden from their partner when wearing shapewear.
Happily, a few months ago I discovered shapewear that is attractive enough to wear on its own. Yummie Tummie was created by a mum to help manage her post-baby figure, and the range features tank tops with in-built panels to smooth, slim and shape.
I've tried it. It works. And apparently Beyonce thinks so too.
WIN one of 3 Yummie Tummie Tanks! Sorry…this giveaway is now closed.
A big congratulations to Ali Frost, Josie Kelsh, and Kate Chappell who have each won a Yummie Tummie tank valued at $100!
Thanks to Yummie Tummie we've got 3 tummy slimming tanks to giveaway. Each winner can choose one of Yummie Tummie's most popular tanks – Original, Nursing and Skinny, valued up to $99.00.

How to enter:
You must be a subscriber of Fox in Flats to be eligible to enter.To subscribe to our email newsletter or RSS feed, click here.

1.  Simply become a friend of Fox in Flats on Facebook, here, sign up for the Yummie Tummie newsletter here and then add your name in the comments section below, stating that we are now friends on Facebook.
For more entries…
2. Share this on Facebook and/or Twitter:
11 ways to go from jelly belly to yummy tummy, and WIN @yummietummie @FoxInFlats http://bit.ly/lbRrF6 #WIN
3.  In the comments section below, state where you shared it – including your Twitter handle and/or Facebook name.
4. You may enter up to three (3) times by these methods.
Conditions and Deadlines:
Contest is
open to subscribers of Fox In Flats only
. To subscribe to our email newsletter or RSS feed, click
here
. Entrant must abide by the contest entry conditions listed above. Up to three entries per person, but only once per entry method. Contest ENDS Friday, July 1, 2011 at 11.59pm EST. Winner will be chosen randomly, and announced Sunday July 3 on FoxInFlats.com.au.
Good Luck!

Play Instant Win and win Sweepstakes