By Andrea Michelle for Dove
Even though I'm hardly a social butterfly, come Spring, invites start arriving thick and fast leading up till Christmas, everyone eager to catch up under sunny blue skies after hibernating in our trackies at home through most of the winter. September seems to be a peak time for birthday parties (New Years has a lot to answer for with our parents!), followed by the Spring Racing Carnival, and the Christmas dinners and drinks and end of school year festivities.
Each year I treat myself to a few new items to see me though this crazy time – usually a classic dress, a fun pair of sunnies, and some fresh cosmetics. I figure if I get sorted early the cost per wear will work itself out, and I'm less likely to make an impulse purchase if I've got something new and versatile ready to go.
So, getting in early, I'm calling it: these are the 4 essentials you need for Spring/Summer 2014.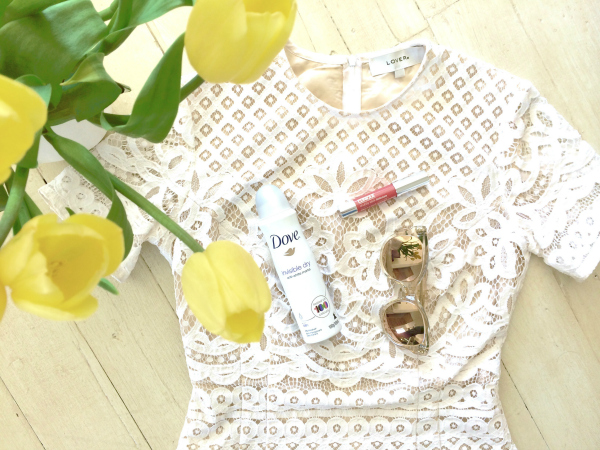 The lace dress
It may be white, it may be bright yellow, it may be navy, pink or black. Who cares? So long as it's drenched in lace you've got this season covered. Wear it with a tough cuff (because you don't want to be too prissy, right?!) and on cooler days, drape it with your fave leather jacket. Think of this combo like the salted caramel of fashion. And devour accordingly. Lover Libra Fitted Dress $910.
Gold mirrored sunglasses
Yeah Carrie wore them in Sex and the City 2, and despite how terrible that movie was, her sunnies were epic. Gold gives a warm hue on any skin colour, and mirrors are just cool. Oliver Peoples Shaelie Sunglasses.
A bright, moisture packed lipstick
Red lipstick? Always! But for Spring, sometimes fruity tones are better – think peachy oranges and strawberry pinks. Coloured balms will keep your lips looking mositurised even through the hottest of days, and look for those with an SPF for protection to keep those lips kissable. Try Clinique Chubby Stick Intense Lip Balm 04 Heftiest Hibiscus.
The 'fashion' deodorant
When I leave my place there's inevitably at least 5 discarded outfits left languishing on the bed – these are the ones that didn't make the grade for whatever reason that day. Thing is, most deodorants will leave pesky stains on those fresh clean clothes after you try them on, meaning you've gotta clean them again before wearing them – who's go time for that?
The serious fashionista has Dove Invisible Dry in their kit – it doesn't leave marks or stains on garments, whatever the colour – so you can try on as many outfits as you wish, and as is your want. Plus, it's got the goodness of Dove's ¼ moisturizing cream which means you'll stay dry no matter what situation you get yourself into. Dove Invisible Dry Deodorant from $4.24.
WIN a Dove care pack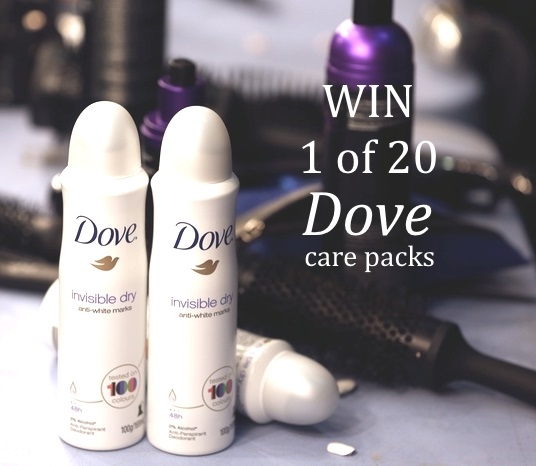 We're giving away 20 Dove 100 Colours care packs to help kick us into Spring in style. 
The first 20 to comment below are gonna have this shipped to their door, stat (but be sure to leave your email address so we can contact you re your prize). 
Entry conditions:
There are 20 DOVE care packages valued at $27.79 to be given away.
Each package contains: Dove Nutritive Therapy Nourishing Oil Care S&C $6.49 each, Dove Invisible Dry Deodorant $5.25 , Dove Invisible Dry Roll-On Deodorant $4.20, Dove Beauty Cream Bar $4.49, Dove Triple Moisturising Body Wash $7.36, 
This give away is open to residents of Australia only (but I'd still LOVE to hear from the other Foxes from around the world!)
The give away runs from 12th of September, 2014 till 29th of September, 2014.
The winners will be chosen on that date and contacted that day. 
Entrants must abide by the contest entry conditions listed above. 
What exciting plans have you got coming up this Spring?
And have you made any new season buys yet?