"Available in sizes 8 to 14." If you usually meet this phrase on shopping sites with a resigned sigh, you're not alone.
Whether you've always been curvy or the advent of motherhood brought about a change of shape, it's not easy dressing a body that doesn't fit the fashion industry's mainstream offerings. But just because the usual S/M/L don't work on you, it doesn't mean you can't still dress like a fierce fox. Especially online, a growing number of brands are offering awesome clothes in those larger sizes.
And it's not just brands that are finding the intersection between plus size and style. Check out some of these stylin' bloggers that are serving up inspiration on how to dress a curvy bod.
Parisian blogger Sakina of Saks in the City teams polka dots and Converse sneakers.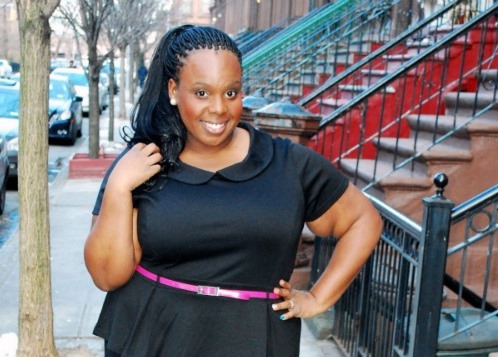 CeCe, who writes The Big Girl Blog, rocks a peplum top.
Nicolette Mason could not be more rad in this studded jacket and cat sweater combo.
So, what's out there in fashion land at the moment?
Australian brand Harlow designs and makes their covetable plus-size range in Melbourne. Expect faux leather, funky prints and even spangly bomber jackets, in sizes 14-24.
Harlow hi-lo tunic in tangerine $44.98
For basics and statement pieces, it's hard to go past ASOS Curve.
Cold shoulder denim dress $67.88
Wasp pencil skirt in check $38.54
Another Aussie favourite, The Iconic, also has a dedicated plus size section (and deliver within three hours in Sydney!)
Wonderlust floral cigarette pants $62.30
Wonderlust fit and flare dress $89
17 Sundays velvet goldmine diamond-print leggings $29.95
Where are your go-to shopping spots for awesome plus sized clothing?

More Fox in Flats: