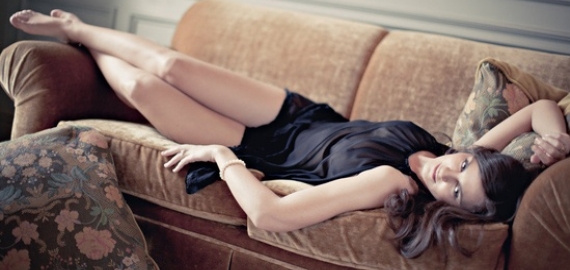 Last week, I received this email (below) from a reader who was feeling a bit 'daggy' in the clothes she wears at home. While I responded to her personally, I wanted to share the gist of my response with everyone else who pops by Fox in Flats, and to also get your thoughts on the topic.
Dear Andrea,
Hi, I'm new to your blog. I love the Style Dare A Day. I was buying new clothes and still feeling blah. So I am now trying to use my existing wardrobe to get away from my 'mum uniform'.
But I wondered, I get home from school or shopping and the tracky dacks* go back on. So I still feel dowdy most of the time. Do other mums do that?
Kindest, Ruth
Hi Ruth,
I'm totally hearing you about this, and you are definitely not alone!
I think that most of us 'slip into something more comfortable' as soon as we walk through the door at home: the shoes come off, we change into something with a bit more 'give' and we often remove our bras too.
But it's easy to fall into the trap of wearing old, baggy and frankly, daggy things when we're chilling at home. We often figure "no-one can see me so who cares?" or, we find it hard to justify an investment in new 'around the home' clothes when budgets are tight.
I used to be in that camp too.
Years ago I 'invested' in a grey velour tracksuit from Country Road which became my go-to at-home outfit after I had my first son. I was quite chuffed with that tracksuit at the time. I'd never really owned 'at-home' clothes before this, as my life was chock-full of work, travel, and going out. I was rarely at home except to sleep.
The thing is, I kept wearing that velour bad boy at home for the next three years, even going so far as to buy new trackie dacks to update it when the legs got too baggy.
One day as I slipped it on again I noticed that I felt kind of miserable the minute that velour touched my skin. But, we were on a pretty strict budget, and I couldn't justify spending money on new clothes just for around home.
But as the days and weeks went on, that at-home outfit, and the various items I'd mix it up with, left me feeling – like you – dowdy when I'd look in the mirror.
One day, I threw it out. Just like that. And I felt like a load had lifted from my shoulders."
I also then invested in a bunch of super-comfortable items to wear around the home that made me feel good. Here's what worked for me:
Amp the basics
Leggings, scoop neck tops, long wraps or cardigans – they're all comfy no-brainers for around home. But look for these items with a touch of embellishment or slightly alternative cuts, that'll make them (and you) feel a little more special.
Choose colours that make you happy
You know the one – that colour that gives you a twinkle in your eye, and gives you confidence. Wear that. Pass the other colours onto the local thrift store and wave them farewell along with the bad vibe they gave you.
Invest in natural fabrics
Instead of stretch polycotton, look for items in 100% or organic cotton, a bamboo/elastine mix, pure wool, silk or cashmere. You'll feel the difference against your skin, and that'll make you feel good. Check out Tluxe for a range of delicious separates.
Wear your 'out of the home' clothing at home
It's easy to fall into the trap of saving items of clothing for special occasions or for when you're out and about. But why not flip that on its head?
If you think about who the most important people in your life are, it's probably the people who you live with – your partner, your children, and yourself. So in theory, these are the people who you should be making the most effort around."
I'm not suggesting anyone gads about home washing the dishes in their Camilla & Marc satin jacket though – it's simply not practical, and let's face it, Dry Clean Only is a bitch. But why not wear that comfy maxi that you usually save for weekend parties and BBQs at home? In cooler months, top it with a knit and you'll be snug AND chic. Flick through your wardrobe and pull out the most comfortable things you own that make you happy when you wear them, and make these your go-to at-home pieces.
Freshen up
A spritz of your favourite fragrance, running a brush through your hair, a mist of invigorating face spray, or even brushing your teeth are all simple things that can give you a lift and help you feel refreshed.
And when I feel good about how I look, my smile is a little wider, my step gets a little springier, and I feel happier.  And that's the type of person I want my kids to see me as."
I'd love to hear from the readers of Fox in Flats – what's your all-time favourite at-home outfit? 
*Aussie slang for tracksuit pants
Image credit: Archetype Studio Inc.  

More Fox in Flats: