By Andrea Michelle for Laser Clinics Australia Bondi Junction
For the past number of years I've noticed a bunch of Skin Clinics popping up 'round the place, and I'd given them a wide berth. Mainly because I had no idea what in the world went on in them, and also because I suspected that whatever happened inside would involve pain.
But since I turned 42, I decided it was high time to educate myself about the myriad of high-tech skin treatments on offer because while I embrace my age and the apparent wisdom that's meant to come with that *cough* I'm super keen to retain what youthful glow I have left.
Also, over time I've developed smatterings of pesky light brown marks littered down both sides of my face under my cheekbones. This skin pigmentation seemed to have been getting worse, and I'd found that whenever I'd apply my foundation, I'd need to add extra layers to these areas to ensure they were covered up. Given that I'm an advocate for fresh, natural looking skin this was railing against me, and I was keen to find a more permanent solution.
Now, weeks after my first appointment at Laser Clinics Australia, my skin is looking cleaner, clearer, brighter, rejuvenated, and that pigmentation is all but removed. And while I was at it I learnt a whole lot about how to go about getting the best results at a Skin Clinic. Here's what I found:
Choose a Skin Clinic based on a recommendation from someone you trust, and who has awesome skin
Laser Clinics Australia had been recommended to me by a number of friends, and handily they've got a clinic at my local mall in Bondi Junction so this was my go-to choice. They've also got 39 other clinics around Australia, so check out if there's one closer to you here.
Know what's bothering you about your skin, but be open minded about what treatment is going to solve your problems
When I checked out the menu of treatments on offer at Laser Clinics Australia on their website it was kinda overwhelming – did I want firmer, plumper, tighter skin? Uh, Yes. Would I like to have the pigmentation on my cheeks removed? Hell yeah! How about reduced pore size, improved skin tone, and a clearer, brighter visage? Bring it on!
I basically turned into a grown up version of Veruca Salt from Charlie and the Chocolate Factory, because I wanted it all, and I wanted it now!"
But there are a number of different ways to skin a cat, so instead of getting caught up in what treatment you want, let the pros in clinic recommend the best treatment to help achieve the results you need.
Book in for a consultation, allowing time for a treatment off the back of that, and space between your next commitment
If you're a first-timer in a laser clinic a consultation with a therapist is essential so they can get a handle on your needs and recommend a plan of attack. Allow 20 minutes for the consult and about an hour for a follow up treatment.
Sure, you can book for a consultation and come back another day for the treatment, but personally, I'm no fan of having having to wait days till the magic happens (see above comment re Veruca Salt). If you're a bit impatient like me, make that initial booking as advised.
Also, allow a couple of hours between your appointment at the Laser Clinic and whatever else you've got to do that day in case the treatment you have leaves you with slightly red skin. I allowed two hours between my first treatment and school pick up time as I didn't want to risk freaking out the kids.
Trust the therapist
I was lucky to have Carina consult with me and then work on my skin. This is the type of therapist you want on your team, and I like to think of her as my personal skin care Mary Poppins. Because she did that thing where she made me feel really happy with the current condition of my skin, but then ever so gently pointed out a bunch of issues that I never even knew I had. And she did it in such a way that the medicine went down with a lovely spoonful of sugar.
I told Carina my concerns about pigmentation, and she gently agreed that it was an issue, and one that could be easily solved with Laser Pigmentation Removal.
But she also pointed out a bunch of blackheads on my nose (ugh gross!) that I didn't even know existed, and said she could easily remove them with extraction.
She suggested that my skin was looking dull due to a build up of dead skin cells which I couldn't argue with, but felt slightly annoyed because I've been gently exfoliating at least two times a week which is generally recommended.
Carina explained that it's a good idea to have a treatment like Microdermabrasion every now and then to deeply exfoliate and clean out pores (especially if you use fake tan from time to time which I do). This, she promised, would make my skin look clearer and allow skincare products to penetrate easier, leaving me looking more hydrated (ie. younger).
And finally, Carina suggested a low dose of Max RF to rejuvenate my skin, and ramp up the production of collagen and elastin.
After the consultation I felt like I was in great hands, and on my way to having clearer, cleaner and more beautiful skin.
Be decisive
If your aim is to have better looking skin, and the therapist has advised how best to achieve this – then make a plan with them and get on with it!
Be sure to understand potential short-term impacts each treatment might have and lock in treatments around your schedule.
In my case, my initial treatments were Max RF, microdermabrasion and extraction as they all provided minimal down time, and maximum immediate results.
I waited a couple of weeks to a quieter time in my schedule to have Laser Pigmentation Removal because I was told it'd be likely for the pigmentation marks to darken, scab, and become really dry before the affected areas would fall off – something I didn't want to contend with in the busy Christmas/New Year period.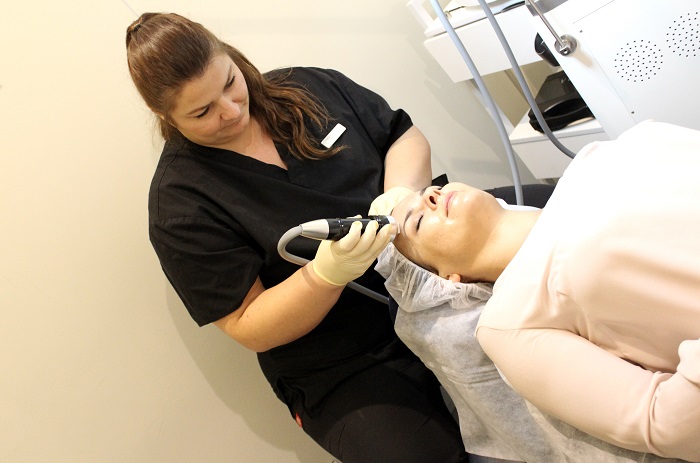 Carina from Laser Clinics Australia, Bondi Junction treating me with Max RF
Don't be scared
For the record, if you ever hear the words Laser in relation to your face there's gonna be an element of pain involved. But if you are looking to sort out your skin issues you've gotta be prepared for an element of pain to get the gain. So approach your clinic feeling strong, brave, and with your eye on the prize.
And the elements of pain and discomfort can differ from treatment to treatment. Of the treatments I had, Microdermabrasion was a breeze – the tiny circulating brush only slightly tickling my skin. Extraction of my black heads felt like little pin pricks, no worse than acupuncture needles.
When preparing for Max RF they apply a numbing gel to the area and let it settle in before commencing to minimize the expected pain. I had a low dose treatment of this and couldn't feel any discomfort, just a stamping feeling on my face as each area was treated. That said, apparently the full dose – which is about 5 times stronger than what I had – can be very painful, so be prepared.
Laser Pigmentation Removal was a whole 'nother level of pain however. Imagine a cigarette lighter being lit and held against your face about 40 times, ouch right?! Then imagine me crying in pain. Yes, that's how much it hurt. I cried. But I was well aware that it was going to be really painful, and I was prepared to suck up that short-term pain to have clearer looking skin in the long run.
Results will differ from person to person
Yeah, yeah that's the kind of disclaimer you read everywhere, but it's true. Some people will get immediate results from a treatment, others will need a few treatments to get the results they are aiming for. And any short-term impacts like redness or dry skin can differ significantly from person to person.
While I expected redness on my face for a few hours after doing Max RF, instead my skin was glowing.
I was told to expect up to two weeks of scarring and dry skin after my Laser Pigmentation Removal treatment, but instead, my skin had dark brown scars for about 3 days (like those dark spots on Morgan Freeman's cheeks) which then fell off, leaving my skin crystal clear.
The right skin treatments can significantly change the appearance of your skin, and after my recent experience, I'll be heading back for more non-invasive treatments. Because the better our skin looks, the less makeup we might be inclined to wear. And less time spent fussing over makeup means more time for fun.
Check out the Laser Clinics Australia website to see the different treatments on offer,
and if you live in Sydney, make a booking at their Bondi Junction clinic on (02) 8014 8949 and tell them I sent you.
What's your biggest skin issue that you've love to have treated in a Laser Clinic? 

More Fox in Flats: