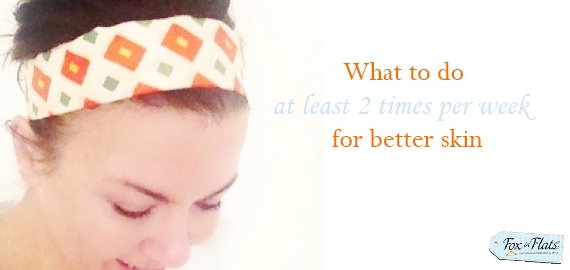 Exfoliate!
Regularly removing dead skin cells from your face and body will help to smooth your skin, and allow serums and moisturisers to penetrate more easily.
There are different schools of thought as to when is the best time to exfoliate your face. Some believe it's better at night after cleansing to also remove grime that can build up over a day and allow richer products designed for night-time to penetrate. Others swear by exfoliating in the morning, which provides a smoother surface for foundations to glide onto.
Me? I fit it in whenever I can, and have a couple of different products on rotation.
Here's 3 exfoliators I'm loving at the moment:
Like a shot of coffee for your face
Clean & Clear Morning Burst Skin Brightening Facial Scrub*
Easy to use in the morning shower, and contains caffeine, lemon and papaya that leaves your skin feeling perky.
RRP $10.99 available at supermarkets or pharmacies or about $7 + shipping at Drugstore.com
Magic Thermal Polish
Sanctuary Spa Warming Microbrasion Polish*
I got a bit of a shock when I first used this product, as it literally warms up the second it touches your damp skin. Gives my skin a noticeable glow.
$39 as part of a set in the Sanctuary Spa 'Youth Boosting Facial in a Box' $39 from Priceline, or $25 + shipping from QVC.com
DIY Coconut Sugar Scrub
Some mornings I make this all-natural exfoliant while I'm getting the kids' breakfasts ready. It's so easy to whip up and smells like the tropics. Simply mix equal parts Coconut Butter (or oil) with brown sugar, and then gently smooth onto your damp face.
Coconut Butter usually costs around $10 from your local grocery or health food store, and the sugar should only be a couple of dollars, so it's a fabulously inexpensive way to exfoliate. For 9 more ways to use Coconut Butter in your beauty routine, click here.
When do you exfoliate, and what's your favourite product to use? 

More Fox in Flats:
* I get sent a fair chunk of beauty products to try from different companies for 'editorial consideration', and this was one of those. I slowly work through the pile, and share on Fox in Flats only the ones I really like and actually use regularly.