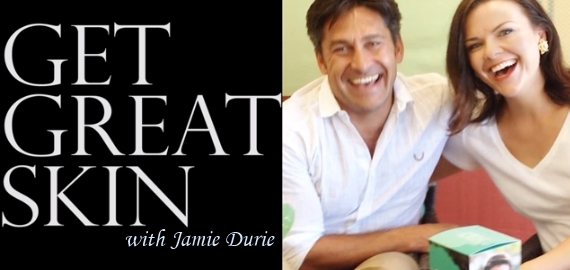 I've known celebrity horticulturalist Jamie Durie for about 14 years, since before he became a household name in Australia from hosting hit TV shows like Backyard Blitz and The Block.
He's been living overseas for the past few years, working with and hanging out with Oprah, and is now back in Oz working like a crazy man on a new interior makeover show, producing books, developing more lifestyle products for his Patio by Jamie Durie range for Big W, filming an upcoming segment on Getaway, and launching a new range of organic skincare called People for Plants. Phew! I'm exhausted just writing all that!
The other day, we had a coffee at his offices on Sydney's Northern Beaches and chatted about all kinds of stuff: getting great skin, the importance of sunscreen, and his luck with the ladies. I even got to touch his skin :). And I hadn't laughed so hard in ages.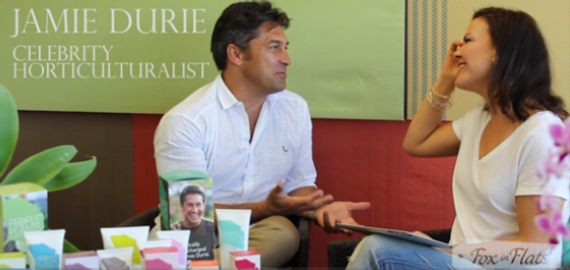 Check it out:
Andrea: How did People for Plants come about?
Jamie: I worked with my good mates Anna and Andrew who had an idea to make an organic skincare range. They asked me about botanical ingredients and the best and most sustainable places to get them, and that's how I became involved. It's been 4 years in the making!
Andrea: What sets the range apart from other products on the market?
Jamie: It actually works!
The ingredients have been chosen to work together to remedy issues that women have with their skin such as dryness, sensitivity, dullness and of course ageing. It does this with concentrated amounts of highly potent skin soothing anti-inflammatory, anti-oxidant, and cell strengthening omega oils.
And it's been certified organic by the ACO – one of the most stringent testing bodies in the world.

Buy the range in David Jones, Priceline, Terry White, selected pharmacies, health food stores and online with every product retailing under $30.
Andrea: Watching what we put on our skin (and in our bodies) is so important while pregnant too – organic skin care is a great choice to make for those nine months in particular, right?
Jamie: For sure! There is often a wake-up call when women are pregnant as they want to take the best care of themselves and their baby. Their skin also undergoes changes which is sometimes a shock.
Andrea: You've got great skin. What's your personal skin-care regime?
Jamie: I do it all!  I cleanse, I tone, I hydrate, I moisturise, I oil, I use night cream…the lot!  So my skin care ritual is like my little 10 min session every day…and it does help me de-stress after a busy day. And all the products smell so good which has an aroma-therapy effect and helps me relax and unwind.
Andrea: What are your favourites?
Jamie: The ones I use all the time are:
• grapefruit, aloe – Foaming Cleansing Gel – Gets rid of the daily grime.
• aloe, grapefruit, garnet – Face Scrub – Gentle particles of garnet get the pores clean.
• cucumber, aloe – Hydration Gel – Great when you get a touch of the sun, or when travelling.
• kakadu plum, calendula, chamomile – Eye Cream – Great for jetlag.
• papaya, quillaja, apricot – Body Scrub  – Because your body needs to be buffed!
• ginkgo, coconut, shea – Ultra Rich Body Cream– This is so soothing.
• hemp, apricot kernel, macadamia  – Hand Cream – After a hard day's work this helps to repair.
Andrea: Any plans for a male-specific range?
Jamie: For sure, one day, that's on our wish list.
Reader Questions
Some of the Foxes on Facebook had questions they wanted me to hit Jamie with, and he was more than happy to oblige – even the question about  'body slides'!
Neroli: There seems to be a re-emergence of facial hair for guys. Are the days of the metrosexual over?
Jamie: But it's well-groomed facial hair, not a bushy Ned Kelly beard!  Men's grooming continues to become mainstream and is a daily part of most men's lives these days.  It is a growing market for sure.
Sascha: Does he remember giving me a body slide on stage at the Manly Leagues Club in 1995?
Jamie: My memory is not what it used to be and there were a few body slides in those days…sorry Sasch!!
Leonie: Do the products contain palm oil and are the ingredients ethically sourced?
Jamie: We don't use palm oil. Instead we have a range of alternate oils all sustainably sourced. We have them listed on our website.
Ellie: Is he single?
Jamie: I am happily engaged these days to the lovely Lisa Christie.
Felicity: How we can clone him so we can all have him as a permanent fixture in our gardens? Spunkiest guy on tv!!!
Jamie: The team in my office has been looking into this for years…they are desperate to clone me!!  No luck so far I'm afraid.
For more, follow Jamie Durie on Twitter,
and People for Plants on Twitter, Facebook, Instagram, and their website.
Any more questions for Jamie?
Hit us up and I'll have him over for another coffee to answer your questions! 
More Fox in Flats: