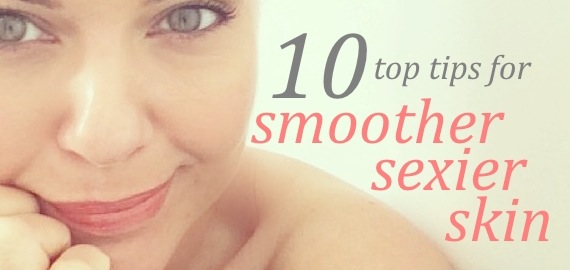 By Andrea Michelle for Dove
No matter how much sleep you clocked up last night, or how much makeup you've scooped on, there's only really one thing that'll make a real difference to how you look: the condition of your skin.
So it's important to take steps every single day to treat it well.
Here's 10 of the best ways to keep your skin looking smoother, fresher, and indeed sexier – and they're all super easy.
Limit the sugary stuff
Spikes in blood sugar levels can cause inflammation, redness, and swelling. The way it's digested impacts skin's collagen resulting in sagging, dryness, and wrinkles, and some studies have shown sugars to make our skin more susceptible to sun damage. Keep in mind sugars are also found in non-complex carbs, so lay off the pasta, white rice and potatoes.
Treat those pits
Maybe it's because they're rarely seen as an erogenous zone, armpits tend to be the most neglected part of our bodies. But there's nothing less sexy than red, sore and irritated pits which is often the result of shaving. So trash your harsh, drying deodorant and try Dove Original Deodorant which contains Dove's unique ¼ moisturizing cream which helps nourish skin to reduce the irritation caused by shaving while acting as a 48 hour antiperspirant.
Ditch the ciggies
Dragons smoke, and their skin looks like crap. Enough said.
Vitamin A
Products containing vitamin A e.g. retinal or retinol, are proven to reverse aging at a cellular level. Your best bet is to ask your GP for a prescription for some cream next time you're in there for a checkup. Keep this for your night-time routine and avoid while pregnant or breastfeeding.
Dry skin brushing
Besides helping circulation and your lymphatic system, brushing your skin daily will exfoliate your skin leaving it feeling soft and feeling supple. It's also known to reduce the appearance of cellulite as it softens hard fat deposits below the skin, distributing them more evenly. Use a brush with natural bristles and brush toward your heart.
Eat well
They say "you are what you eat" and no one wants their skin to look like junk. So get your glow going from within by eating a balanced diet, full of vitamins A and E and skin-helping nutrients like omega-3 fatty acids.
Exfoliate
Do this twice a week with an enzyme based product at night and after cleansing. It'll remove grime and dead skin cells from the day and help richer night-time products to penetrate your skin. Go easy on the physical scrubbing as it'll just inflame your skin.
Water yourself
Plants wilt without enough water, and so does your skin. Aim to drink at least 2 liters of water per day to plump up your skin cells.
Create a physical barrier from the sun
UV rays will damage your skin – but you already knew that, right? So be sure to layer all exposed skin with sunscreen every day. Look for products containing micronized zinc oxide, and with at least an SPF of 30.
Body moisturising
Slather on your favourite body lotion after towel drying from your shower and while your skin is still slightly moist to lock in that silky goodness. Be sure to focus on your elbows, knees and ankles as these tend to be the driest spots. Because dry elephant knees ain't sexy.
Comment to WIN a DOVE care package!
What's your secret to smooth, fresh, sexy skin?
And where do you most like to be kissed?
Entry conditions:
There are 10 DOVE care packages valued at $56 to be given away.
Each package contains: Dove Intensive Repair S&C $6.49 each, Dove Original Deodorant $5.78  (x 2), Dove Triple Moisturising Body Wash $7.36, Dove Essential Nourishment Body Milk $8.39, Dove Intensive Repair Treatment Mask $8.79, Dove Men+ Care Body & Face Wash $6.99
This giveaway is open to residents of Australia only (but I'd still LOVE to hear from the other Foxes from around the world!)
Be creative and fabulous (the way you usually roll, right?!) as the winning Foxes will be the ones with the most creative, useful and fun answers.
You can enter this promotion as many times as you like.
To enter, comment below, answering the questions: What's your secret to smooth, fresh, sexy skin? And where do you most like to be kissed?
The giveaway runs from 16th of July, 2014 till 1st of August, 2014.
The winners will be chosen on that date and contacted that day. We'll also announce them in our newsletter (out every Monday afternoon). You can subscribe to that fun here.
Entrants must abide by the contest entry conditions listed above. 
What's your secret to smooth, fresh, sexy skin?
And where do you most like to be kissed?