Having just moved houses I've taken a good long look at my shoe situation, and realised things had gotten out of hand. I'd accumulated so many shoes over the last couple of years that they'd taken up a whole corner of a room, and like bras, I'd end up reaching for the same favourite pairs time and time again, while the others languished.
So after taking stock, and giving boxes of them to my gorgeous neighbour Lydia who's going to redistribute them to those in need, I've figured out that – depending on your lifestyle – there are really only half a dozen types of shoes that are essential. Get the basics right, invest in the best quality you can afford, and you've got the foundation for the perfect shoe collection.
1. Fabulous flats
Even if you've been an avid heel wearer for most of your grown up life there comes a time when you've gotta work flats into your wardrobe. Pregnancy and motherhood is without doubt one of those stages.
Tip: Look for a classic ballet flat and channel your inner-Audrey
Select nude tones to elongate your legs, sophisticated classic black, or a leopard print – which is more versatile than you may think – just work it like a neutral and wear it with a snarl. Try these Steve Madden pony hair flats for $85.50.
Because they're mostly worn in direct contact with your skin, it's better to invest in a pair that's fully lined with leather to allow your skin to breathe. Yet if you're less worried about sweaty toes or your budget can't quite stretch that far, you can generally pick up a great pair of ballet flats in on-trend colours and patterns from discount department stores like Big W, Target or Kmart for less than $20.
Tip: If you fancy yourself as a bit of a fashionista, brogues are the flat du-jour
Seen on the street style darlings at Mercedes Benz Fashion Week Australia, and on quirky-cool celebs like Nicole Ritchie, two-tone brogues are smack on trend. A more affordable version of Nicole's Celine Oxfords can be snapped up from Dr Martens for $204, or Front Row Shop for $115. For a more classic look invest in tan or nude brogues as they'll give the illusion of longer legs and will remain a wardrobe staple for years to come.
Tip: Luxe-looking loafers have a timeless, slightly masculine-preppy look that'll add classic appeal to any outfit
Especially chic if you like a leggy look, team loafers with shorter shorts, skirts and dresses as the extra coverage of the shoe will balance out all that skin. Invest in a neutral shade for maximum versatility and in a rich leather that will only look better over time. Or snap up snake-skin, animal prints or vibrant hues for a more modern take.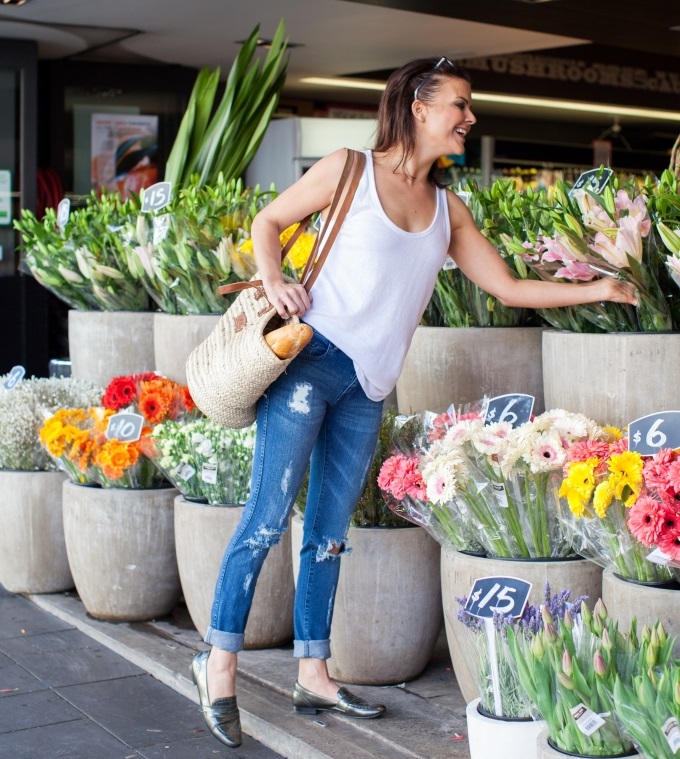 2. Thongs
We all need a decent pair of thongs because they're easy to slip on and off, especially when you need to keep your hands free for baby. But it's worth investing in a dressy pair in leather or with embellishments if you're planning to wear them as part of an ensemble.
Rubber soled cheapies or Havaianas are best left for the beach, pool or the communal shower at the gym because – sorry gals – they don't cut the mustard as bona fide shoes. Start thinking of that look in the same way as leggings worn as pants. It's a no-go. Ever.
3. Boots
Listed as one of the 13 wardrobe essentials every mum can't do without, knee-high boots are sophisticated and chic. But if you've not done it already, it's time to add ankle boots into the mix. For six tips on what to look for and how to style them up – especially if you're worried about "stumpy-leg-syndrome", click here.
And don't think your boots need to be relegated to the back of your closet when the weather is warm. Here are 15 ways to wear boots even when you're in the steamy pits of summer.
4. A casual trainer
Because sometimes you wanna be able to go faster. Converse – in either a high or low top – have been a wardrobe classic for decades, so they're a no-brainer super-easy shoe purchase. And as they come in a myriad of colours and patterns you don't necessarily have to risk having the exact same pair as the gals from Mother's Group. At under $55 pair they won't drain your shoe fund, either.
If your feet need slightly more support, look for sneakers that are designed by podiatrists and can be custom fit, so they'll remain extra comfy while still looking chic. Try ELLiE II from FrankiE4 ($219.95).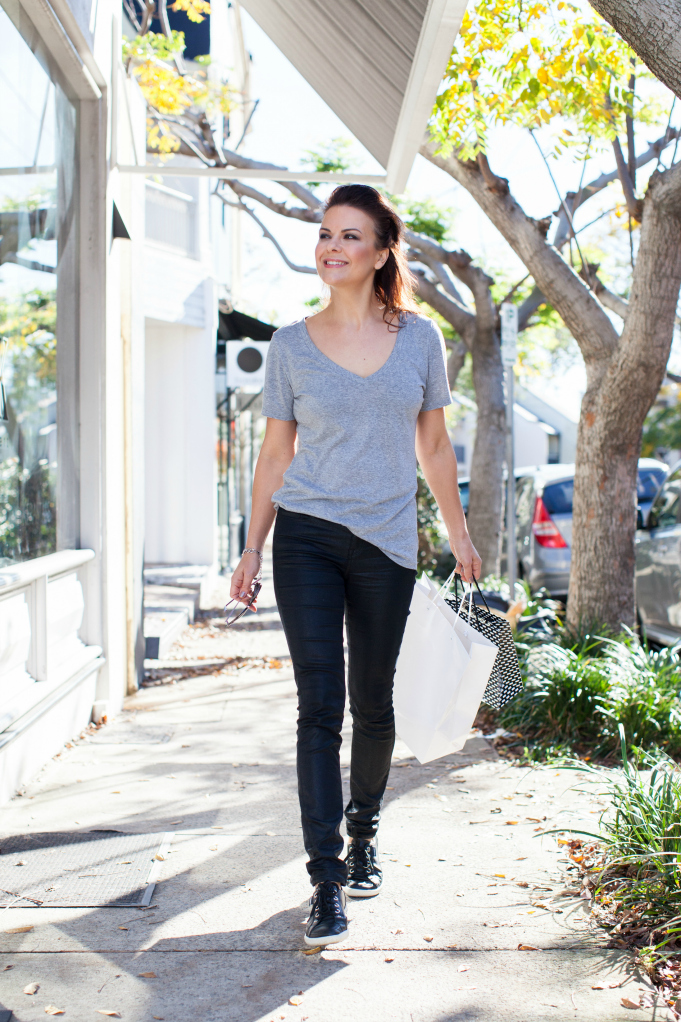 5. Killer heels
There's nothing sexier and more empowering than stepping out in your favourite pair of heels, yet there can be nothing more painful than hours on end teetering in heels that hurt. Invest in a pair of pumps in black or nude – the best you can afford – and with a tapered stiletto heel and a pointed toe.
On every fashionista's wish list is a red-soled Christian Louboutin pump for their classic style and comfort levels that belie their looks, yet at upwards of $600 a pop they're out of reach for most. Shop 'em here if you're cashed up. But happily, you can pick up similar styles in high-street stores such as Witchery or Country Road for under $200. I'm loving these 'Miranda' heels from Seed Heritage for $159.95 and these Steve Madden pumps are a steal for $87.
6. Sandals
The ultimate summer favourite, a great pair can take you from the beach to a restaurant with ease. For the most versatile sandal invest in soft neutral leathers or metallic finishes for a more glamorous look. Try these Emerson metallic sandals from Tory Burch $315.
Sandals lined in leather or with special absorbent linings are great if your feet tend to perspire a lot, and while, ideally, sandals made of plastic, rubber or faux leather should be avoided because of the ouchy, pinchiness of them. Australian brand Holster make great jelly-style sandals that look chic – especially the 'Rockstar' range by Dannii Minogue ($32.48). They're waterproof, and don't set off the airport alarms when you walk through them. I recently checked, it's true.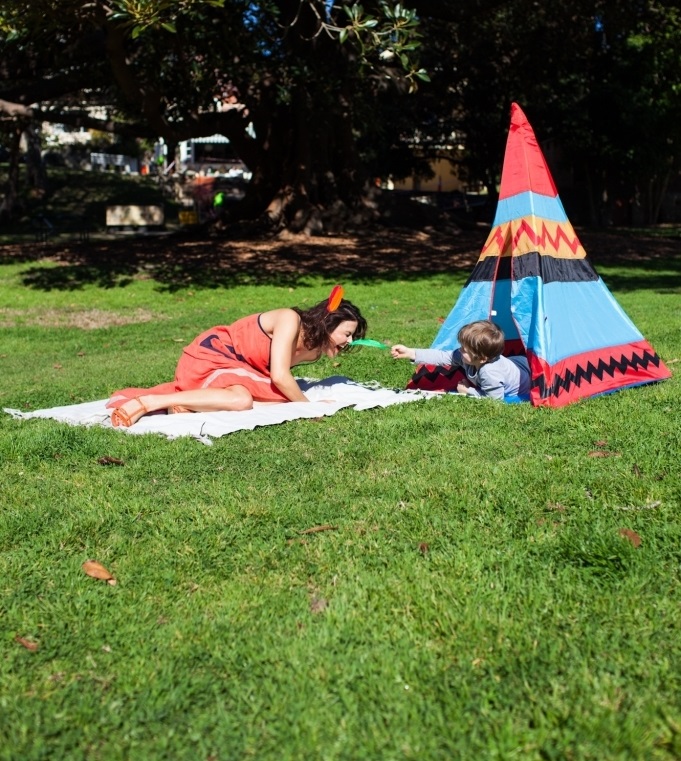 So while you start to think about what you might need to update your wardrobe for the next season, get back to basics, and take care of those babies once you've got them in your collection. Here's 9 ways to make your shoes last longer.