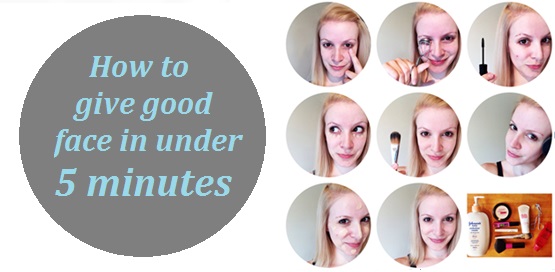 Recently we published a story called How to Look and Feel Alive After Just Giving Birth. In it, we described the super quick beauty routine we roll with on a daily basis and it turns out a few of you are interested in giving it a crack.
At Fox in Flats we know that you are pressed for time, especially in the mornings before school drop off, when you are run down, when you are flat out juggling multiple kids, or when something HUGE happens in your life that causes you to lose your mojo.
And so, we give you Kate's ultimate five-minute beauty routine, that'll have you looking fresh, fast.
Step 1. Moisturise
Apply a small amount of moisturiser around your eyes only. If you have super dry skin, probably best to spread it over your entire face
Step 2. Curl lashes
Curling your eyelashes will open up your eyes, creating the illusion of your apparent sprightliness.
Step 3. Mascara
To be perfectly superficial, mascara makes us feel pretty. Give your top lashes a good coating, starting at the roots and wiggling the brush to the ends. If you laugh a lot (like us!) avoid putting mascara on your lower lashes as you may find you end up a bit panda-eyed look after a while.
Step 4. Concealer
Layer it on under the eyes, in the inner corners of your eyes and in the outer corners. Make those eyes pop.
Step 5. Blend the concealer in
Using your foundation or concealer brush or your ring finger, gently blend the concealer in and away from the eye. This skin is very delicate so look after it. If you are using your ring finger, dab the concealer in rather than dragging your finger.
Step 6. Powder the concealer
Lightly powdering the concealer you've just applied will make it stick. Don't use too much or you'll look cakey.
Step 7. BB Cream
For every day wear, we're totally on the BB Cream wagon. Maybelline's 'Dream Fresh' BB Cream is a Fox in Flats favourite. It's really lightweight but does provide you with some coverage, plus it reduces any redness on your skin. Using your fingers, spot it all over your face and then blend it in, avoiding the area around your eyes you've just concealed and powdered. Remember to blend down your jaw line and onto your neck. If you need to, lightly powder your face.
Step 8. Lips & brows
Try using Lucas' Papaw Ointment on my lips and brows. It costs like $5 and lasts for ages – also good on mosquito bites. Fact!
So there you go! This is what we've used in this tutorial: Johnson's Baby Sorbolene Cream, Australis 'Fresh and Flawless' Pressed Powder in Natural, Maybelline 'Dream Fresh' BB Cream in Light, Maybelline 'Great Lash' mascara in Blackest Black, Rimmel London 'Stay Matte Dual Action' concealer in Ivory, and Lucas' Papaw Ointment.
What's your short-cut to a fast, fresh face?