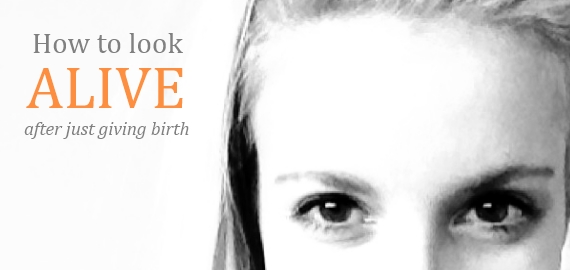 OK so this is a post I'm going to have to read in about T-10 weeks, give or take a couple of weeks either side of my impending August 19 due date. It's been four years and one month since I last gave birth but trust me, the memory is still very clear.
It's important to take this post with a grain of salt. Everyone experiences completely different pregnancies and labours. Some babies come very early and take us by surprise, some come on time and some turn up late. We've got natural deliveries and c-sections, healthy babes and babes who need extra care, we see very quick ooh-there's-the-head labours and lord-almighty-is-it-out-yet loooong labours. Some babies are born in hospitals, some at home and some on the side of the road.
The point is, we've all just had a small person living inside of us, and now they are out.
And so in light of the impending labour and birth of babe number two, here is how to look alive after just having delivered your little one – because looking after yourself can help to improve your state of mind and your confidence.
1. Drink water
Water keeps us regular and hydrated. Hydration is essential when combating headaches and it helps to reduce dark circles and to improve your complexion. Keep a big bottle next to your bed/by your side at all times and keep chugging it down. I don't know what it is, but I seem to be able to drink so much more water from a bottle rather than from a glass. Try it.
2. Sort out your hair
In an ideal world we'd all have our hair freshly coloured/blow waved or even just washed hair pre-birth and then during labour we'd remain sweat free and enjoy perfect locks. But as this is often not the case, pack yourself a mini hair care kit including dry shampoo, bobby pins and hair ties and then have a look here to find quick and easy styles that will work for your hair. I for one will be rocking the high ponytail post delivery, having no doubt recently yelled "Get that hurrr out of my FACE!!!"
3. Give good face
Sure, the post-baby visitors are going to be focusing on your newborn, but a couple of easy steps will help you look alive in an instant, even if you've been up all night with the baby: Moisturise. Concealer under the eyes and in the inner corners of your eyes, remembering to blend it in. Curl your lashes. Mascara on the top lashes only. BB Cream or a tinted moisturiser all over your face, jaw line and down your neck. A balm for your lips and to tame brows (try Lucas Paw Paw ointment). Powder – lightly! Boom. Looking alive.
4. Wrap it up
Now we know this isn't for everyone, but the feeling of uuuh…improved core stability let's call it, made me feel comfortable and secure. After giving birth one can feel a little loose through the mid section, and it's really common to suffer lower back pain, so investing in something to hold you together and assist posture can really help. There's the much hyped SRC Recovery Shorts, some may prefer (or be recommended) a girdle or belly wrap or you may like to give regular shapewear a go.
For more tips and ideas on how to look awesome after the big delivery – including why you'll need a pair of high-waisted black 'granny' knickers – click here.
Besides soaking up the glow of your gorgeous newborn, what's your number one post-birth beauty secret?