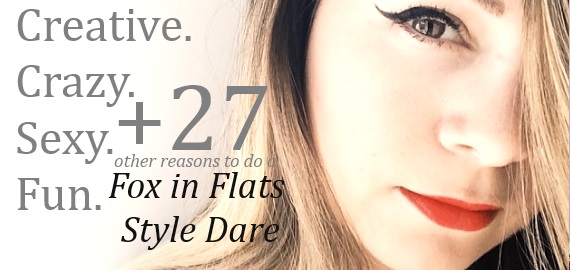 The Style Dare made me feel: Funny. Awesome. Loved. Inspired. Crazy. Shiny. Adventurous. Sexy. Creative. Smiling. Happy and much more."
This is how Andrea Koster, aka @icadoo on Instagram, described her time doing our recent March style challenge.
And she wasn't alone in her sentiments.
I asked a few of the amazing community of women who joined in with our latest Style Dare to share what they loved most about the recent Dare, and also to select their favourite photo of themselves that had been taken and shared on Instagram #FoxinFlatsStyleDare.
Check out this gallery of gorgeous women to see what they said, and be inspired by their personal style and creativity.
[cincopa AgAAelb9-cgl]
It's well worth following each and every one of these foxes on Instagram, and also their blogs for those who have one. All the links are below.
@barbe_dwire Blog: Fashionista in Suburbia
@aprilstyles Shop: Madd Lola
@creatingcontentment Blog: Creating Contentment
@glamourmama1 Blog: Glamour Mama
@klee5290 Blog: My world as a Mummy
@kimbalikes Blog: Kimba Likes
@nora_bee_style Blog: Nora Bee Style
@memybestandi Blog: Me, my best & I
@30daysofsmiles Blog: 30 Days of Smiles
@calimmityjo Blog: Calimmity Jo
@hairromance Blog: Hair Romance
@soniastyling Blog: Sonia Styling
But note – there were many, many, many other women who joined in with last month's Style Dare. Check them all out on Instagram #FoxinFlatsStyleDare and be inspired!
Why do I love doing the Style Dares? There are so many reasons: Use what you have and wear what you have in different ways. Be a supermodel for a few seconds a day. Be part of a community that is unbelievably supportive, inspiring and encouraging. I feel like I have gained a whole lot of friends. Why wouldn't you LOVE doing the dares??"
Barbe @Barbe_dwire on Instagram and also blogs at Fashionista in Suburbia.
Thankyou so much to everyone who joined in with last month's Style Dare. We'll be kicking off new dares soon, if you haven't already, subscribe to our newsletter so you get all the details delivered to your email.
And in the meantime, follow @FoxinFlats on Instagram, Facebook and Twitter too as we'll continue to serve up a healthy dose of style-spiration, daily.
What do YOU love most about the Fox in Flats Style Dare? 

More Fox in Flats: