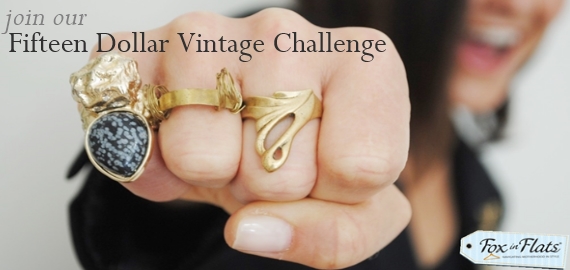 Wanna know where to get unique items that'll update your wardrobe for under $15?
Shop vintage!"
Just last week I spent about an hour in two thrift stores, and quickly uncovered a bunch of fabulous pieces for just a few bucks – including the rings pictured above which cost less than a Latte.
And you can too – it's easy!
For simple tips, ideas and inspiration on how you can score big for small bucks and to join our Fifteen Dollar Vintage Challenge, pop over to Kidspot HERE where I'm guest posting as part of their Voices of 2013 Awards in the Style + Beauty category, sponsored by VOGUE.
And then hit me this week with your best vintage finds on Instagram #FifteenDollarVintageChallenge @FoxinFlats @Kidspot @VogueAustralia.
Kapow!

More Fox in Flats: