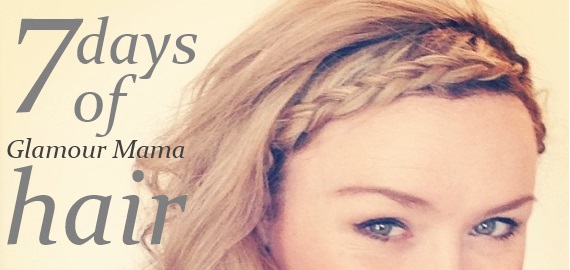 A couple of weeks ago we challenged readers to wear their hair in a different style for 7 days straight. We called it The Hair Dare. Among the thousands of eager participants, blogger Kate Mac from Glamour Mama took up the challenge with gusto, creating a week's worth of gorgeous hairstyles. Here, she shares her experience, and a bunch of easy hairstyle tutorials so you can recreate them at home in minutes.
If you'd like to try The Hair Dare yourself, click here for all the details.
"Hi, I'm Kate Mac from Glamour Mama!"
Recently I took up Andrea's challenge on Fox in Flats to wear a different hairstyle for 7 days straight.
How did she know that I was sick. to. death. of my hair?! If you're a Mama, then maybe you are too??!
Our hair is one of the first things we let go of when motherhood strikes. From newborn days when showering is a luxury, to when baby starts to grab and pull, when we watch it disappear down the plughole after breastfeeding is finished, to the crazy Toddler months when hot irons become another safety hazard, and the Preschooler years when Dolly apparently needs EVERY hair elastic on the house.
In the morning frenzy to leave home on time our own hair is the last thing on our minds as our patience is spent ensuring they've brushed theirs. And our time is better used to fiddle around with their car seat straps, not our hairdryer.
THEN if you happen to have difficult hair of the fine curly/ wavy/ frizzy variety, like mine… who has the head space (pun intended!)?!
So I usually scrape it up into a high bun. Or wear a hat.
Mama hair. Don't care."
BUT the power of a good hair style is not to be under-estimated. Spending 10 minutes on our hair can pick us up when we're feeling down and reinvigorate a tired mama.
Breaking out of the mama hairstyle rut can give us a newfound confidence; help us take on a Toddler with a single flick of our hair! And remind us that we are more than "just" someone's Mum, add a sassy bounce to our step and to help us feel a little more like our old selves.
A new hairstyle can make a Mama feel a little more glamorous.
When motherhood is sometimes not.
Trying a different hairstyle is the quickest, easiest – and cheapest – way to update our look, our style and the way we feel about ourselves."
Each of the 7 hairstyles I wore this past week took no longer than 10 minutes. Here they are and how I did them…
Day 1. Bouncy Waves
Simply curl dry hair around GHD iron in thick vertical sections, shake and go. I used to blow dry the hair straight first, but now I don't bother and I get more va-voom volume. I also used to apply smoothing serum, but by the time I climb over building blocks and Teddy Bears to reach the bathroom I forget what I'm looking for.
Day 2. Fringe Braid
I've played around with fringe braids before. This one is only braided from the hair side, and sits low over the forehead – which give a great illusion of reducing a broad forehead like mine, in the same way a side swept fringe does. A fringe braid is great for a second day blow dry.
Day 3. Glamour Ponytail
Here's an update for your everyday Mama Ponytail, inspired by Bridget Bardot. Separate the top fringe section on the crown (I put it in a hair elastic so its out of the way). Brush the rest of the hair straight back into a ponytail in line with your ears, ensuring the sides are super smooth and tight. With the top section, back comb it to create a beehive nest on top of your head. GHD a fine layer of fringe at the front, then lightly brush it all back to smooth over the nest. Secure the ends with bobby pins at the ponytail band (or use a hair clip as I did, if the bobby pins have gone awol). Hairspray the bejeesus out of it. The quiff adds extra height for the vertically challenged and the pulled back sides gives an instant facelift – bonus!
Day 4. Curly
As anyone with natural curls will tell you, often it's best not to stir the beast. And leave it be. In my experience, there's no hard and fast trick to achieving a good curl – it's all luck; reliant on the moon, stars and weather God's aligning. A lack of humidity helps achieve a more defined curl, as does sleeping on semi damp hair (yes its a bit icky). The only other thing I might do is smooth over the fuzzy bits randomly with a GHD. Check out Hair Romance for fantastic curly hair tips – Christina is inspiring me to embrace my curls more often!
Day 5. Messy Side Bun
Simply sweep wavy hair to the side, and loop it around an elastic to form a loose bun. I added a couple of tiny braids from the temple because The Kindy Kid said so. Easy and relaxed glamour that doesn't even need a mirror.
Day 6. Upside down Braid and Topknot
This is a variation on my go-to Mama hairstyle – the high topknot bun. I have also blogged about my Life Skill of backward braiding hair here previously. This one literally took 5 minutes, so it's pretty loose and messy, but its perfect hair to wrangle The Kiddos during a long road trip home after Easter.
Day 7. Straight with centre part half pony
I actually managed a straight blow dry today – April weather is blessedly devoid of humidity in Sydney so it's a great month to BD without the frizzies. I like to tie back the fringe and centre parting section to form a mini-pony, so I can still wear hair long but keep the fringe off my face. I almost forgot that I used to wear my hair like this to work a lot – great for days I need to look a bit polished for meetings AND front up for Mama duty later.

Kate Mac can be found wearing sequins by the sandpit, searching for glamour among the goo, and blogging at Glamour Mama. Connect with her on Facebook, Twitter, Instagram and Pinterest.
What are your fave hairstyles for Mama duty?
When was the last time you tried a new hairstyle?