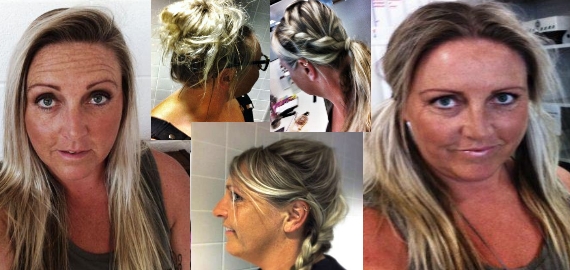 At Fox in Flats, we're all about sharing tips and ideas to make it easier to navigate motherhood in style. But not all of our day-to-day lives are the same.
Take Katie. She's a mum of two cute little girls who are 6 and 2, works full time in Advertising, and gets a surf in about 3 days a week before work.
I get up at 5, kiss everyone and leave them all asleep. Hit the beach at just after 5, usually before the sun is up."

I paddle out and surf until about 6.45am, then I race in, have a cold shower at the beach and jump in the car. I surf Cronulla, and work in St Leonards (Sydney), so it's bit of a hike, but it leaves plenty of traffic time to put my face on."
Each week or so, we've been asking a different 'Contributing-Fox' to take us through the different things she did with her hair over a number of consecutive days, and include her step-by-step instructions so you can re-create the hairstyles you like at home over the upcoming week.
The idea came about after we ran a challenge to see if we could wear our hair in a different style each day for 7 days straight. We called it The Hair Dare. We were inundated with so many awesome hairstyles that we'd be doing a disservice to 'The Sisterhood' if we didn't share these 'dos around.
This week's hairstyle how-to's are brought to you by Katie, who shows how fresh out of the surf hair can look awesome in the office!
This is me. I have longish, straight blonde hair, which when I surf, I let it dry naturally, full of the ocean.  I do not own a straightener.
Day 1: Messy up-do.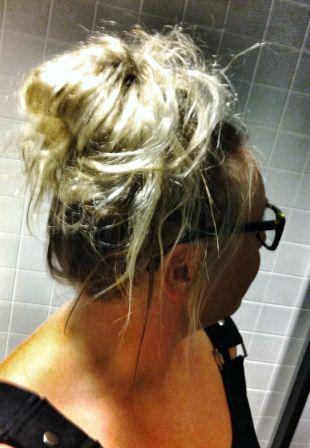 Hairstyle How-to:
1)      Tip head upside down.
2)      Spray with Sea Salt spray.
3)      Still upside down, rub hands on head to 'tease'.
4)      Still upside down, grab it all by scrunching it up into a ball of hair.
5)      Still upside down, put a hair tie about the base.
6)      Back to upright, give it a spray with hairspray.
Day 2: Braided Pony.
Hairstyle How-to:
1)      Using a low, low side part, make a fringe section and keep it out.
2)      Grab a large section from the part to the ear, and start a French braid just along the side, finish with hair tied into a pony tail.
3)      Tuck the fringe section behind your ear.
Day 3: Pigtails.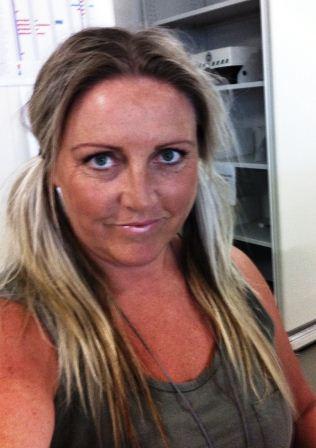 Hairstyle How-to:
This was after a surf, so my hair was already salty. But I would use Osis Dust it and Lee Stafford Sea Salt Spray to recreate the look if I'd not gone surfing that day.
1)      Middle part.
2)      Low, messy piggies behind each ear.
3)      Voila.
Day 4: Side Braid.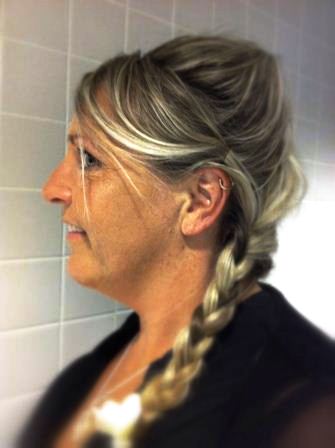 Hairstyle How-to:
1)      Section a front 'fringe', leave.
2)      Section another large middle section, pull straight up and back comb, spray with hairspray.
3)      Use a slide comb and push it up into a quiff.
4)      Put the remaining hair into a side braid.
5)      Drape the front fringe section across forehead and pin with bobbypin behind ear.
6)      Add frangipani to end hair tie.
Thanks Katie, for the awesome tips!
Katie rides traditional longboards – big and heavy with a big single fin – loves the 50/60's era, plays the Ukulele, drives a kombi, and wears swimmers that are 'play suits'. She may or may not answer to the name Gidget.
You can Tweet Katie @Sk8tie_mum here.
Here's to another week of fab, foxy hair!