One of my favourite characters in Gone With the Wind is Mammy, Scarlett O'Hara's caretaker.
She's honest, wise, feisty and strong, yet underneath that sometimes-hard exterior lies a sweet woman who adores the rustling red silk petticoat that Rhett Butler gifted her. He described it as "so rustly that the Lord would think it was made of angels' wings."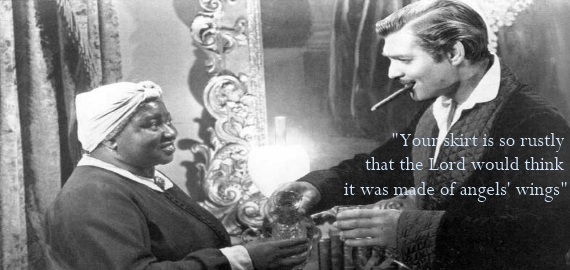 And every subsequent scene afterwards in the epic movie version, you could hear the rustling of that silk petticoat whenever she moved. That rustling became as much a signature of Mammy as her "Mmm, mmm, mmm Miss Scarlett!"
Which got me thinking.
We spend time working on a signature look, and we might have a signature scent, a signature lipstick, or signature shades. But how about a signature sound?"
Do you 'clank' because of the large heavy bangles you like to wear?
Do you 'tinkle' from delicate earrings dancing around your lobes?
Do you 'click-clack' because of the shoes you favour?
Or are you like Mammy and are a 'rustler', because of the skirts and dresses you wear?
Me? I'm a 'jangler'.
I love to pile my favourite bracelets, cuffs, charms, chains and beads onto my wrists to create a jingly-jangly arm party. Or I'll happily pile on a tumble of chains, lockets, pearls and diamonds all at the same time to make a similar 'jangle' sound. It makes me smile to hear this as I crouch down to give the boys a Mammy-Style hug. It means there's a tiny orchestra accompanying my keyboard when I'm tap tap tapping away. And reaching for that can of tomatoes on aisle 5 of the supermarket is much less mundane. 
How 'bout you? Do you have a signature sound?

More Fox in Flats: