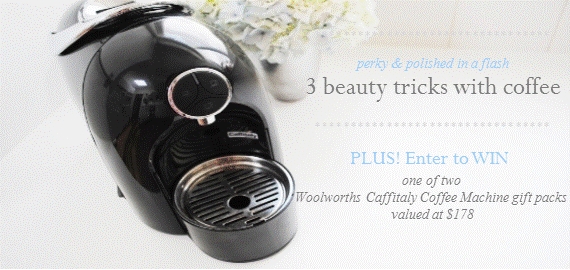 Sponsored by Woolworths
Perky, fast, and focused: three things every woman needs to be, especially around 6:45am each weekday when the morning scramble is at fever pitch, and the people in your home are relying on you to help maintain everyone's sanity.
But at our place during that time, as I'm muddling my way through making bottles of milk, packing lunches, dressing the kids and quickly compiling my dishevelled self into something remotely presentable, my morning haze only starts to lift after I've had my daily liaison with Joe, the barista at the local café. Ah coffee, what would I do without you?
And now, I've found three quick and cheap ways to use coffee at home that can make you look and feel perky and polished in less time that it takes to dress a squirming two year-old.
DIY Soften & Glow Face Mask
This easy-to-make mask reduces puffiness, tightens pores, leaves your skin feeling softer than your baby's tushie, and is guaranteed to freak out the kids. 
Method: 
Mix a couple of teaspoons of used coffee grounds* with a splash of milk and a super-generous dollop of honey.
Pat onto your face, gently sweeping the mixture all over your skin, avoiding the eye area.
Continue with your morning business, and take delight in freaking out the kids with the brown gooey mess on your face.
Rinse off with a warm wash cloth.
*You can use different types of coffee in this DIY mask:
Coffee capsules: Gently cut open the foil lid of a used capsule, and empty the contents into your mixing bowl. Money saving tip! Woolworths Select capsules are only $41c per single unit compared with Nespresso at $78c
Instant coffee: When mixing, try not to let the granules dissolve completely so you still get the exfoliating benefits from the gritty texture.
DIY Glossy Hair Rinse
Leaves you with shiny, glossy locks for a day filled with smug hair-swishing.
Method:
Before you brush your teeth at night, make a strong brew of coffee (espresso if possible), and allow it to cool.
Pour into a clean, empty spray bottle, and set aside till morning.
On waking, spray on dry hair till it's quite wet, and then hide the spray bottle from cheeky little hands who'll be keen to spray espresso all over your bathroom tiles.
Leave the espresso mix on for about 20 minutes while you wipe bottoms, make lunches, and feed hungry little mouths.
Rinse thoroughly in the shower, and pretend you can't hear the little people who are trying to talk to you while you're warm and soapy.
Enjoy your day, Glossy-Locks!
Beauty disclaimer: Avoid if you've got light or bleached hair, as it may dull your golden sparkle.
DIY Café Quality Coffee
Made with your own coffee machine, you'll get that much-needed instant perk up – stat! – that tastes just like the brew made by your local barista, but without the trek to the coffee shop, the small talk, and the wait.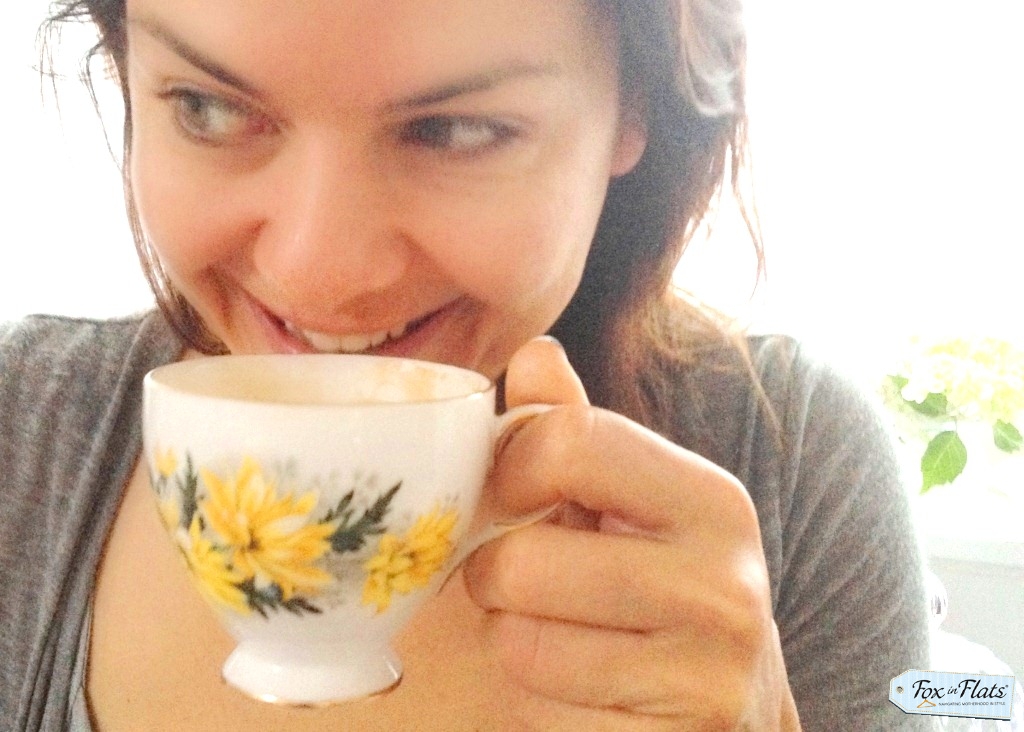 "Yes, I drink my coffee out of a tea cup…"
Method:
Slosh milk into your new milk-frothing machine, and press its On button like you're in a department store elevator and you wanna get to the third floor where they sell all the shoes.
Remind infants "Mummy doesn't dance with Elmo before her morning coffee" as you flick the switch of your spanking new Caffitaly System that you picked up from Woolworths.
Repeat statement about Elmo to infants as you load a coffee capsule into the slot, daydreaming about a child-free trip to Vegas with your girlfriends with the money you're saving on take-away coffees.
Slide your Mother-in-Law's china that she 'saved for best' under the Caffitaly spout, fill it up with the java and top with frothy milky goodness.
Remind infants again about the Elmo-dancing-thing, as you sip your fab home-made latte and feel your eyelids finally prise open as the caffeine kicks in.
Dance with Elmo like a demon.
Caffitaly, Woolworth's new coffee system is available in store and online now for $99, or $79 for Everyday Rewards Members. The Caffitaly Milk Frother machine is $29 and also available in Woolies stores or online. Woolworths Select Coffee Capsules are $5.99 for a pack of 16 (that's $41c per cup vs the average $3.50 per cup at the local café). So do the math, then start planning that trip to Vegas 😉
WIN one of 2 coffee machines, frothers, and capsule hampers!
SORRY, THIS GIVEAWAY IS NOW CLOSED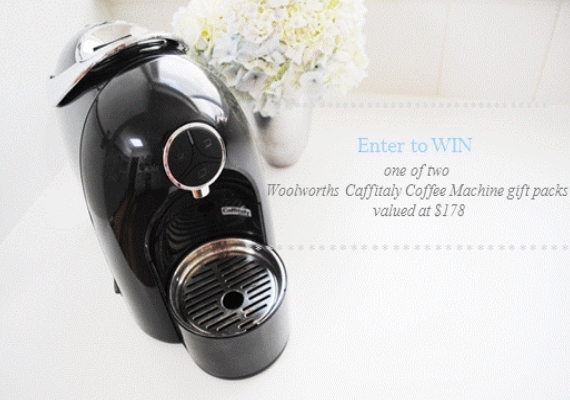 Woolworths and Fox in Flats are giving away two coffee systems to two lucky readers!
Each prize pack includes a Woolworths Caffitaly Coffee Machine, a Caffitaly Milk Frother machine, and a hamper of Woolworths Select and Gloria Jeans coffee capsules, valued at $178.
How to enter:
Click here to fill in the entry form, answering the question: How do you quickly get perky and polished in the morning?
The legal stuff:
Two winners will receive the following prize:  A Woolworths Caffitaly Coffee Machine, a Caffitaly Milk Frother machine, and a hamper of Woolworths Select and Gloria Jeans coffee capsules, valued at $178.
The promotion period is from 7th of December, 2012 to midnight EST on the 21st of December, 2012. 
You can enter once via the entry form above.
The winning entry will be selected by the team at Woolworths, and it's a game of skill – so get creative! 
Contest is open to subscribers of the Fox in Flats newsletter only. You'll be automatically subscribed when you enter the giveaway. 
This giveaway is open to residents of Australia only.
Be sure to check the newsletter to see if you've won. The winner's names will be published in the Fox in Flats newsletter on Sunday December 23rd. You'll have till midnight on December 28th to claim your prize. If the prize is not claimed, it will be awarded to another entrant of our choosing. 
Entrant must abide by the contest entry conditions listed above. 
Good Luck!
 What beauty DIY's do you make with coffee? 

For more Fox in Flats: