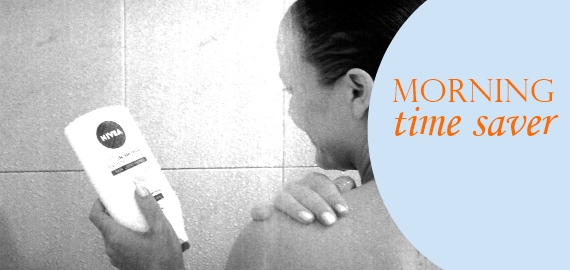 By Andrea Zanetich and sponsored by NIVEA
I've lost count of the number of times that I've attempted to apply moisturiser to my body post-shower, only to be interrupted by one of my little boys bursting into the bathroom, barging past me, and yelling "boobies!" in my general direction.
That lack of privacy (with the side-order of face-blushing humiliation), combined with the crazy-cray morning rush at our place means I've had years of slap-dash application of body moisturisers. Or often, I simply end up skipping that step all together unless it's a special occasion.
Like most mums, I've usually got less than 15 minutes to get ready in the morning – and that includes all the standard things like showering, brushing teeth, doing my hair, getting dressed, and a quick application of makeup so I don't scare the natives. So I'm always looking for sneaky shortcuts to speed up the process (if you're new 'round these parts check out THIS POST and THIS POST which are chock-full of beauty time-savers).
And this new product from NIVEA is my latest sneaky beauty shortcut that's given me back precious minutes in the morning, a finish of silky smooth moisturised skin, and has mercifully put a stop to all that pointing and laughing from the kids.
NIVEA In-Shower Body Lotion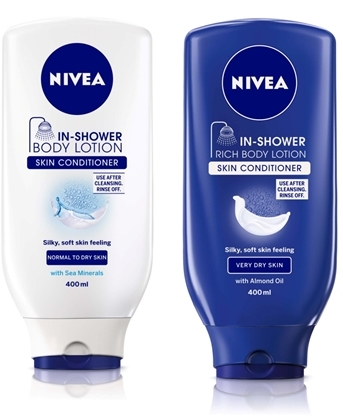 The name of this product – NIVEA In-Shower Body Lotion – is self-explanatory. It's a body lotion that you smooth on while you're still in the shower, rinse off, towel yourself dry, and you're done.
To be honest, the concept took me a while to get my head around: "Huh, I don't really get it?!" I thought when I first saw the pack. "Won't it rub off on your towel when you dry off? Or ruin your towels with some kind of weird residue? And how could it moisturise as well as my regular body lotion. W-E-I-R-D!"
But when I first tried this baby, it was one of those jaw-dropping, eye-rolling, why-didn't-they-think-of-this-before kinda moments. Because it was fast. It was easy. There was no mess. My towels were none the wiser. And my body was a smooth as a cute little babies butt.
And another time-saving bonus? Unlike regular body moisturisers which take a while to settle into the skin, this stuff penetrates its moisturising goodness while you are in the shower. So after drying off, you can jam your legs instantly into your favourite skinny jeans without getting stuck."
It costs less than your daily coffee and banana bread, and with the time you'll save, who knows, you might actually be able to savour that latte just a little bit longer that morning.
NIVEA In-Shower Body Lotion,  RRP $7.99.
Pick yours up from major supermarkets and selected pharmacies now.
Follow NIVEA on Facebook and Twitter for more up-to-the-minute offers and news.
We've got 15 full-sized bottles of NIVEA In-Shower Body Lotion to give away!
To be in the running to win, simply add a comment below stating which variant would suit you best: Normal to Dry Skin, or Very Dry Skin and why you'd need to try this product, stat!
The legal stuff:
The prize pool consists of 15 bottles of NIVEA In-Shower Body Lotion valued at $7.99 each. Total prize pool value is $119.85
Entry is open to residents of Australia only.
The promotion period is from August 15th – August 22nd 2013 at 5pm EST.
You can enter once via the comments section below.
The winners will be selected based on creativity – so have fun with it!
Contest is open to subscribers of the Fox in Flats newsletter only. To subscribe click here.
The winner's name will be published in the Fox in Flats newsletter on Monday 26th of August. You'll have till midnight on Wednesday 28th of August to claim your prize. If the prize is not claimed by then, it will be awarded to another entrant of our choosing, and no correspondence will be entered into. 
Entrant must abide by the contest entry conditions listed above. 
ENTER NOW:
Why do you, in particular, need to try this product?
And which NIVEA In-Shower Body Lotion variant would suit you best: Normal to Dry Skin, or Very Dry Skin?

More Fox in Flats: