The flowers are budding, the birds are chirping, and there's the rich promise of warmth in the air. Spring is on its way, and the fashion forecast is for a fab, foxy season!
The hottest trends for Spring 2012 include lace, mixed prints, tangerine, neon, and pastels, and we've started to share tips and ideas on how to wear them on site already – here, here, and here . Plus, we've got many more lined up for the coming weeks. But naturally, given our namesake, we'll be placing an extra focus on the new news in shoes, especially flats.
But what good is it to TELL you what's on trend, without SHOWING you how to apply these trends into your jam-packed days?"
So we've created this FREE Fox in Flats e-mag – with the help of our friends at ECCO shoes – to use as a simple hand-book for Spring style.
In it you'll find:
The 7 essential shoe styles for Spring
Tips on what to look for when shopping
Styling ideas and inspiration
A handy guide for where to wear your shoes – road tested on all terrains.
And what's the point of showing the shoes if they're not on someone's feet? So I teamed up with one of my little boys, Ben, and together we moonlighted as the Fox in Flats models. We had such a fun day playing together and eating ice-cream as we shot this magazine – I really hope you'll enjoy reading it as much as we did making it.
Oh, did I mention it's FREE? Yay!"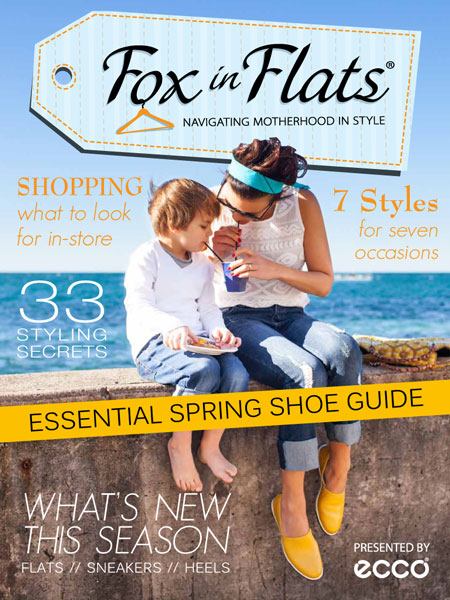 To get your copy of the NEW Fox in Flats Essential Spring Shoe Guide, simply click on the cover image above, or click here.
You can then read it on any device you've got (laptop, iPad, etc) and it even makes that special 'swooshie' sound when you turn the pages!
Then, save it to your computer for future reference, or print it out and read it like a regular magazine – easy!
Want more detail about the clothes and accessories featured in the shoot? Click here, here, here. You can buy them all online with the clickety click of a button.
If you love it, share it!
Send this article on to your buddies using the icons below, or, while you're in the mag itself, there are some jazzy little icons in the lower left hand corner that allow you to easily share it on email, Facebook or Twitter.
Here's to a super stylin' Spring!"
What are you looking forward to most about Spring?
And what do you think of the first ever Fox in Flats magazine?!