I'd look like this if I won this giveaway: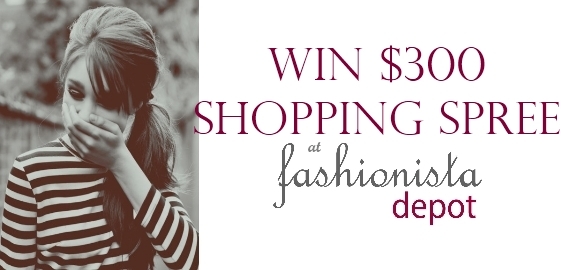 Correction.
My expression would look like that. My hair though, wouldn't be as immaculate, and I wouldn't be nearly as thin – but you get my drift.
The team at Fashionista Depot have hooked up with Fox in Flats to give away a $300 shopping spree on their website, www.FashionistaDepot.com.au to one lucky reader. Which is sure to put that oh-my-god-this-is-so-awesome-I'm-freaking-out expression on the face of the winner.

At Fashionista Depot you can score fab pieces from Australian designers at amazing prices. Discounts are usually between 50-70% off RRP, so the savings are spectacular. For instance, you can pick up a pair of stunning Peter Lang Swarovski crystal and pearl earrings with a RRP of $175 for just $55 – that's 70% off. These prices get me clicking!
To get more of a feel for the type of goodies stocked at Fashionista Depot, here are Fox in Flats's picks of what's in-store right now, featuring items from Peter Lang, Colour Code, and Something Else. Best of all, they're all under $80!
For easy tips on how to work these babies into your wardrobe, prices, and shopping links, click here.
How to enter to WIN a $300 shopping spree from Fashionista Depot
Step 1. Click here to subscribe to the Fox in Flats newsletter – you need to be a subscriber to be eligible to enter.
Step 2. Hop over to Fashionista Depot, check out their stock, then in the Comments section below tell us how you'd spend your $300 in-store credit if you won.
Step 3. Start practising your oh-my-god-this-is-so-awesome-I'm-freaking-out face in case you are the lucky winner.
The legal stuff:
The prize is a $300 shopping spree at Fashionista Depot.
The promotion period is from 15th July – midnight on the 4th of August, 2012. 
Contest is open to subscribers of the Fox in Flats newsletter only. To subscribe to our weekly newsletter, click here.
Entry is open to residents of Australia, New Zealand, and the United States of America. 
You can enter once via the method outlined in Step 2.
The winning entry will be selected by the team at Fashionista Depot. 
Be sure to check the newsletter! Winner's name will be published in the Fox in Flats newsletter on Sunday 5th of August. You'll have till midnight on Wednesday August 8th to claim your prize. If the prize is not claimed, it will be awarded to another entrant of our choosing. 
Entrant must abide by the contest entry conditions listed above. 
Good luck!