The only thing that's ever going to really, truly cover those tired eyes is a pair of sunnies. And they might as well be awesome ones, right?
So Fox in Flats has pulled some strings with the fab peeps at Clearly Contacts to give away a pair of designer sunglasses to a lucky Fox in Flats reader.
To be in it to win it, all you need to do is hop over to the Clearly Contacts website, decide which pair you'd choose if you won, and tell us in the Comments section below.
But while you're over there, try not to freak out by the cost of the sunnies, as they're significantly discounted compared to retail stores.
So if you're keen on, say, a pair of classic Ray Ban Wayfarers, you might find yourself accidentally clicking them into your shopping cart for the bargain price of $169.
I may or may not have just bought a pair myself. And I may or may not be wearing these sunglasses in the photo above ;).
Need some inspiration and ideas about what styles to choose?
Brights are on-trend, cat's-eye frames are making a comeback, and a pair of classic aviators will never go out of style. In fact I love aviators so much, I've bought a pair for my husband and little ones for my kids (I know, I know, it's 'mini me' dressing at its worst. So sue me!)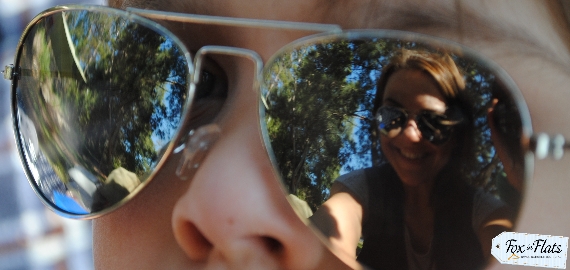 SORRY THIS PROMOTION IS NOW CLOSED. THE WINNER WILL BE ANNOUNCED IN THE FOX IN FLATS NEWSLETTER THURSDAY APRIL 5TH.
WIN your choice of Designer Sunglasses from Clearly Contacts!
How to enter:
Step 1. Click here to subscribe to the Fox in Flats newsletter – you need to be a subscriber to be eligible to enter.
Step 2. Hop over to the Clearly Contacts website, decide which pair you'd choose if you won, and tell us in the Comments section below.
Step 3. For extra entries:
If you'd like to get more entries to WIN, share the competition with your friends by cutting and pasting this into your Facebook or Twitter status updates:
WIN designer sunnies from @FoxInFlats and @ClearlyAU http://bit.ly/zAw8Be #WIN #SUNGLASSES
Then, in the Comments section below, state where you shared it, and your Facebook name or Twitter handle. You can enter by this method as many times as you like.
Conditions and Deadlines:
The prize is an online voucher code valued at $169 redeemable at ClearlyContacts.com.au 
The promotion period is from 14th of March 2012 – midday 4th of April, 2012. 
Contest is open to subscribers of the Fox in Flats newsletter only. To subscribe to our weekly newsletter, click here.
You can enter once via the method outlined in Step 1, and unlimited times by the sharing method outlined in Step 3. 
The winner will be selected by an employee of Clearly Contacts. To be eligible to win, you must have selected the pair of sunnies you'd like as outlined in Step 2. 
Be sure to check the newsletter! Winners' names will be published in the Fox in Flats newsletter on Thursday 5th of April, 2012, and you will have till midnight on Wednesday 11th of April to claim your prize. If the prize is not claimed, it will be awarded to another entrant. 
You can live anywhere in the big wide world to enter.
Entrant must abide by the contest entry conditions listed above. 
Free Lotto Games and Sweepstakes