By Andrea Michelle for Diana Ferrari
They say that before buying a new pair of shoes you should figure out at least a couple of different things you'd wear them with. And given that I've got too many pairs of shoes than I'd care to admit, and that I tend to only ever wear with the exact same thing, I'm crap at that. Also, I don't like being told what to do by "they".
But having been invited to check out the new spring shoe range by Diana Ferarri, I decided to test the theory.
I started by selecting two timeless shoe styles: a pointed nude ballet flat, and a 70s inspired block heel, figuring these should be easy to incorporate into most wardrobes.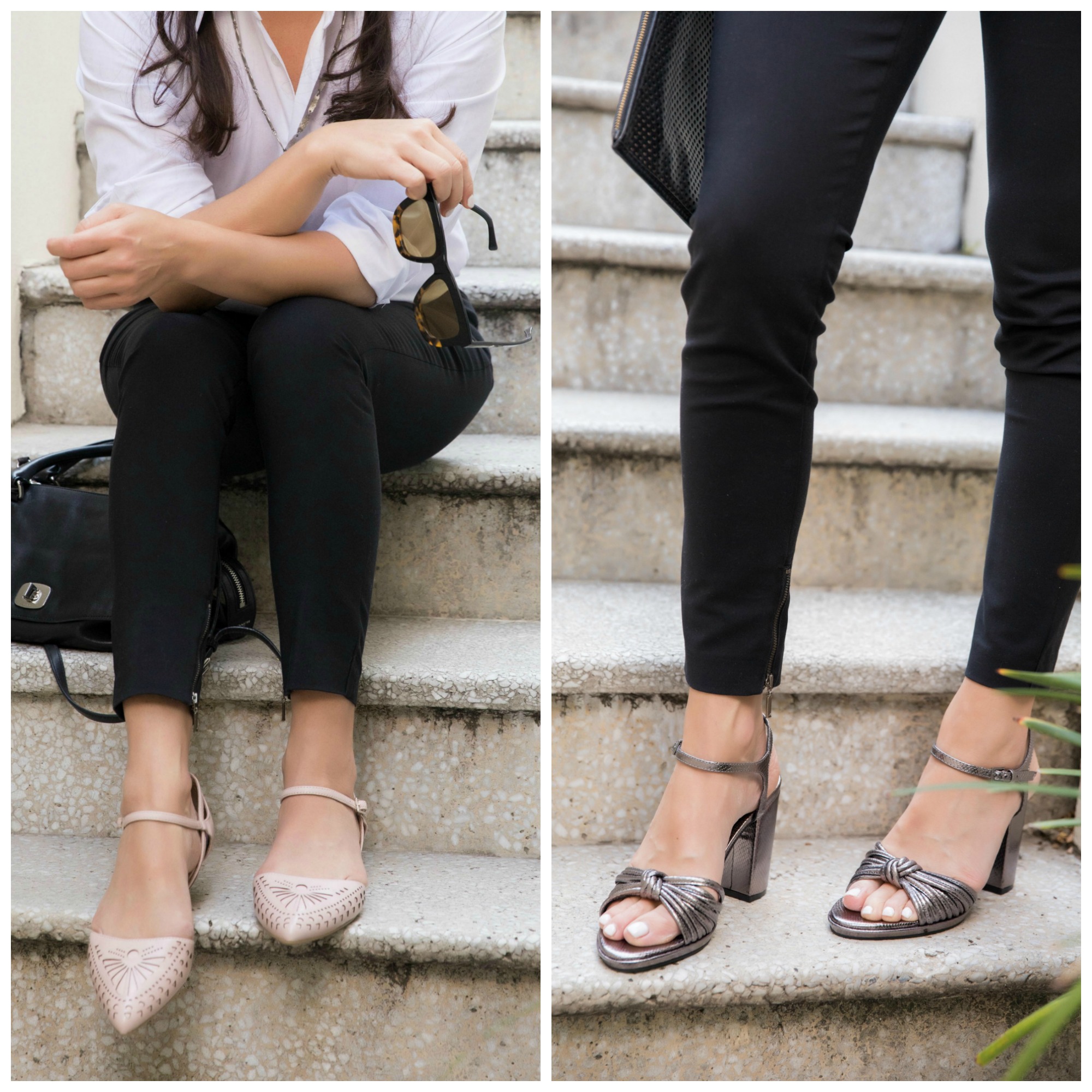 Diana Ferrari Polonia $149.95 Diana Ferrari Esmeralda $179.95
I teamed them up with stuff I already had in my closet – classic basics that I reckon you'd have in yours too:  a pair of jeans, a pretty skirt, and a pair of black pants. To keep the experiment simple I teamed these with a crisp white shirt, and switched each look up with a few different accessories.
The verdict? Not only are these shoes as versatile as Meryl Streep, they're comfy, spunky, and stylish too.
Pointed nude ballet flats
The leg-lengthening benefits of a nude shoe, combined with a low wedge for extra lift, the Polonia flat is a wardrobe essential. Punching detail on the leather outer adds interest without complexity, and they're lined with leather and feature a slip resistant sole for practicality. A stylish way to up-level your every-day dash-around shoe.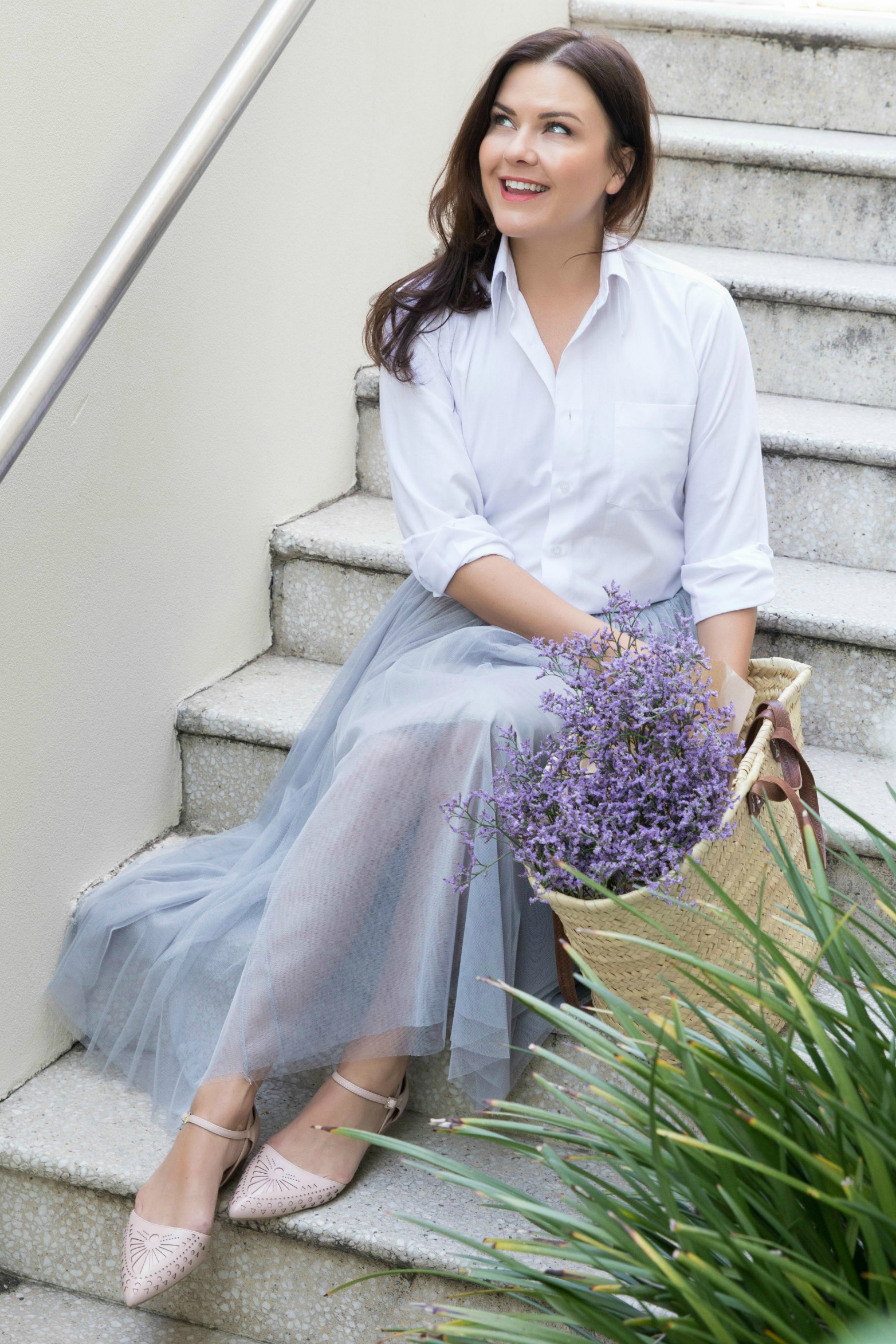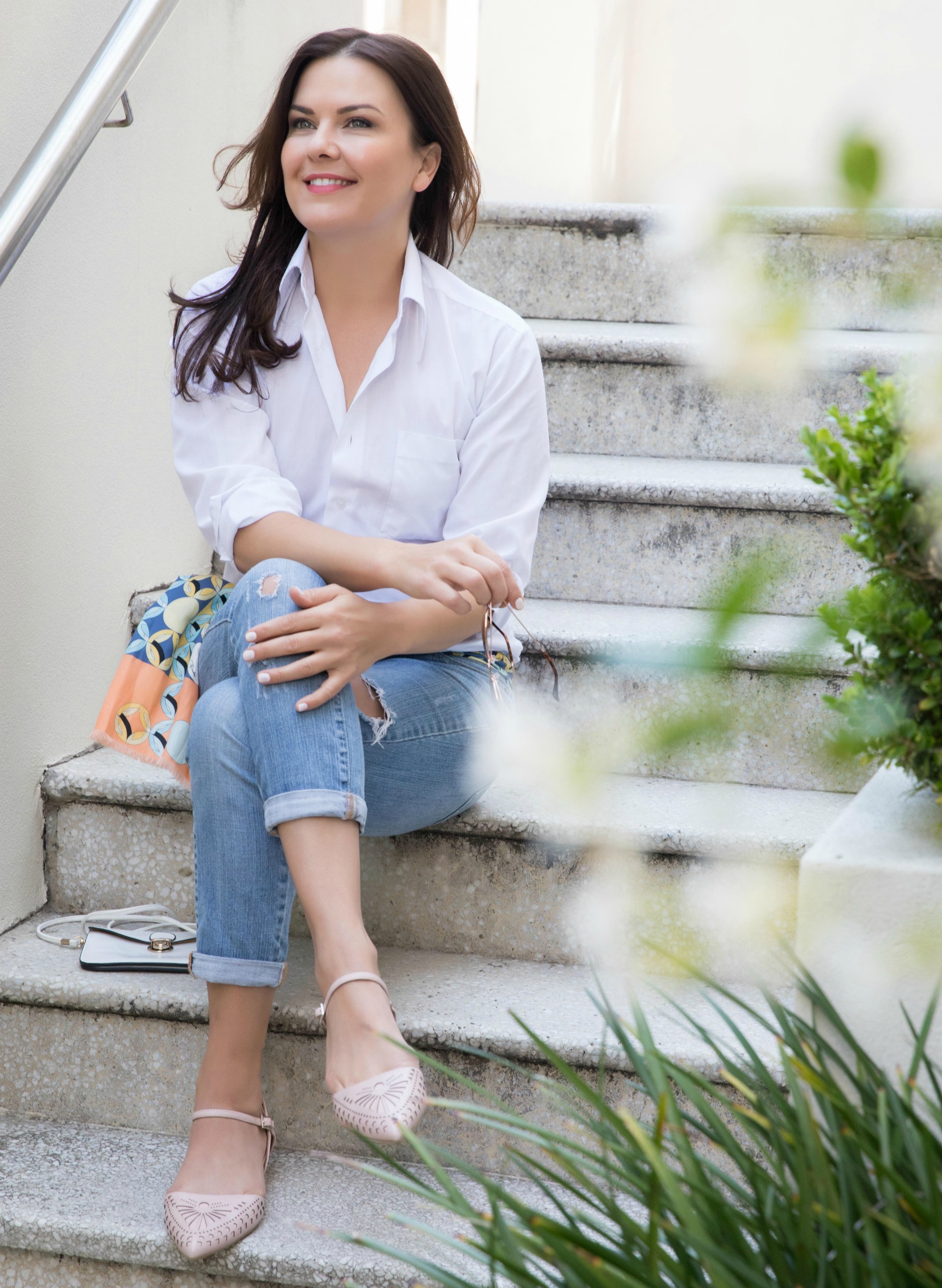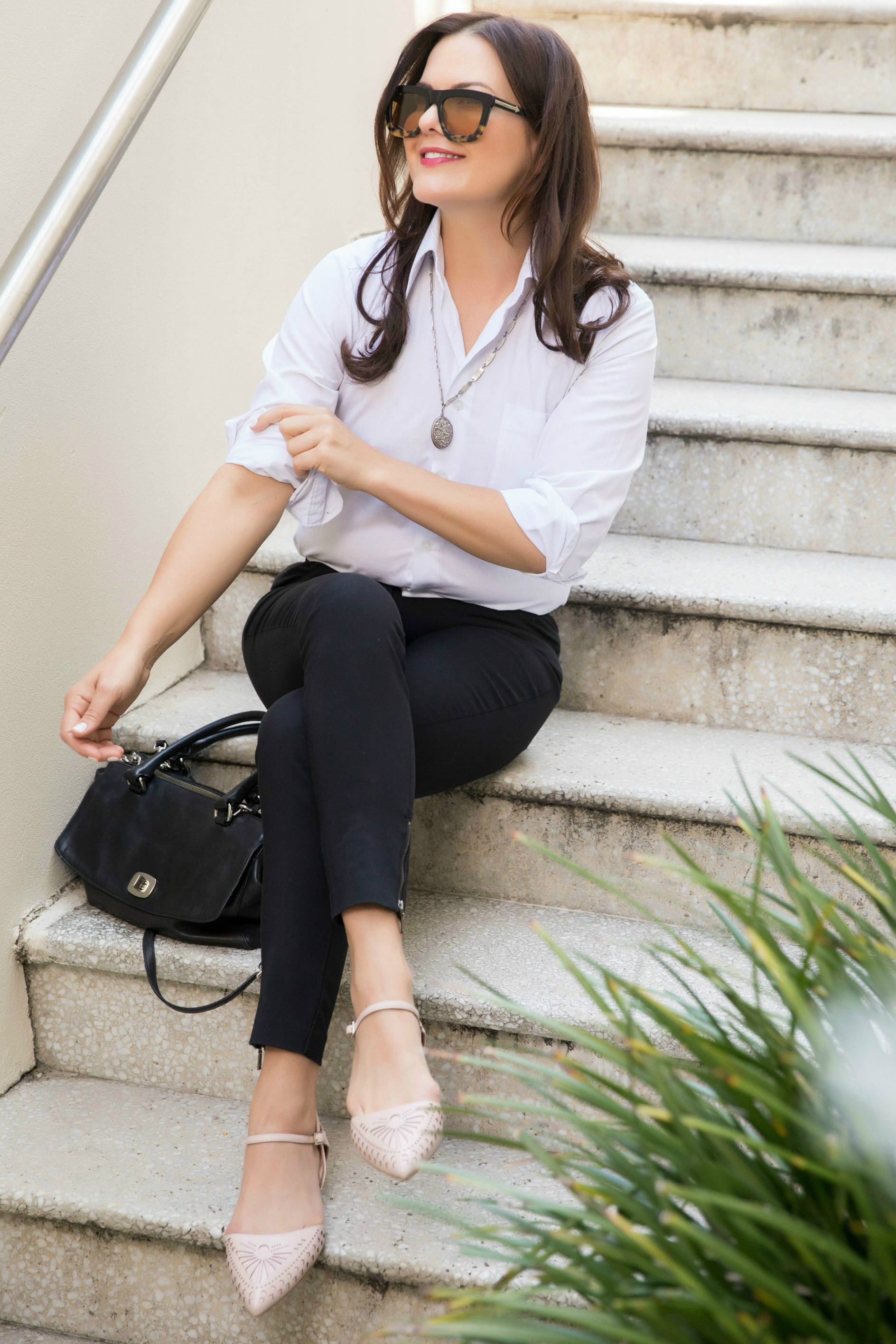 Diana Ferrari Polonia $149.95 available in blush (pictured), ivory, or rose gold
70s inspired heel
Le Freak, C'est Chic, the block heel is back! And the Esmeralda sandal is the perfect partner for those longer, warmer days with zero-wobbles-while-walking practicality.
The low ankle buckle keeps these babies securely on your feet, while the platform heel ensures the only sinking feeling you'll have when you're at your mate's outdoor wedding is that of the champers going down your throat.
They're lined in leather to keep your feet sweat free, and finished in stunning snake skin embossed metallic leather for a grown up kick to the classic style. Yes that's the way (a-huh, a-huh) I like it.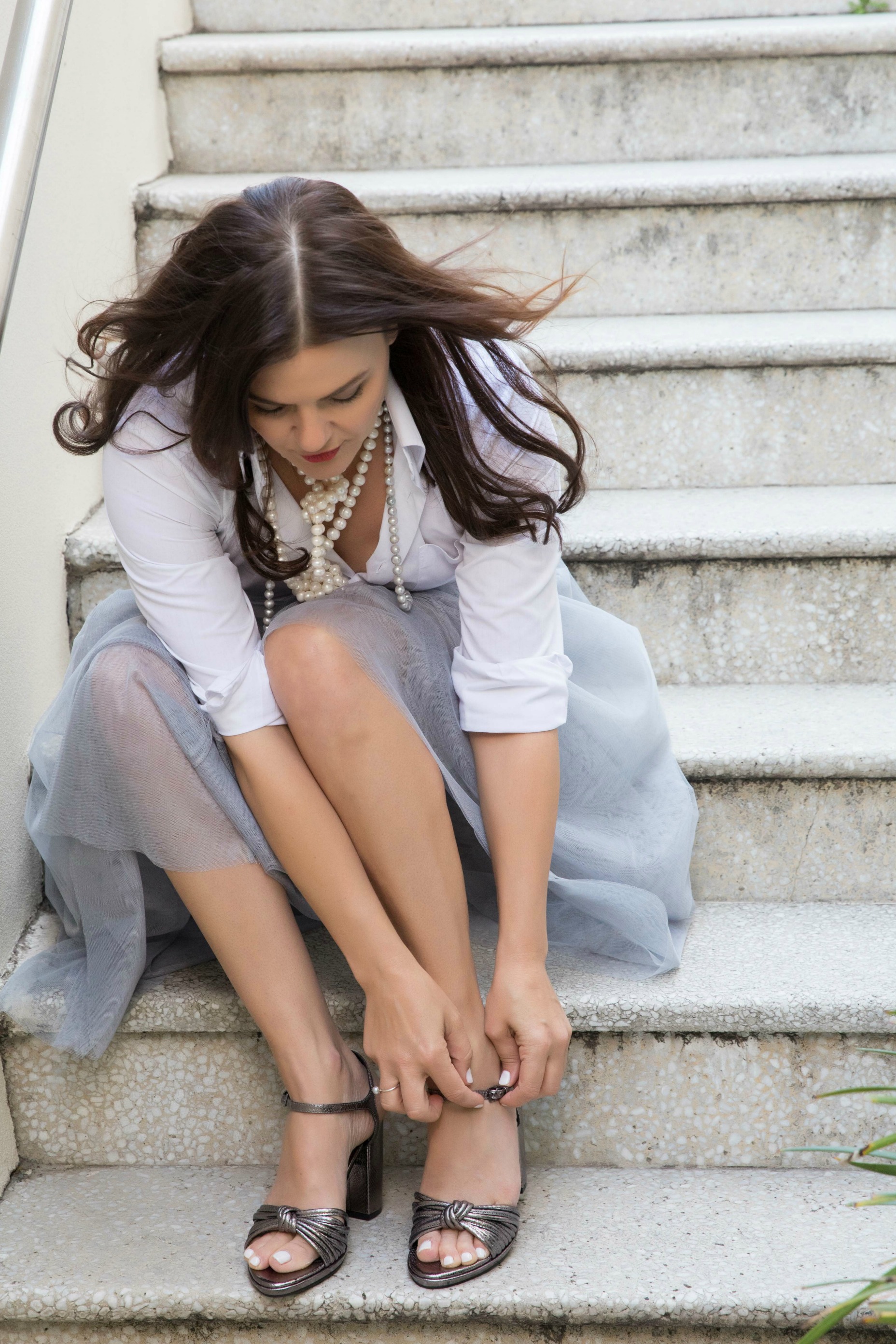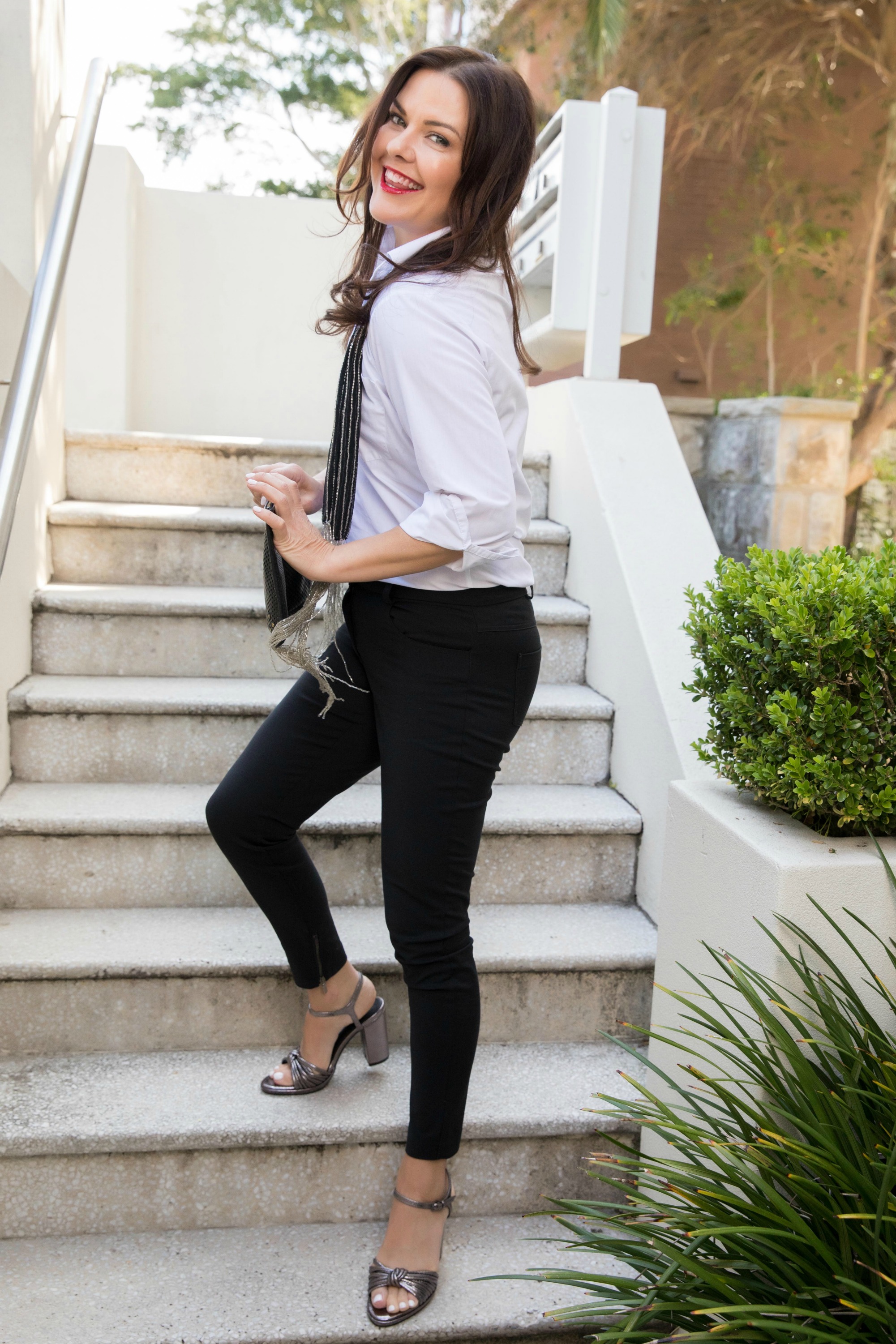 Diana Ferrari Esmeralda $179.95 available in gunmetal (pictured), rose gold, or bronze.
Deciding to buy one or the other is kinda like the Kramer vs Kramer of shoes. So to avoid a Meryl style sob-fest, best to buy both.
Check out the entire Diana Ferrari range and shop directly www.dianaferrari.com.au
Instagram: @dianaferrarifashion
Facebook: diana.ferrari.fashion
More Fox in Flats: