By Andrea Michelle for Modibodi
When you look at this outfit do you think "the 90s called and wants it's flannie tied around the waist look back" or "aw poor girl sprung a leak"?
Unless one of your super powers is knowing exactly when your period is going to arrive, or the precise moment to change your tampon, you'll have ended up with leakage. A hundred bucks says you're getting flash-backs right now to a time when you've found yourself in a spot of bother.
From stuffing loo paper into our knickers, sleeping with two pads, tying shirts around our waists, wearing dark colours and avoiding white couches, we've tried everything to minimize the potential of mess and embarrassment to varying levels of success.
And it's not just our periods that ship us off into a leaky boat.
"Pissing myself laughing" is literally a thing with for than a quarter of us – especially after childbirth or menopause – and we're not necessarily avoiding jumping on the kid's trampoline because we're worried we'll look un-co. A friend of mine confided that she wears a pad everyday because it's not unlikely that she'll get a little leak.
After springing one too many leaks herself, Aussie mum Kristy Chong set about designing undies to help a sister out. Developed using her patented Modifier Technology™, Modibodi knickers are leak, sweat and odour free. They're made with a natural, antimicrobial top layer in the gusset that quickly wicks away moisture to an absorbent middle layer. The bottom layer is waterproofed to stop leakage.
Depending on the style, they can hold up to 15 ml of liquid – which is about the same as 3 regular tampons, one and a half super tampons, or a maxi pad.
Sounds like they'd do the job right?
Yet also sounds like a nappy. Shudder.
The thing is, they look like the undies you're probably wearing right now – possibly even nicer as they're made with all natural bamboo material. And that absorbent layer is only about 3mm so it's a far cry from an adult sized diaper.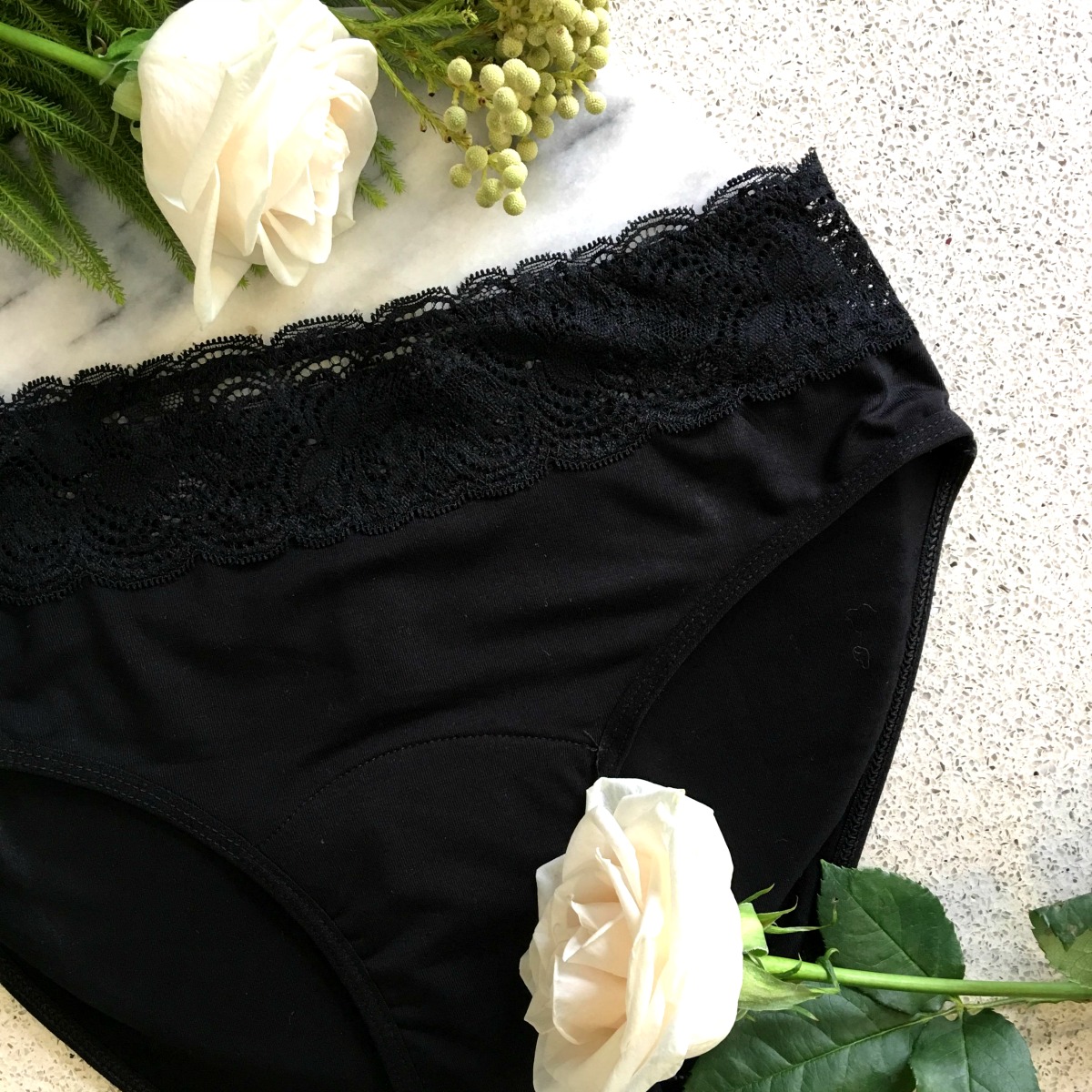 Modibodi Sensual Hi-Waist Bikini, Light-Moderate $33.50
I was sent a couple of pairs ages ago. And to be honest, I chucked them in my knicker drawer and kind of avoided them at first. Words like "moisture" in relation to my downstairs make me squirmy. But after yet another heavy flow day when even a tampon and liner left my undies and jeans looking like a crime scene I decided to give them a try.
They feel like regular every-day comfy undies, but with a slightly thicker gusset, again only 3mm thick. It's not like you've got a massive pad stuck in them. I've worn mine with tight jeans and they're not noticeable.
You can wear them without a tampon, cup or pad and they come in different levels of absorbency depending on where you are at in your cycle, from light to heavy. After wearing, give them a bit of a soak and a wash and they're good to go again.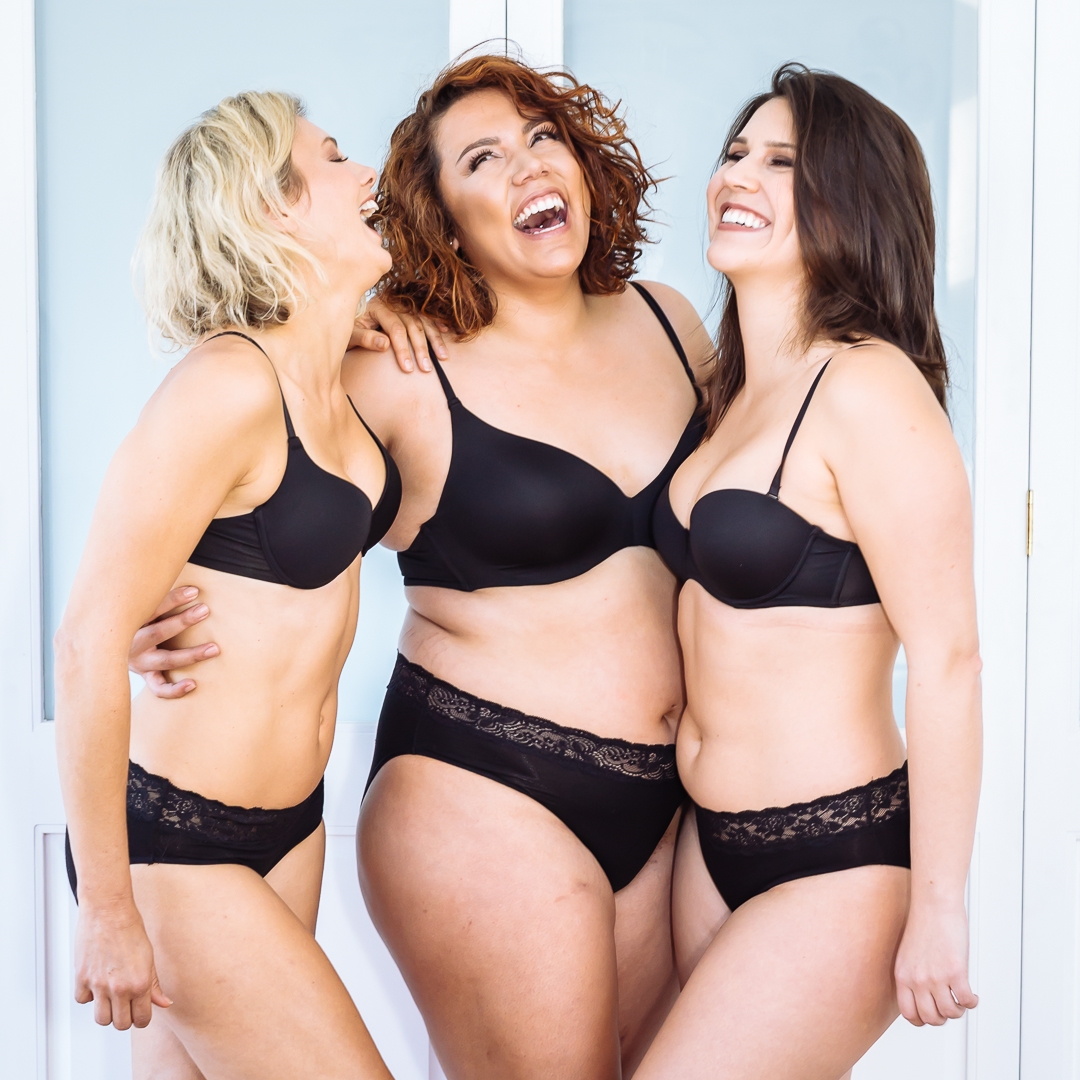 I wear them on the days of the month when I think my period is likely to start as a safeguard, which means I avoid having to unnecessarily use land-filling liners or a just-in-case tampon. I'm then confident that I won't have an accident, makes me feel warm and fuzzy about the environment, and I can avoid that dry tampon feeling which is as appealing as the sound of fingernails down a chalkboard.
Then I wear them each day throughout my period with a tampon. Simply put, I know I'm not going to inadvertently leave a mark on anything. My "sexy" knickers, jeans, and clean white sheets have thanked me ever since.
I've got a few pairs now in different styles, colours and with different absorbencies so white jeans or tight pants stay in my repertoire whatever day of the month it might be.
There are seven different styles to choose from including those specially designed for the gym or maternity – check them all out here.
Sizes range from a girls 8 up to women's size 26, the former being especially handy for when your daughter is reaching the age when her period might arrive. I only wish those were around when my first one unexpectedly arrived while on the Wild Mouse ride at the Royal Show in my early teens – yup, I can pinpoint the exact moment. And yup, I spent the rest of the day having an intimate situation with scratchy loo paper from the public bathrooms, and a shirt tied around my waist. It's little wonder Modibodi struggle to keep up with demand of these.
Ranging from $19 – $38 they're more exxy than the el-cheapo knickers you might usually resort to during your period, but with the right care (rinse, cold wash, hand dry) they'll last for ages. Most of mine are black and the fabric hasn't faded and the lace has remained intact even after using for about six months, and they reckon they'll keep looking good and doing the job for up to two years.
Couple that with the money you're not spending on unnecessary tampons and pads, and the items of clothing you're not ruining because of leakage and we've got ourselves a worthwhile investment. They come in bundle packs of 5 or 7 too for greater economy.
No more swimming with sharks
Kristy has not taken her thinking cap off yet though. She's spent the last 18 months developing and testing what will be the world's first leak proof and water repellant swimwear.
These will be a god-send for those of us who avoid swimming during our period because we're worried about a sneaky tampon string or attracting sharks (don't laugh, I did learn to swim lessons in the ocean off South Australia which is known for it's Great Whites, so the fear is real!)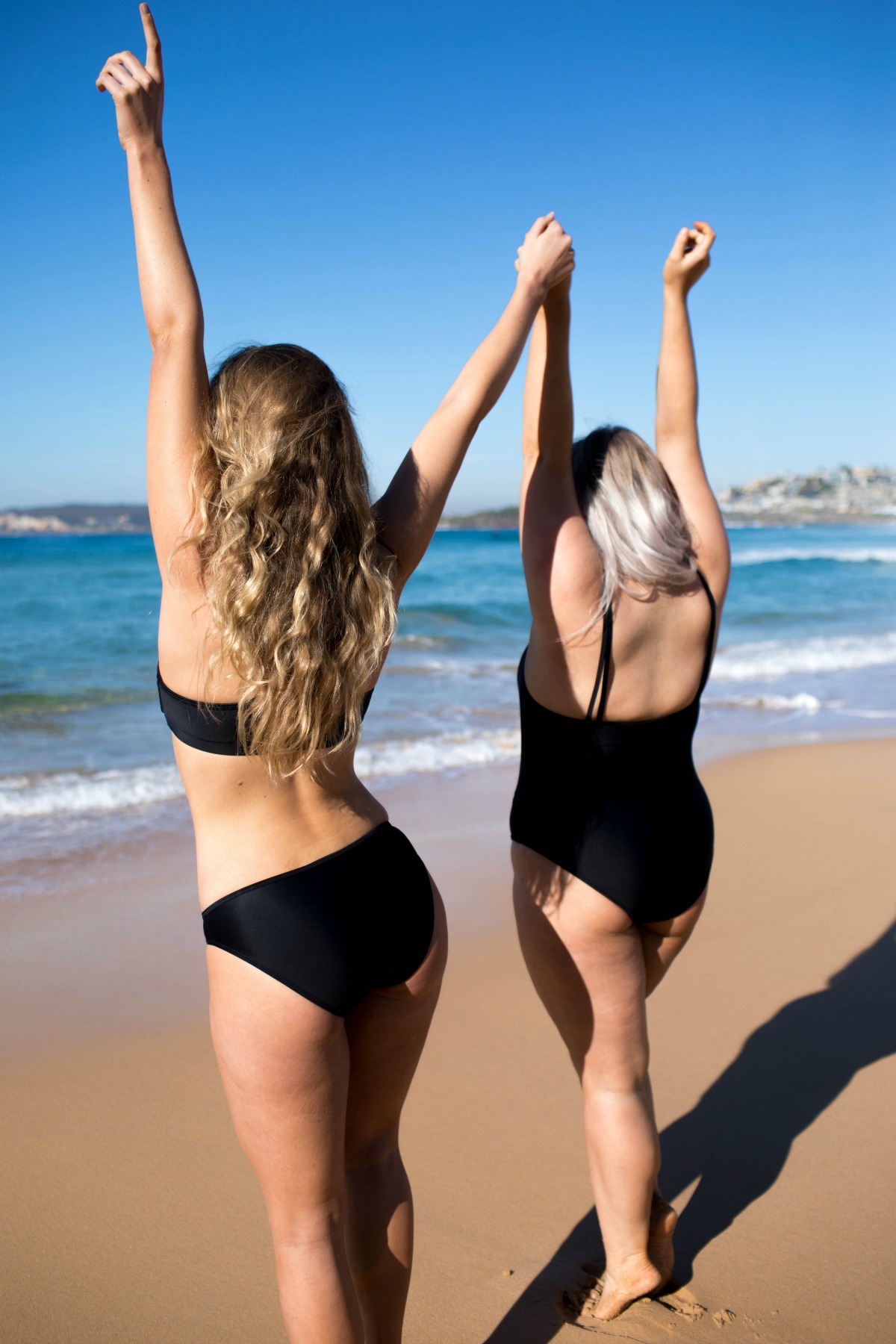 Available in sophisticated black and in two classic styles, these are available for pre-order to be delivered in November, with prices ranging from $90 – $100. Get onto this now as there is a limited amount of stock available for the first run. Shop them here.
And back to the shirt around the waist look, it's legitimately a trend again, so get out your favourite flannie, and rock it like it's 1995.
Check out the entire Modibodi range and shop directly www.Modibodi.com
Instagram: @ModibodiAustralia
Facebook: @ModibodiAU
More Fox in Flats: