By Andrea Michelle for Pinklily
Having moved from a big family home into a smaller apartment over a year ago, I've missed the wardrobe space I used to have. But I've made do by culling a bunch of things, and squeezing the rest in.
And like most of us, I've also not had the luxury to spend time making over my wardrobe, or to think of clever space saving ideas. Instead, it's a good week for me if I simply manage to return all of the freshly washed clothes onto a hanger or into a drawer somewhere instead of them sitting around in what's known in my place as The Clean Washing Basket.
I keep most of my favourite clothes and shoes in one part of my closet. They tend to be the things I wear the most, newer items that I want to wear, and in some cases, things I wish I could wear more often – gold sequin blazer anyone?!
While my wardrobe has looked far more jumbled, you can tell from the photo I took today it's got a few major issues going on:
The hangers are all smooshed together so it's pretty squeezy in there. I use this as my excuse to only iron on demand because everything gets creased in there anyway so I figure, what's the point? But it means I generally only wear the things that don't need ironing as I run out of time. So there's a bunch of garments in there that never get worn, as much as I love them.
Because I've been too lazy to group things together in any particular manner I can't find what I need in an instant.
I've forgotten what I have, and then keep buying similar versions of the same thing (how many black pants and white shirts does a girl really need anyway?!).
There's a whole lot of wasted space on that top shelf.
And heartbreakingly, I've been throwing some of my everyday knock-around sneakers and thongs on top of my investment shoes, which is the fashionistas version of Dumb Ways To Die.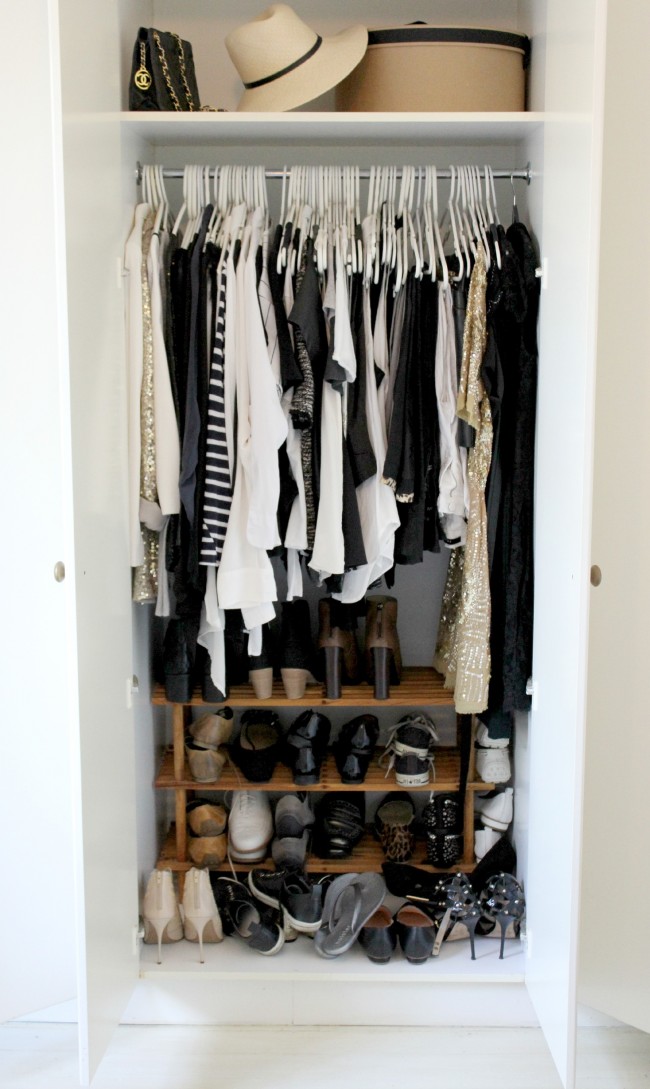 But after using a selection of clever products from pinklily, I've managed to save a whole lot of space, make everything much more accessible, protect my most precious items, and feel glamorously organised. And it took me around an hour to do. Here's how.
Multipurpose hangers
Pinklily has a great set of hangers called 'hangtastics' with a bunch of features that mean they can hang all of the items in your wardrobe.
For instance, they're sturdy enough to hang your heaviest winter coat, yet have panels on the top of the hangers that keep your floatiest summer spaghetti straps in place.
You can buy a bunch of clever add-ons too that mean the same hanger can work for skirts, pants, and also to group items together.
The connector
I was hanging several pairs of black pants draped on the one hanger, and did the same for a few pairs of jeans which not only took up loads of space, but I couldn't see them. In fact, I discovered a pair of black pants on one of these hangers that I totally forgot I had – they were literally hidden under another.
Instead, I folded my jeans and stacked them on the top shelf of my wardrobe, and grouped the black pants together using the pinklily connectors. This way I'll know I've got three pairs to choose from. I also added my fabulous sequin pants with a connector to these so I'd think of them as an alternative to black pants next time, and hopefully get more wear out of them.
I also used the connector to group together my black tanks, black knits, and black blouses for the same reason. Um, can anyone guess my favourite colour to wear?!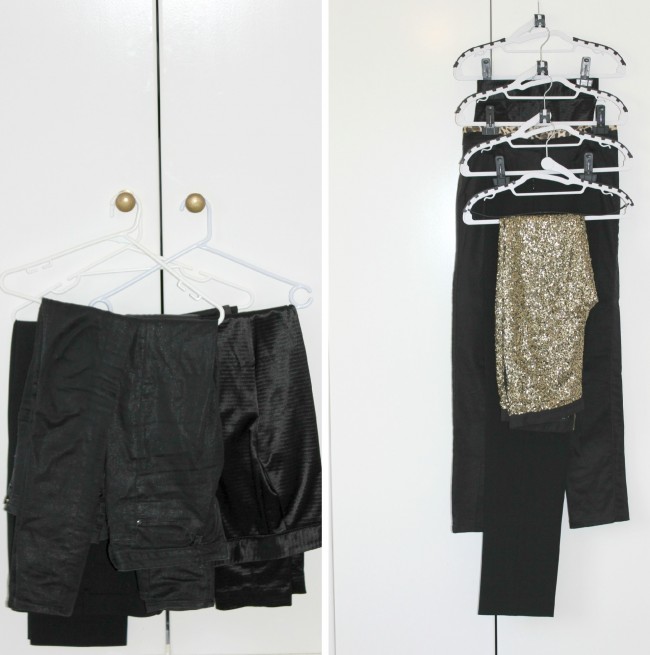 The skirt hanger
Ok, I didn't really think through how I was hanging my favourite leather skirts before (left), but clipping them together on the one skirt hanger (right) is obviously a better solution.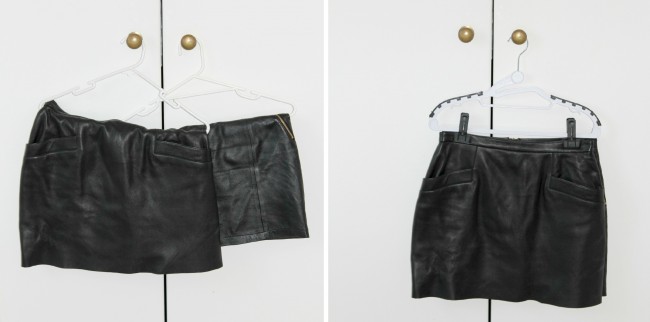 On top of all that, these hangers are quite thin, so you'll save space. After replacing the hangers I had enough room to move a bunch of my favourite jackets and knits into this closet in preparation for the cooler months ahead.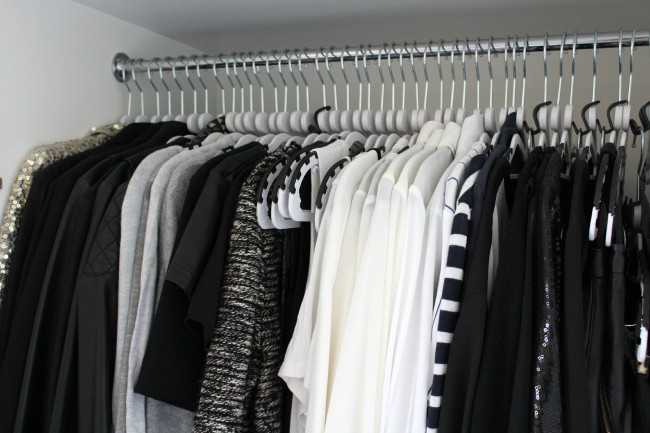 Organza slips
If you're like me you'll have a couple of special dresses that you want to keep looking special. But it can be hard for them to remain in perfect condition when they're shoved into your wardrobe with everything else. In the past I've kept items like this in dry cleaning plastic, but because they can't breathe I realised I was doing more harm than good. An organza slip by pinklily is a great solution to keep your favourite garments pristine, while you can still easily see what's inside so you don't forget to wear that favourite party frock.
After dry-cleaning it, this is now how I'm now storing the gorgeous Alex Perry dress I wore to our recent reader cocktail party, Fox in Heels. Now I'm confident it'll remain just as gorgeous as it was when I left the shop with it, even after hanging in my wardrobe between drinks.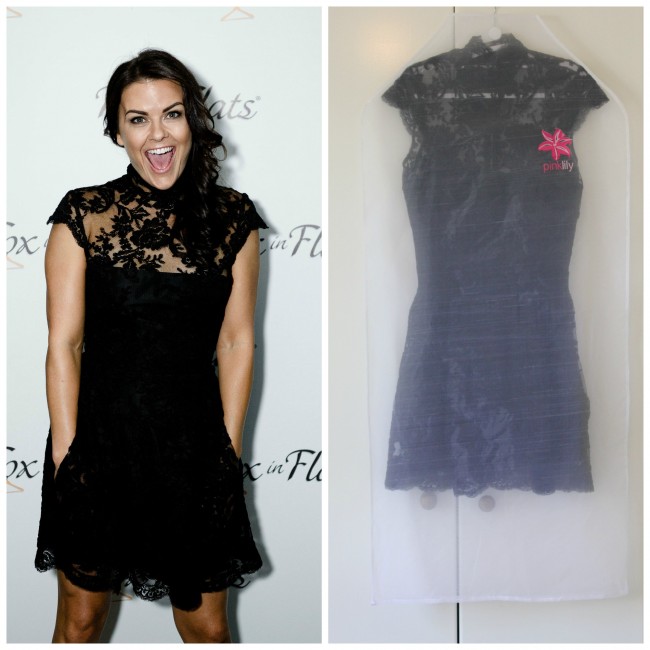 Clear shoe boxes
An easy way to protect the shoes you love the most, these shoe boxes can be stacked on top of each other for easy access. And because they're clear, they won't become out of mind, then out of sight.
I decided to utilise the shelf on top of my closet to store these shoes as it's so easy to see what's in them, and to access with the handles on the front.
the end result
My most delicate and precious shoes are safely tucked away at the top of my closet, protected from dust, and from me throwing sneakers and thongs on top of them. I swear I heard those Jimmy Choos sigh in relief.
Sure, I cleansed about five of the garments I no longer wear while I was at this task, but given all of the extra hanging space made available from these new hangers, I was able to fit in more of my favourite go-to clothes. At least a quarter of these tops and jackets are new to this closet thanks to the extra space.
My favourite dresses have been moved to a different closet so they're not dragging onto my shoes, and my special recent purchase – the Alex Perry dress –  is now protected.
The shoes at the bottom of my wardrobe have been tidied up, and the situation is a lot more realistic. Give me two days and those sneakers, runners and thongs will be in a jumble again – probably with a few more pairs chucked on top – but at least now, my special shoes are being protected.
before & after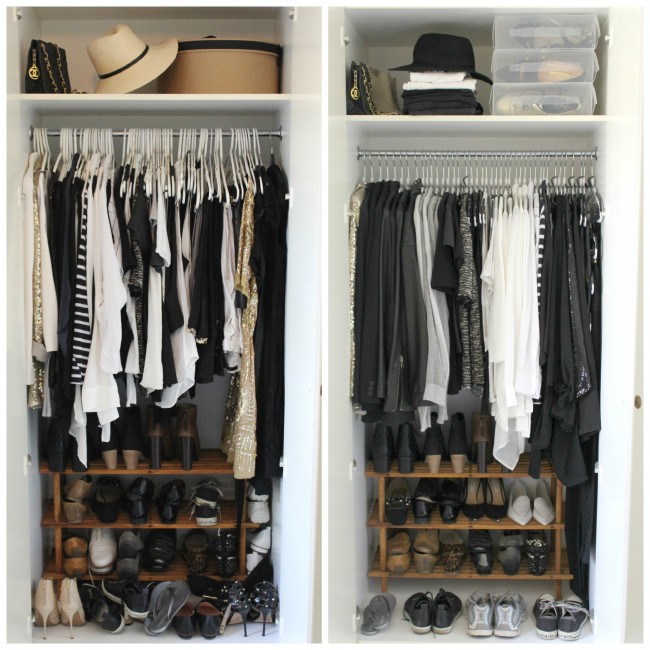 After today, I'll be picking up a lot more of these hangers and clear shoe boxes to make the other parts of my wardrobe look equally organised. Whataya think Foxes – Pinterest worthy or what?!
Pick up your wardrobe space savers from pinklily, and check them out on Instagram @misspinklily.

More Fox in Flats: