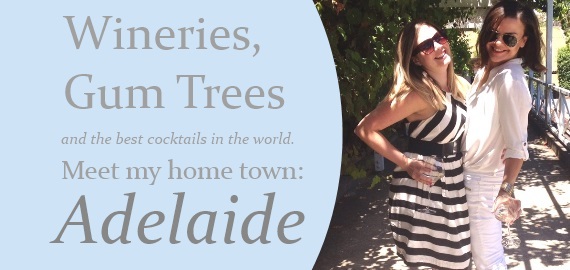 And enter to WIN fun times in 'rads.  
By Andrea Michelle for Wotif.com
As the aeroplane begins it's decent, I can see the city coming into view: the orderly streets criss-crossing like the quilting on a classic Chanel bag, the origami-like Festival Theatre perched on the side of the River Torrens, hugging the side of the city like a lover. I feel a smile play on my lips, my heart skips a tiny beat, and I can almost taste that vintage Shiraz. I'm home.
It's been over 18 years since I lived in Adelaide, yet I still love to return to my hometown. And not only because my family and a bunch of friends still live there, but because it's a buzzing cosmopolitan city where you can fill your tum with the best food and wine Australia has to offer and do that in the most picturesque surrounds – long stretches of beach, rolling hills dotted with ancient gum trees, and verdant vineyards – all without travelling for longer than an hour to do so. I was there just recently, filling up on all that. It was like an unleaded version of a soul-top up, but without the petrol fumes.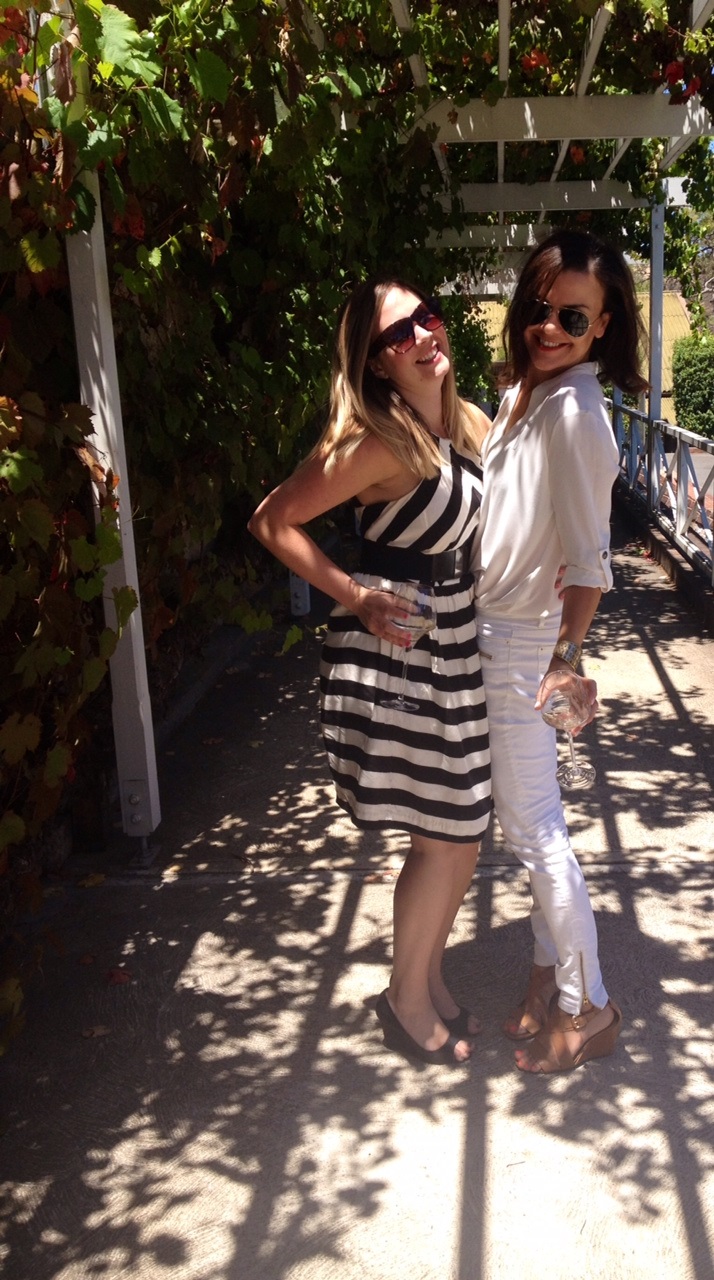 Girls lunch in the Barossa Valley with my buddy Sonia. 
If you're looking for an easy, awesome weekend away with your besties, here's my insider's guide:
Learn a 'rad new language
Even though it takes less than two hours to fly from Sydney or Melbourne to Adelaide, the locals have their own quirky language. But never fear, it's easy to pick up the lingo.
Here's 5 key terms you'll need to know before you get off the plane:
'Rads
An affectionate term for Adelaide. Drop this into a conversation with one of the locals, and you'll have a friend for life e.g. "I'm having a great time in 'Rads!"
Bathers
Means the same as swimmers, cossie, or swimming costume, but sounds more posh.
Schooner
Known as a "pot" on the Eastern seaboard, or a "middy" in WA, in South Australia it's a 285 mL glass of beer.
Deli
Aka the corner store or milk bar.
"Carn the Crows!!!"
Usually screamed out loudly and with gusto, this is a local's way of showing their avid support for their favourite Aussie Rules football team, The Adelaide Crows. The people who do this are a) very serious, and b) do not have a sense of humor when it comes to any other football team, especially Port Adelaide. If the conversation happens to turn in this direction, look for the closest exit, and make a graceful escape.
Once you've memorised these terms, you're ready to enjoy a weekend adventure!
Eat!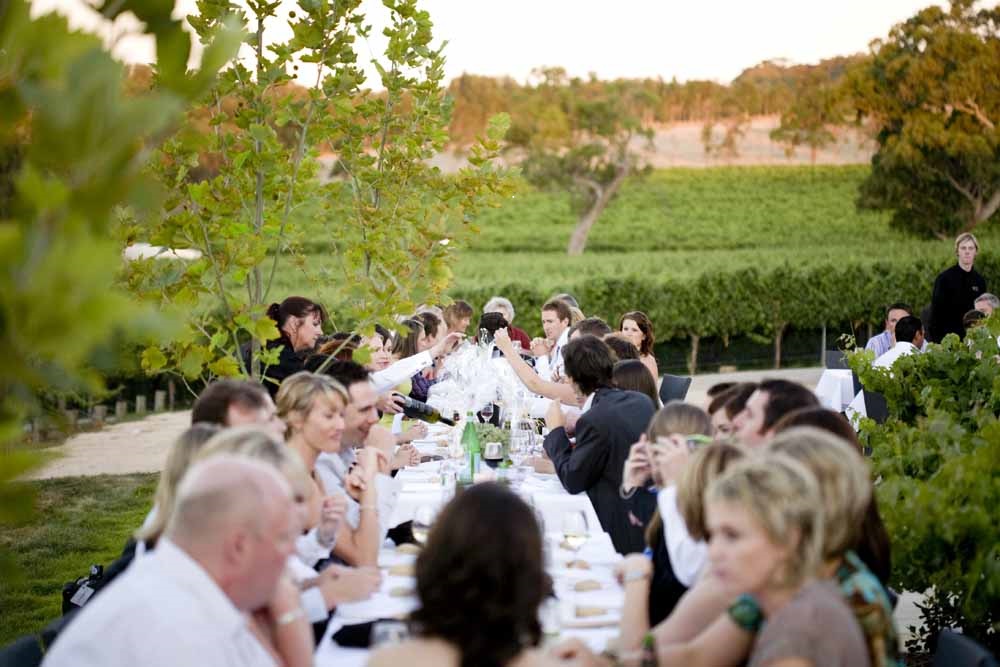 Photo: Bird in Hand Winery
While it's known as The City of Churches, Adelaide should also be know as The City of Happy Bellies, as this place is foodie heaven.
For brekkie try Rustic Gourmet who make everything from scratch using local and seasonal produce, Faraja for Sunday brunch with live Jazz, Chianti Classico, or if you're feeling energetic do an early morning beach walk and stop in at The Whipped Café in Semaphore.
Out of the city try Appellation or the Maggie Beer Farm in the Barossa Valley, take in the stunning views at Star of Greece in Port Willunga, The Victory Hotel at Sellicks Beach – one of the few places you can get a 2001 Shiraz by the glass – or Seasonal Garden in Hahndorf for amazingly fresh food (they have a 'grow and eat' policy).
Make a reservation at Magill Estate at Penfolds Winery for a special dinner replete with views, amazing food and of course, an extensive wine list.
In the city visit Press, famous for its 'in-house' curing, pickling, baking, brining and smoking, Panacea for Tapas, Assagio, Andre's Cucina or Auge for Italian, Golden Boy for Thai, Celsius (try the snails!) Zucca for Greek with an ocean view.
The Adelaide Central Market is the go-to spot for the freshest produce and every array of food you could imagine. Grab a stick of Metwurst (German sausage), and an array of tasty bites and head to the Botanic Gardens or the banks of the Torrens River for a picnic.
Got a sweet tooth? Hit up the flagship store of Haigh's chocolates on Beehive Corner in the city, or if you've got time, do a factory tour. Indulge in lollies dipped in chocolate fondue at Bracegirdles, stock up on jams and go strawberry picking at Beerenberg in Hahndorf, or simply grab a bag of SA's favourite chocolates – FruChocs (balls of apricot and peach covered in chocolate) – at a local deli or supermarket.
Drink!
Get your caffeine fix
Photo: Sonia Bavistock
Adelaidans LOVE their coffee. Bordering on obsession, Farmers Union Iced Coffee outsells Coke in SA three to one. Pick up a carton of that much-loved drink at the local deli or servo to see what all the fuss is about, and prepare to be addicted!
The cellar doors
Photo: Bird in Hand Winery
Some of the best wines in Oz come from Barossa Valley, the Adelaide Hills, and McLaren Vale, and you can get to each of these in under an hour.
In the Barossa a must visit is iconic Chateau Tanunda for its limited release ' The Everest', 100 Year old, and 'Terrois' ranges, and while you're there hire some mallets and have a game of croquet in their gorgeous gardens. And be sure to say "Hi" to my brother Darin who's the mastermind behind that slice of horticultural heaven, or my cousin Ben the Assistant Winemaker. Tell 'em I sent you and they might even give you a bit of a behind the scenes tour. Also, let me know if you do so I can send them extra great Christmas gifts as thankyous this year, or I'll never hear the end of it… 😉
Visit Henschke's winery, also in the Barossa for a sample of their Mount Edeltone Shiraz. The 2012 vintage is available later this year and is sublime. Plus a trip to the cellar door might yield a sample of Hill of Grace if you're lucky.
A trip to Bird in Hand winery in The Adelaide Hills is essential for its picturesque setting, the option of outdoor dining, and award-winning wines. Old mates of mine, the owners Suze and Andrew (flatties from before the days that Fat Boy Slim was big) also regularly put on amazing concerts featuring iconic Australian artists like Pete Murray, Julia Stone, Sarah McLeod, and Kate Ceberano. Check out their website for upcoming dates. And enjoy. I always do.
Mmm, beer…
Photo: Benjamin on Franklin
Adelaidians have a thing for beer gardens. And happily, because SA is Australia's driest state, you can pretty much enjoy a cold one while sitting outside throughout most of the year. It's hard to beat the Benjamin on Franklin, The Edinburgh Hotel (know to locals as 'The Ed') or award winning Walkers Arms. Be sure to try the local brew, Coopers, while you're there.
Cocktails
Photo: Apothecary 1878
The Collins Bar at the Hilton Hotel is home to one of our counties best mixologists Grant Collins (he's been awarded 'World's Best Bartender') and is a must visit for experimental cocktails and classics. Grab a booth and a Negroni at Clever Little Tailor, fresh Coffin Bay oysters with your drinks at The Loft Oyster and Wine bar (which was named one of the best new bars by Gourmet Traveller in 2013), and for the best wine list in town you can't go past multiple award-winning Apothecary 1878. Say "hi" to Paola, my buddy from chemistry class in Year 11 at school who's been running the joint like a boss for over a decade. Back then our teacher Mr Schultz wouldn't have known a petri dish from an olive bowl – so we didn't learn much – yet P's now the master of all good vessels you'd want near your mouth.  And without a Periodic Table in sight.
The touristy things
Jump onto a tram in the city for a 15 minute ride to Glenelg beach, and take a walk along the long jetty that juts out into Gulf St Vincent. Don't fuss with your hair too much as it can get windy out there! If your legs need more stretching, walk along the Esplanade enjoying beaches that extend as far as the eye can see.
Hire paddle boats on the banks of the Torrens to explore the river and do a bit of bird watching.
Take a stroll down Rundle Mall and check out the landmark sculpture that's a common meeting place for locals, affectionately known as 'The Mall's Balls'. I dare you not to giggle.
An influx of Germans (including my relies) moved to South Australia from late 1830's and their first settling place was a town they named Hahndorf. Just half an hour drive from the centre of Adelaide it's a must visit for it's unique village vibe, a giant stein of beer, a schnitzel the size of your head, and a side of sauerkraut. As my Granny would say: "Schmeckt gut!"*
Relax!
While there is so much to see and do in good old 'Rads, don't forget to relax, unwind, and breathe.
Keen to check out my old stomping ground?
Visit Wotif.com and check out their new affordable holiday packages for Adelaide (flights and accommodation all bundled up) – it's cheaper than you might think!
And throw your hat into the draw to WIN a 3 night escape to Adelaide including flights, accommodation, car hire, and a couple of tours valued at $3000.  Enter here to enter."
Me? I'm booking my next trip back home stat. See you soon 'Rads!
*Schmeckt Gut: Tastes Good.
Have I missed anything?! What are your favourite things to see and do while in Adelaide?