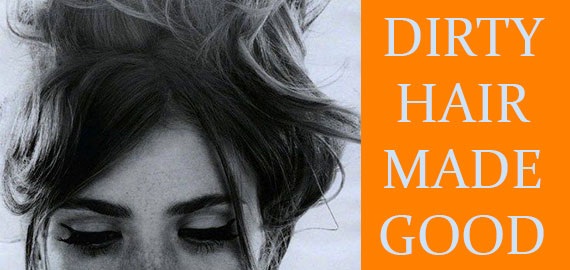 Maybe it's because your bed is too cosy to get up and shower in the morning. Maybe it's because you're so busy wiping and bathing little people that you barely have time to bathe yourself. Or maybe it's because you just don't like washing your hair, and you avoid it as long as possible.
But whatever your reasons are for having dirty locks, sometimes shampooing just isn't going to happen. That's when you have to work with the dirt — and if you do it right, you can end up looking even better than if you'd taken the time to rinse and repeat. Here's how.
Be a powder puff girl
Hair powders, dry shampoos and even good ol' talcum powder can be lifesavers when you're trying to squeeze in another day (or three) before wash day. These products soak up excess oil and give volume as a bonus. While talc works well on fair-haired maidens, brunettes are better off using a specialised product to avoid looking prematurely grey. Beyond dry shampoo, hair powders work in a similar way and are actually also great for adding texture to freshly washed hair — if you ever get around to shampooing, that is.
Kevin.Murphy Powder.Puff $36.95
Waves and curls
Dirty hair grabs curls better than silky, freshly washed hair, so use the grit to your advantage and break out the irons. Use a straightening iron or curling wand to add some bounce to the midlengths and ends of your hair.
Up in front
The front section of your hair can be the first place that starts to look greasy, especially if you have a fringe. Disguise this by sweeping it up and away from your face in a quiff or front braid, or pull it back with a pretty headband.
Put a lid on it
Grab a hat, beanie or scarf and cover up those greasy locks in style. Just remember that a hat is an all-day commitment — dirty hair plus hat hair is not a pretty combination.
What's your sneaky tip for dealing with dirty hair? And c'mon, be honest — how often do you wash?
More Fox in Flats: